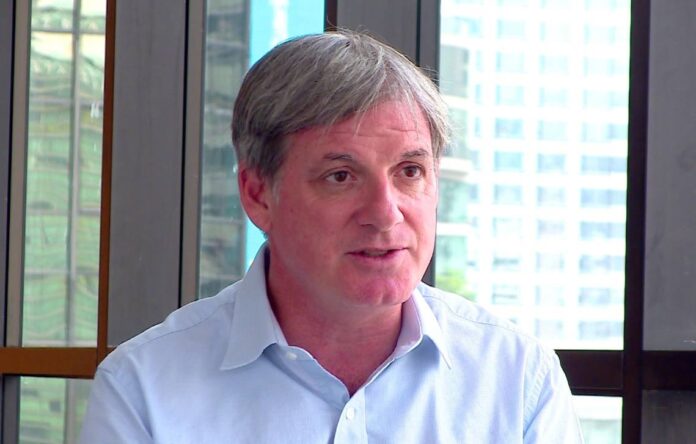 BANGKOK — A blogger known for promulgating anti-Western conspiracy theories urged people Friday to protest at the BBC's bureau in Bangkok and personally harass its correspondent for allegedly defaming His Majesty the Late King.
In a Facebook post, a blogger writing under the name Anthony Cartalucci directed his anger at BBC correspondent Jonathan Head and encouraged people to assemble and harass him in person.
Read: Govt Deplores Foreign Media Coverage, BBC Coverage Blocked
"Groups able to organize and peacefully control a crowd could also follow him around and make his life as difficult as a liar's life should be," Cartalucci wrote. "Heckle him, make him uncomfortable, make him look bad, but don't be "'red shirts'" and resort to violence."
Head has been covering the King's funerary rites, and some criticized the British broadcaster's coverage as insensitive or inaccurate. It's broadcasts have been interrupted by censors at the channel's Thai broadcaster.
The call for action by Cartalucci coincides with recent cases of mob violence around the country in the aftermath of King Bhumibol's death Thursday. A number of people have been harassed online and assaulted by crowds of vigilantes for allegedly insulting the late King, who's widely revered in Thailand.
"In case you are interested in protesting or lodging a complaint with Mr. Head or the BBC in Thailand, you can find them right off the BTS at Chitlom Station. There, you will find all the other paid liars of the Western media too – their offices are there as well," he added.
Head said he's been targeted by Cartalucci before, but it's the first time the blogger encouraged other people to harass him physically.
"In the current emotional climate that is worrying," Head wrote in reply to inquiries. "Some of the people commenting on his FB page are making threats of violence, and some talking about my children. Normally I don't worry about these kinds of online attacks – I've had plenty over the years. But these are not normal times, and it is dangerous for anyone to use social media to encourage mob action against journalists."
He added that the BBC is aware of the issue and would take action if needed.
Cartalucci stressed in a comment on the thread that violence is to be avoided.
"Hey folks, if you decide to meet Jonathan Head – be peaceful. You can yell at him, follow him around, make him uncomfortable – but as ironic and deserving as he is of such treatment – DON'T BE RED SHIRTS," it read.
Yet among comments written by others in reply to his message were questions about where Head resided.
Read: King Bhumibol 1927 – 2016
For years Cartalucci has maintained a blog called Land Destroyer, where he regularly vilifies former Prime Minister Thaksin Shinawatra, his political clan and his Redshirt supporters. His writing began as reports claiming Thai political unrest was engineered by the United States and has grown to include all manner of anti-Western conspiracy theories.
Cartalucci lists no contact information. Someone responding to inquiries sent to his Facebook page declined to respond.
The BBC has offices in the Maneeya Building in downtown Bangkok. It's on the same floor as the Foreign Correspondent's Club of Thailand, or FCCT, and other foreign media bureaus such as Australian Broadcasting Corp. and Al Jazeera.
FCCT president Dominic Faulder described Cartalucci as a troll who only wants to make trouble and draw attention to himself. He also said the overwhelming majority of foreign media coverage about His Majesty the Late King has been respectful.
Head, a longtime resident of Thailand, covers a wide range of topics in Southeast Asia for the BBC including Thai politics, the monarchy and lese majeste.
His news coverage has offended hardline conservatives in the past. In December 2008, several conservative activists filed lese majeste complaints against Head for his reports about the monarchy, though the cases appear to have been quietly dropped later on.
Clarification: A description of Head's coverage in the region has been expanded to reflect the range of topics he has reported on.
Correction: An earlier version of this story incorrectly stated that the message was posted on Tuesday. In fact, it was posted Friday.