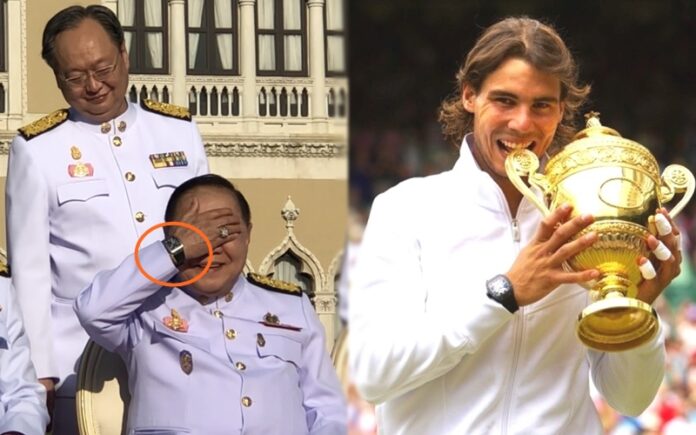 BANGKOK — There are fewer things in life to better cheer an old man up when things are tough than a nice new watch.
Deputy junta leader Gen. Prawit Wongsuwan, who's already known for his flashy watches, was sporting reliable bling bling Rolex on his wrist Monday. Dressed to the nines for an official group photograph as part of the new cabinet, the man who's also deputy PM was wearing what's been identified as a Richard Mille.
In Thailand, an entry-level Richard Mille starts at 1 million baht – unless it's counterfeit. Those wearing them include American rapper Jay-Z and Spanish tennis star Rafael Nadal.
The watch is known for its futuristic motor sports-inspired designs. Its mechanisms are painstakingly assembled in-house and hand-finished – haute horology.
It's unclear which exact model Prawit was wearing. This is how a model worn by Nadal was described back in 2015, however:
"The retail price of the RM27-01 when available was $740,000 [24.1 million baht], and like we mentioned, all 50 pieces have been sold. This watch is truly one of the most incredible things you'll ever strap to your wrist…," wrote New York-based Benjamin Clymer, arguably the world's most-famous watch reviewer and owner of famous watch-review website hodinkee.com.