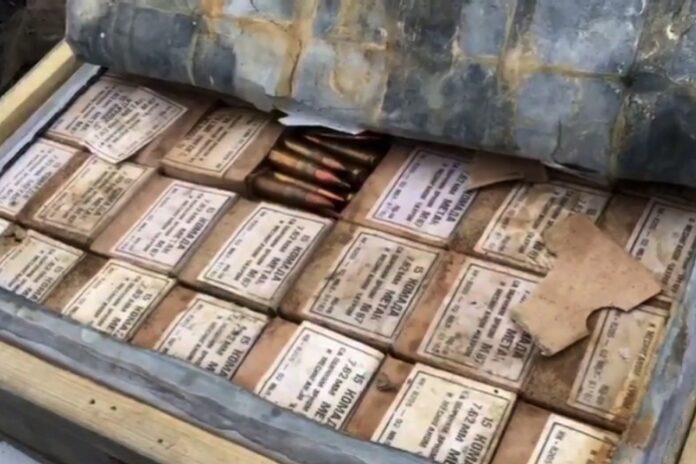 BANGKOK — A man wanted in connection with recent discovery of weapons cache in Chachoengsao province has turned himself in, a defense ministry spokesman confirmed Monday.
Identified separately by a junta source as Wattana Sapwichien, the man is accused of belonging to a network of hardline Redshirt militants. The arms seizure was cited today as a rationale for the junta keeping its ban on political activities in place a year before expected elections.
Wattana, who already faces trial on a separate firearms charge, surrendered to the military Friday night, two days after police said they uncovered the arms stockpile, according to the junta source.
Read: Redshirts Dispute Link to Rice Field Weapons Cache
The source, who spoke on condition of anonymity because they were not authorized to speak to the media, said Wattana is being held at the 11th Army Circle base. Per a junta order, soldiers can detain suspects without charge for up to seven days before handing them over to police.
Senior police officials denied any knowledge of Wattana's detention.
"I don't know anything about that," said Teerapol Jindaluang, police commander in Chachoengsao province, where the weapons were reportedly unearthed from a rice field. "There has been no arrest in Chachoengsao so far."
Police spokesman Krissana Pattanacharoen had a similar response: "The military has not informed me about that. You must ask the military."
Defense ministry spokesman Kongcheep Tantravanich said he would only confirm the military has Wattana in custody. He declined to answer other questions.
"Please wait for news conference by the police because they are in charge of the criminal investigation," Maj. Gen. Kongcheep said.
Police previously said they were tipped off Nov. 24 that a large cache of weapons was spotted in the rice field, located a few hours drive east of Bangkok. A search yielded weapons including an AK-47, ammunition, grenades and homemade pipe-bombs.
A junta leader later said the arms were likely stockpiled by members of a militant network formed by "hardcore" Redshirt activist Wutthipong "Ko Tee" Kochathmmakun, who went missing in July and is widely thought to have been abducted and murdered in Laos.
Wattana was arrested in 2014 for his alleged connection to the purported militant group and accused running guns. He's been free on bail while the case against him continues.
Redshirt and Pheu Thai Party leaders have accused the junta of staging the Nov. 24 arms discovery as a pretext to maintain its grip on power in the name of security.
When a reporter asked junta sec-gen Chalermchai Sitthisad on Monday if the discovery would result in the ban on politics being maintained, the general said it's one of the factors.
Junta sec-gen Chalermchai Sitthisad said Monday the discovery was a factor in maintaining the ban on civilian political activities.
"It's not just about weapons, but there's also issues about laws and situation about all the activities," said Chalermchai, who also serves as army chief. "And personally, I think this time is not appropriate for political activities, because it may cause problems."