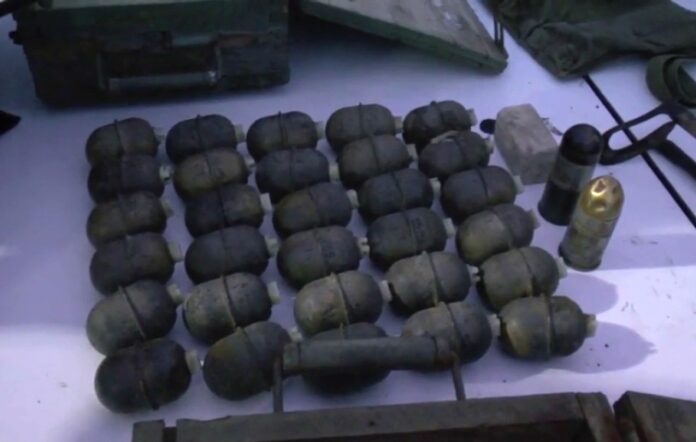 BANGKOK — A top junta official said Friday that a weapons cache discovered recently by police could belong to a man believed to have died four months ago.
The stack, which consists of grenades and rifle rounds, was found in a rural area of Chachoengsao province. Deputy junta chairman Prawit Wongsuwan linked it to "hardcore" Redshirt activist Wutthipong "Ko Tee" Kochathmmakun, who went missing in July and is widely thought to have been abducted and murdered.
A Redshirt politico today accused the authorities of staging the discovery.
"It made me wonder if they made it up?" Weng Tojiarakarn, a co-leader of the Redshirts' umbrella group, said in an interview. "Is it the work of the authorities?"
He also mocked the regime's linking of the alleged stockpile to Ko Tee.
"I heard Ko Tee was dead," Weng said. "Is his ghost haunting us now?"
Special Branch police deputy commander Chayapol Chatchaidet told reporters Wednesday that police were tipped off on Nov. 24 that a large cache of weapons was spotted in a rice field in Chachoengsao, a several hours drive east of Bangkok. He did not say why the discovery was only announced Wednesday.
Reached for comment Friday, the major general said there were too many details and documents for him to discuss the case over the phone. He maintained that the discovery was genuine.
Gen. Prawit, the junta's No. 2, told reporters today that the armaments appeared to be from the same cache of weapons soldiers found in a residence linked to Ko Tee in March. At the time, authorities said Ko Tee's network was stockpiling the arms as part of an assassination plot. Ko Tee himself denied the allegation.
Asked whether the weapons were intended to be used in some ongoing plot, Prawit said he didn't know.
Weng, the Redshirt leader, said he suspects authorities are using the news to distract the public from the recent controversy over junta chairman Prayuth Chan-ocha's berating of a local petitioner in Pattani and crackdown on protesters in Songkhla.
"They might intend to bury news that damage the prime minister," Weng said.
He also stressed that even if the weapons did belong to Ko Tee's network of self-avowed militants, his Redshirt organization and Ko Tee parted ways long ago.
"When he was alive, he already proclaimed himself as a rogue Redshirt. He had nothing to do with the UDD," Weng said, referring to the United Front of Democracy Against Dictatorship