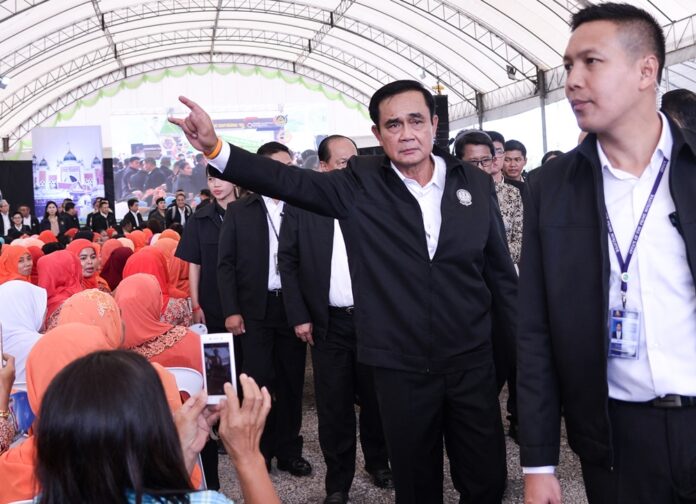 BANGKOK — Gen. Prayuth Chan-ocha took to social media Tuesday to express regret for shouting down a fisherman in the southern province of Pattani.
The message, written by the junta leader's publicity team and posted to Facebook, fell short of an apology and urged the public to consider the context of the government policies that prompted fisherman Saranyu Charoen, 34, to complain to the Prayuth while he was touring the region.
"The prime minister regrets reprimanding a fisherman in Pattani yesterday, but do understand that what the government is doing is to solve the problems of illegal fishery," the message posted to Prayuth's official Facebook page read.
Saranyu complained loudly to Prayuth on Monday that fishing is allowed only up to 220 days annually, which he considered to be inadequate to make a living.
Prayuth, who was holding a microphone, looked agitated and raised his voice into the device to interrupt Saranyu.
"Don't raise your voice at me! Understand? Talk nicely. I am willing to listen to your problems," he said.
He then told his staff to listen to the man's grievances and walked away.
The post on Prayuth's Facebook page, which has 14,353 followers since launching earlier this year, had attracted more than 370 comments as of Tuesday afternoon, most of which were critical.
"Being PM, you must be calm," user Snicy Sniper wrote. "This kind of 'habit' should only be employed at home. If you can't bear it, you should just resign."
Others made clear their adulation for the retired general was unaffected.
"I love PM… Tears brimming," user Patapong Akaravikayakrom wrote.
It was the second apology from Prayuth's administration in a week's time. His deputy, Gen. Prawit Wongsuwan, apologized Friday to the family of a dead teen military cadet after suggesting those who joined the military needed to be "fully willing" to endure physical punishment.