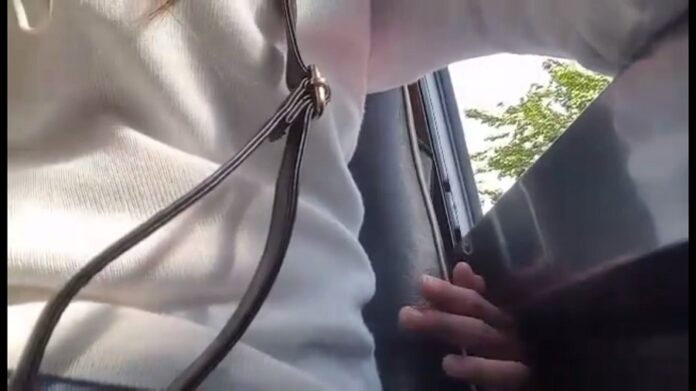 BANGKOK — The video starts innocuously enough. A woman takes her seat on a bus. A beat later, a hand creeps out from behind toward her breast, again and again.
The video filmed by a passenger and posted on a popular Facebook group by someone claiming to be her boyfriend has drawn widespread attention and displeasure. The incident comes a week after a survey found one-third of respondents experienced sexual harassment on public transportation.
"Bus No. 8. My girlfriend was on the way to buy something but she was groped by a psycho," Apinop Kom Bootdeemee wrote. "She was groped several times before she realized what was happening and filmed this clip."
Read: Victims Recount Harrowing Episodes of Sexual Violence
The woman, who was not named in the post, filmed the hand reaching for her for about a minute before turning to the man and confronting him.
"Why did you put your hand there? Why did you touch me? Are you a psycho?" the woman asked. The man replied he was merely holding onto the seat.
A woman wrote in the thread that she also experienced something similar on the same bus route.
"I turned around and found this bastard, He was groping me, his body was very close to the seat," user Orange Orangezm wrote. "Out of fright I shouted and scolded him. He said he didn't do anything. He said I misunderstood."
In a phone interview Tuesday, the user, who identified herself as a university student named Preeya, said she was harassed by the same man back in August. She had not gone to the police, but seeing Apinop's video changed her mind.
"Because I saw that video. I saw it, and it was the same man," Preeya said, adding that she will file a complaint Wednesday at the Bang Sue Police Station.
Preeya said she alerted the bus conductor after confronting her assailant, but the conductor ignored her. No commuters stepped forward to help her, she said.
"No one helped me," Preeya said. "No one did anything."
The man later left the bus after Preeya shouted at him. She said it was her third time being sexually harassed on a bus. She said two men exposed themselves to her in previous incidents.
Groping and other forms of sexual harassment on public transport is a common complaint, especially on buses that are crowded during rush hours.
On Wednesday, a women's rights group unveiled a survey in which one-third of its 1,645 respondents said they had been victims of such harassment. A quarter of the victims said they chose to stay silent in the aftermath.
Group director Varaporn Chamsanit called for authorities to take the problem more seriously and urged bystanders to intervene when they see an assault taking place.
Related stories:
Sexual Violence Stalks Activist Community
Thai Colleges Urged to Do More About Sexual Violence