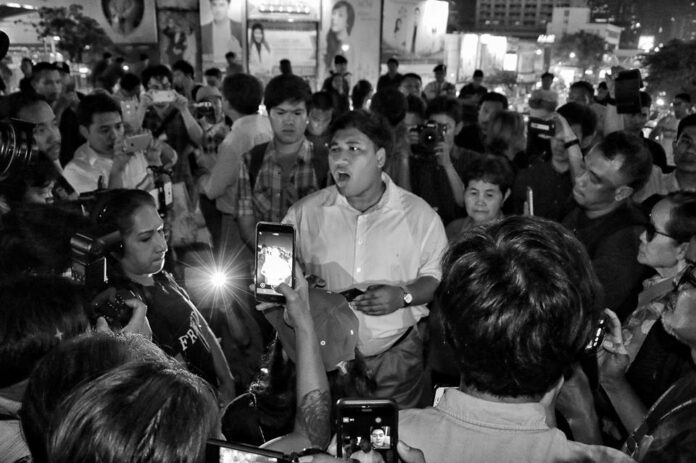 BANGKOK — Anti-junta activists stage a protest in Bangkok downtown Friday evening to call upon the junta's rubber stamp parliament to convene a non-confidence debate against its own masters.
Saying the military regime has consistently mismanaged the country and oppressed its citizens since seizing power three years ago, campaigner Sirawith Seritiwat urged the interim parliament to start doing its job in scrutinizing the government.
He stated his demand in front of several dozens of his supporters on BTS National Stadium skywalk this evening, a rare protest under the regime that has banned all forms of public dissent.
Anti-junta protest at BTS National Stadium skywalkStory: https://www.khaosodenglish.com/politics/2017/12/14/activists-plan-anti-junta-rally-friday-wont-notify-police

โพสต์โดย Khaosod English บน 15 ธันวาคม 2017
Sirawith, aka Ja New, said he will petition the National Legislative Assembly on Dec. 22 to launch the motion. If he does not hear back from them by Jan. 14, the activist said he and the people "would take the matter into their own hand."
Per parliament regulations, one fifth of lawmakers can ask the House Speaker to launch a no-confidence debate against the prime minister and his government.
The debate consists of various lawmakers taking turn to voice their opposition to the administration. The entire procedure is broadcast live on state TV channel, and such debates often gain widespread attention.
There has been no debate of no-confidence since the military seized power in May 2014. All current lawmakers were appointed by the junta.
Although police were deployed at today's protest, no arrest was made.