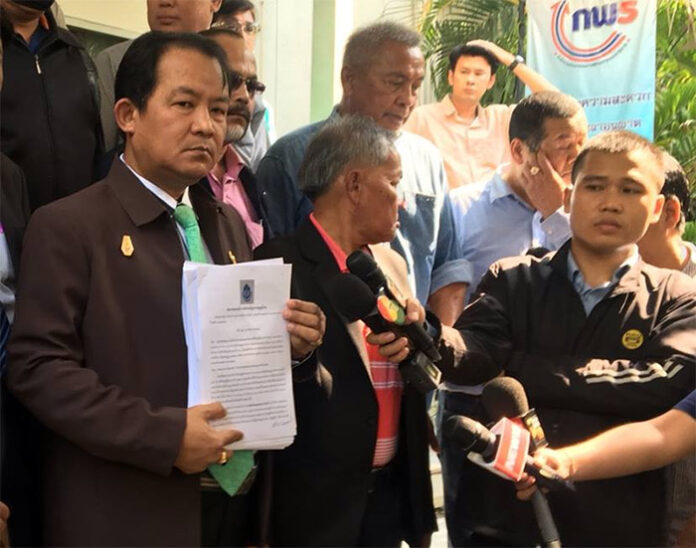 BANGKOK — Anti-corruption activist Srisuwan Janya on Monday urged junta leader Gen. Prayuth Chan-ocha to exercise his absolute power to stop the junta-appointed legislature from deferring promised elections by 90 days.
Srisuwan, the lawyer who heads the Association of Thai Constitution Protection, is petitioning Prayuth to stop the National Legislative Assembly from acting to delay the implementation of election laws under the new constitution. He submitted a letter to Prayuth, who's also prime minister, at the Government House this morning.
Srisuwan argued that the legislators have a conflict of interest because delaying the vote would extend their time in office and guarantee them another three months pay and benefits. The NLA took the first steps to approve the changes in a Friday vote and will likely take up the measure for final approval later this week.
Prayuth Monday denied the legislature is acting under pressure from the junta, which has delayed returning power to the electorate several times in its nearly four years of rule.
If the parliament moves forward and approves the delay, it would mean the laws would not come into effect until 90 days after they are published in the Royal Gazette. That would delay what will be the first elections in nearly five years – now slated for November – into 2019.
The last general elections were held in 2014 at the height of street protests seeking to bring down the government of former Prime Minister Yingluck Shinawatra. Her political opponents rallied people to disrupt voting, and the results were soon annulled by the Constitutional Court.
Elements within the military led by Prayuth seized power in a coup two months later in May, installing him as prime minister. Prayuth appointed drafters to write a new constitution favorable to maintaining the legal supremacy of the military over future civilian administrations and has promised that elections would be held each of the past three years.