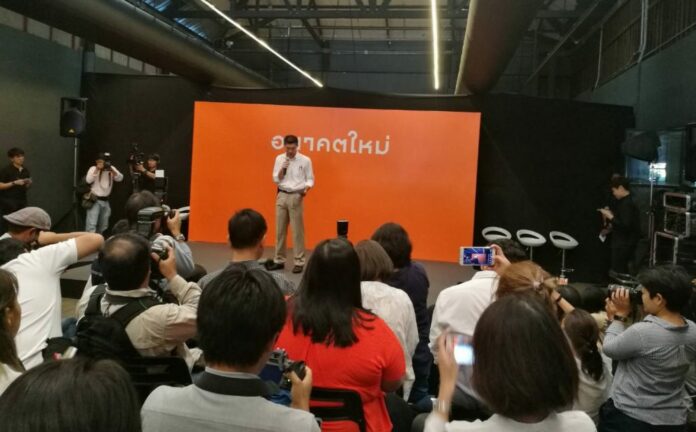 BANGKOK — Co-founders of the newly established Future Forward Party made it clear the party would support neither an unelected prime minister nor undemocratic elements Thursday in comments about the need to redeem Thailand from what they dubbed a "lost decade."
Watched closely after the military government warned against violating its ban on political speech, billionaire Thanathorn Juangroongruangkit and law lecturer Piyabutr Saengkanokkul spoke in general terms about ending the deep polarization and the cycle of military coups as well as the fundamental stance of the party registered this morning, which in Thai is called Anakot Mai.
They said the party's policies would be decided in a participatory manner by its members at a future date, but offered a caveat when pressed by journalists to answer more questions.
"If I talk more than this, we may not be able to move forward," Thanathorn said at the Election Commission, where the party registered its name two hours after he held a news conference at another location.
Thanathorn's family firm, Thai Summit Group, owns a large stake in Matichon Group, the parent company of Khaosod and Khaosod English. On Wednesday, he resigned from the company board.
Though the two are the most prominent and high-profile to sign on, a total of 26 people were listed as founding members.
Among the party founders are members who have previously campaigned for decentralization, LGBT rights, labor rights, closing income disparity and opportunity gaps, education reform, disability rights and better social welfare.
Thanathorn insisted his party would compete against all the others and not just offer itself as an niche alternative.
Thanathorn said he and his colleagues have not been able to reach out to rural areas due to the junta's ban on political campaigning when asked about how his party would attract their votes.
The billionaire-turned-politician added that policies will be designed from the bottom-up, meaning party members would have a say and participate in a meaningful way in devising them.
This was echoed by Piyabutr, who as member of the Nitirat group of Thammasat law lecturers, is known for being a staunch opponent and critic of the lese majeste law. When asked by a reporter on Thursday about the party's stance regarding the controversial law, Piyabutr said it would be arrived at by deliberation of all members on the issue – though he restated his personal opposition to it.
"This party doesn't belong to [Thanathorn]. This party doesn't belong to me. The party's policy arise from the decision made together by party [members]… I can't answer the question at the moment," he said.