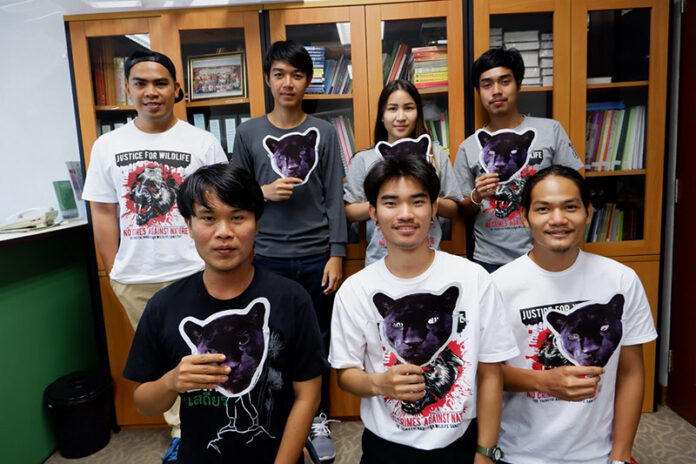 PATHUM THANI — Prim carefully cuts around the cheek of a black panther head on paper, while Mai ties a string to the back and Tor surfs on his iPad for the latest news updates Wednesday at Rangsit University.
The three are members of T'Challa, an environmental activist group of about 15, mostly students from Rangsit University, formed to protest the killing of a black panther, allegedly by Premchai Karnasuta of Italian-Thai Development.
After their Wednesday classes, seven T'Challa members gathered in a multipurpose room on campus to plan for their next protest by cutting out masks while munching on crispy banana snacks and passing around photos of their past actions.
Read: 'T'Challa' Activists Protest Black Panther Killing (Video)
T'Challa is led by Thatchapong "Boy" Kaedum, 34, a master's student in public administration and frequent environmental crusader.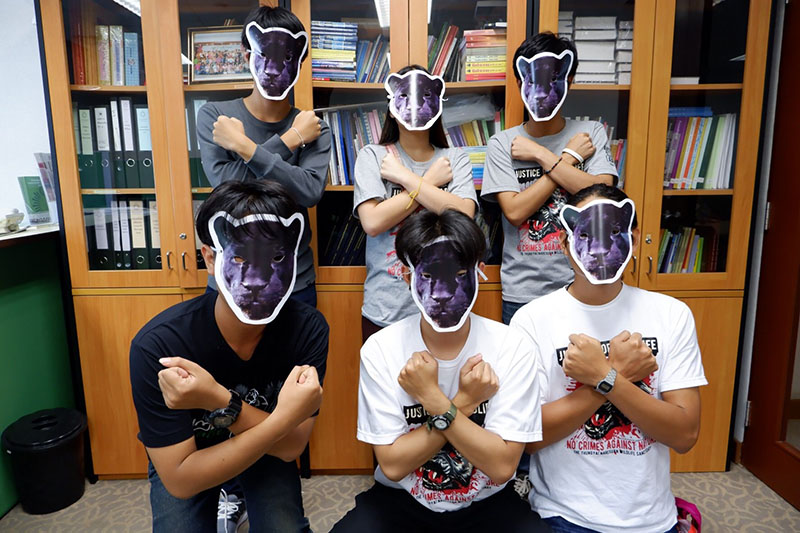 "I just slept in front of the UN last month to protest the coal-powered plant issue," Thatchapong said. "I mobilized these kids together. It's for many their first time doing a protest, but they're really giving it their all."
T'Challa's first protest was March 4 at the Bangkok Art and Culture Centre, where Boy said passers-by snatched up the 100 black panther masks they had prepared within 10 minutes. Buoyed by the reaction, they prepared 300 masks for their second protest on March 11 and brought in artists, poets and activists to an even bigger reception, Boy said.
The group's third protest at the downtown cultural center this Sunday will be their largest yet, Boy says hopefully, as he passes around sheets of paper printed with the black cat head for the students to cut.
Saksith "Tor" Popangpum, 23
Of the seven T'Challa members present Wednesday at Rangsit University, Tor proved the weightiest speaker, firm on belief in his issues with a smoldering anger heating his words. T'Challa began when Tor, Boy and some friends said they could not stand idly by after seeing the high-ranking police official investigating the case bowing in deep deference to the wealthy and powerful suspect.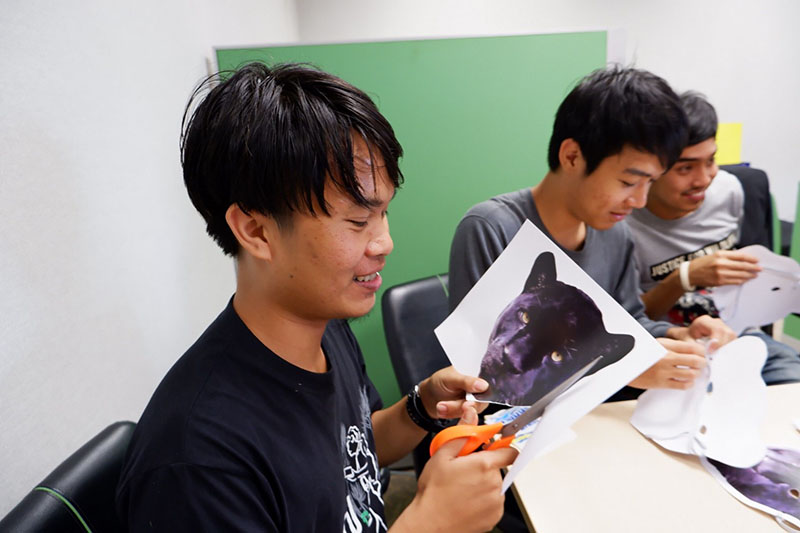 Read:  Srivara Won't Be Replaced in Black Panther Case
"If I had to turn myself in to the police and I wai'd him, would he wai me back?" Tor said, scoffing.
"When I go to report that I lost my ID card to the police, I get yelled at. This is just the ridiculous level of inequality in society. The 200,000 or so baht he posted for bail to him is like what 2 baht is to us. The justice system needs to be revolutionized."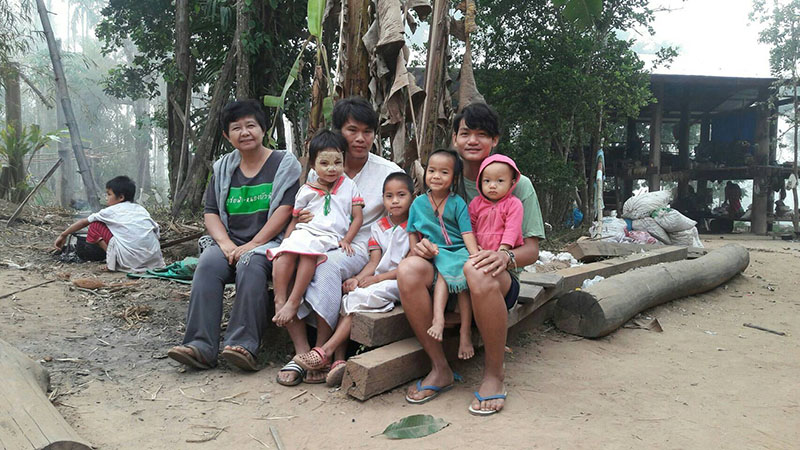 Tor, who writes speeches for the group, visited the Thung Yai Naresuan Wildlife Sanctuary, the same sanctuary where Premchai killed the black panther, last year on a trip to research Karen tribes living in Tak province.
"Premchai had the audacity to kill in Thungyai," Tor said. "For us to go in, we had to fill out so many forms and go through many procedures."
When asked whether he thought student activism could affect society, Tor simply said, "Today's university students are the adults of tomorrow."  In the future, Tor said he hopes to become a local leader mobilizing people against state and corporation encroachment.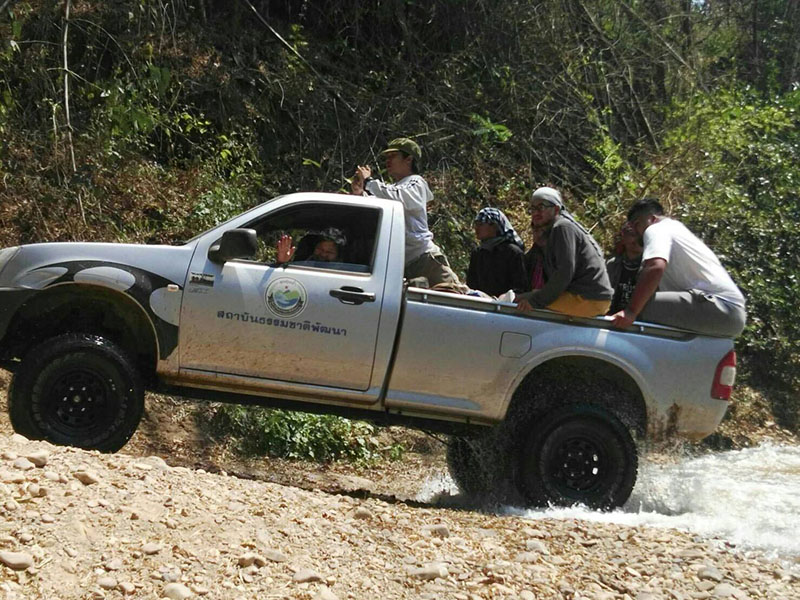 He hoped that both expats and tourists would take up the black panther issue as well. "Farangs come for tourism because of our beautiful nature. So if we destroy nature, everything will be affected as well."
"One animal life is equal to one human life," Tor said. "I hope Thai people don't let this issue go either."
Watcharapol "Mai" Laiudee, 21
Mai also attended last year's Thung Yai Naresuan trip. A nature lover, he talks passionately about how people should coexist with nature like the green khlongs and spidery mangrove forests he's visited to connect with local communities.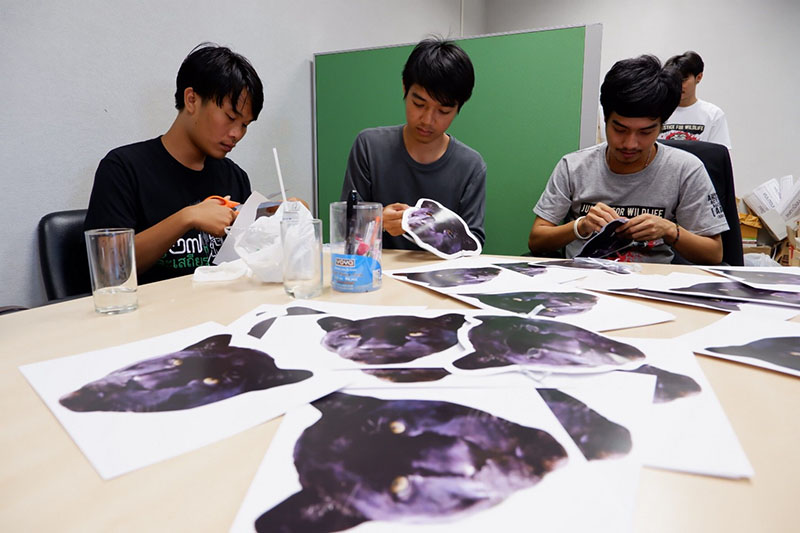 "Hunting for rare animals shouldn't ever happen at all. And destroying the natural ecosystem in one area will affect so many countries, not just Thailand," the Khon Kaen native said. "Our motto is, 'The black panther must not have died in vain.'"
Mai says visiting the places that are affected, such as Thungyai Naresuan, and talking to the people there has helped him understand how important the environment is.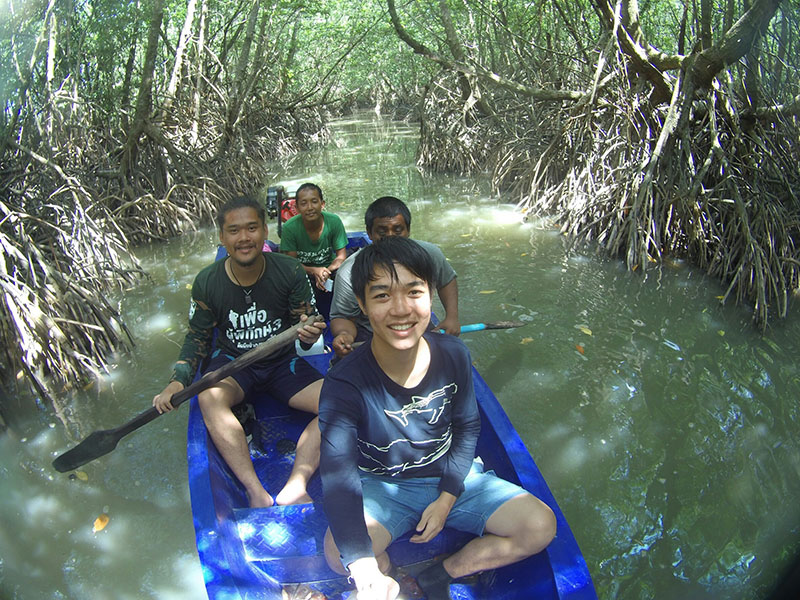 "Thungyai Naresuan is not a tourist spot. Not just anyone can go in," he said. "Even one death of a black panther disrupts the whole ecosystem."
During anti-coal plant protests in February, Mai joined and bonded with some of the local residents and traveled by train with nothing but backpacks to visit them in Thepa district, Songkhla.
"They showed me the most beautiful, lush environment. A khlong connects villages lined with beaches and mangrove forests full of a rich ecosystem," he said. "They showed me the spot where the coal plant would be built and therefore destroy everything."
Thanchanok "Prim" Boonyarithikarn, 23

The only woman in the group, Prim was the most diligent about the day's task, cutting mask after mask while her male classmates and compatriots traded anecdotes. She said she's stayed awake till 3am cutting masks for previous protests.
This particular group of student activists usually goes by the name Sai Luy M. Rangsit, or The Bold of Rangsit U. But Sasin Chalermlarp, president of the nation's most influential environmentalist group, the Seub Nakhasathien Foundation, advised them to go by "T'Challa" for this issue.
"So many injustices have happened in Thailand where people just forget about them. But finally, for this issue, the black panther is a tangible symbol," Prim said. "We're also really lucky that the 'Black Panther' film came out around this time."
Prim is the student most excited to tie the movie to the movement. "In the film, T'Challa is the king of Wakanda, a country where they venerate the animal. So since we want to protect black panthers here too, I think it's a perfect name."
"And with these masks, everyone is T'Challa," she said.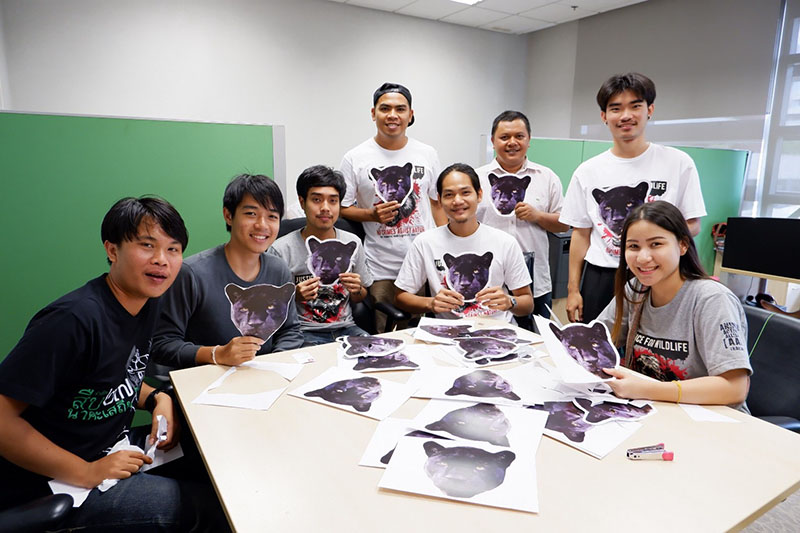 Sarun "Run" Sanna, 23: The Spokesman

The most articulate and verbose of the group is Run, who's also the only electrical engineering student in the group.
"As you can see, when we meet up it's not in a stressful environment, but we get our work done," he said as his friends looked for more scissors to cut masks. The students usually discuss news and environmental and land rights issues from their own provinces at their meetings.
At previous T'Challa protests, Run played the panther in a mock killing skit and directed another semi-impromptu play in which everyone acted out a scene with Justice Bao, the enduring folklore figure about Song dynasty judge Justice Bao who is also the subject of a 1993 Chinese TV series which aired in Thailand.
"Justice Bao is a symbol of unstoppable pursuit of justice. This doesn't happen in real life, so we wanted to act that out," Run said, hinting that the group had a "surprise" planned for Sunday's protest.
Their activist activities don't interfere with their studies, since everyone uses their free time to participate, says the group's de facto spokesman. Run says T'Challa, a group of around 10 Rangsit University students and five more from other universities, coordinate through Line.
"Sometimes we have FaceTime conference calls if we can't meet in person," Run said.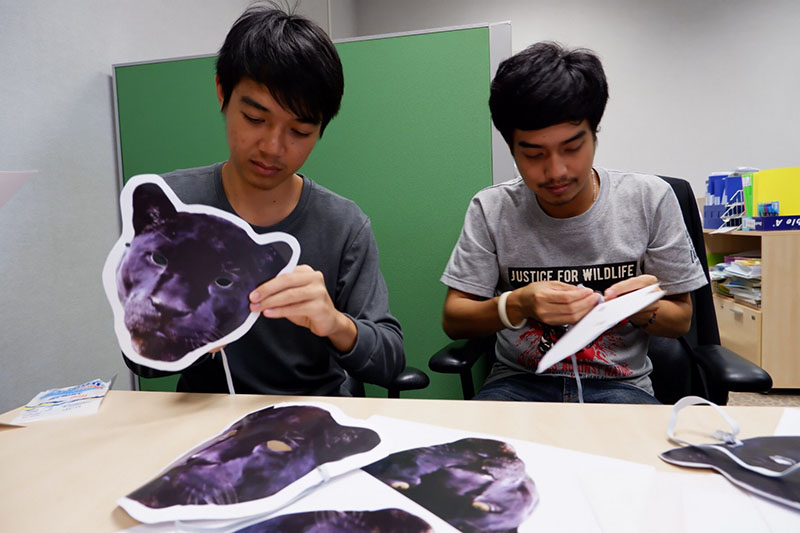 "How very 4.0 of us," Tor said, taking a shot at branding for the military government's development campaign.
Bannathat "Gun" Phakdikit, 23, and Voramaet "Frank" Buddeesuwan, 22

While Gun and Frank mostly agreed with their friends' points or sat by listening, they did offer some insightful comments.
"It's not just the black panther that was killed. The law is also being killed," said Gun, the only business student. The others except for Run major in social innovation.
Frank reiterated what one poet said at the previous protest that affected him.
"The law in our country is like a spider web," Frank said. "The little people are like flies that get caught. The rich can just walk right through the webs without being affected."