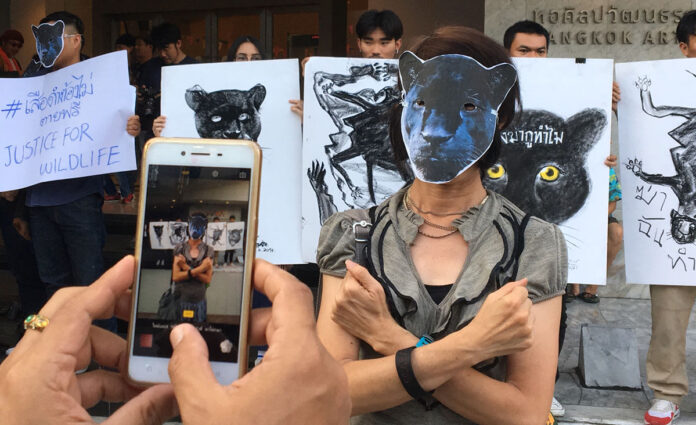 BANGKOK — Environment activists protested the killing of a black panther by a construction mogul Sunday in front of the Bangkok Arts and Culture Center.
Activists donned black panther masks to display art and engage in guerilla theater to demand police prosecute the powerful head of Italian-Thai Development who stands accused of killing a rare black panther in a wildlife sanctuary last month.
"[Black panthers] are living things, not decorations or performance-enhancing drugs," organizer Thatchapong Kaedum said, referring to reports that Premchai Karnasutra cooked and ate parts of the big cat. "They can't speak, so we are speaking for them."
Taking inspiration from the recent Hollywood blockbuster "Black Panther," the group calling itself "T'Challa" for its protagonist complained that prosecution against Premchai was lagging.
After ignoring several police summons, Premchai met briefly with police Friday to answer questions. Deputy police chief Srivara Ransibrahmanakul said the investigation was nearly complete.
"If investigators find something suspicious we will summon him for more testimonies. If not, we can close the case," Srivara said. "The case is 90 percent done. There's nothing wacky about the case and we're not working slowly. No authorities are helping him out. I won't let the Royal Thai Police look bad on this."
At Sunday's protest, Thatchapong and more than 100 protesters expressed their doubts.
"We're following up on the evil that a group of humans did last month and killed one of our friends. We plead that the justice process continues but does not favor the rich and powerful. We will be watching."
Ticha na Nakorn, an activist and former member of a junta-appointed reform body, said she joined the protest because she feared Premchai would escape prosecution.
"I can't talk in parliament so we have to go into the streets. Today we're sending a signal because, if we don't, then the powerful will walk all over the law and wildlife officials. The black panther who can't speak must be protected. We're doing our citizen's duty in the parameters of power under the [junta]," Ticha said.
Protesters performed the crossed-armed salute featured in the film while wearing panther masks. Since the film opened last month to record box office sales, Thais have been tying together the scandal of the Italian-Thai CEO's killing of a black panther with the film.
Premchai had been caught poaching a black panther among other animals in the Thungyai Naresuan Wildlife Sanctuary in February. He was later charged on various accounts of poaching, gun possession and trespassing, posted bail and disappeared from the public radar until Friday, when Premchai met with deputy police commissioner Srivara Ransibrahmanakul.
Srivara said Friday that Premchai and his hunting party cooperated and gave their testimonies.
The group of demonstrators was led by Thatchapong Kaedum, whose group gave out 100 black panther masks to fellow protesters and passersby. The group held up a sign that said "The black panther will not die in vain" and "Justice for wildlife."
Thatchapong led participants through the mock killing of a black panther.
Participants also sang a Carabao song, "Chewit Sumpan," or Symbiotic Life, about love for the environment.
A graffiti claimed by artist Headache Stencil of a black panther with a mute icon next to it was erased Saturday, a day after it appeared in Soi Sukhumvit 58. He wrote that men in a car drove by to the graffiti spot and erased it.
"Is it wrong for me to want to protect forest animals? This wall isn't even public space. I even painted over other graffiti. What's going on?" wrote Headache Stencil Saturday.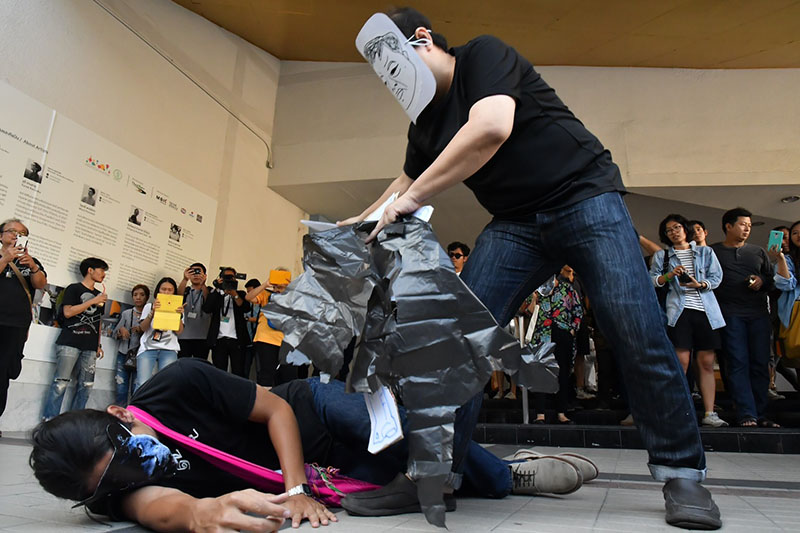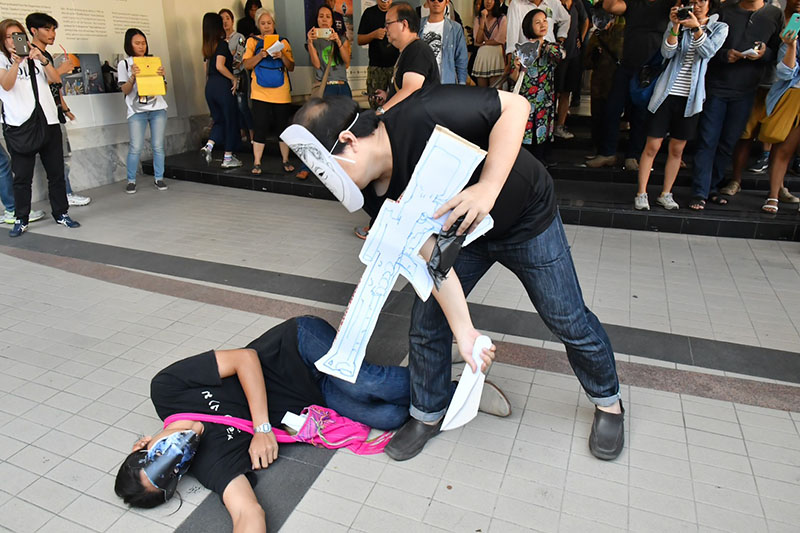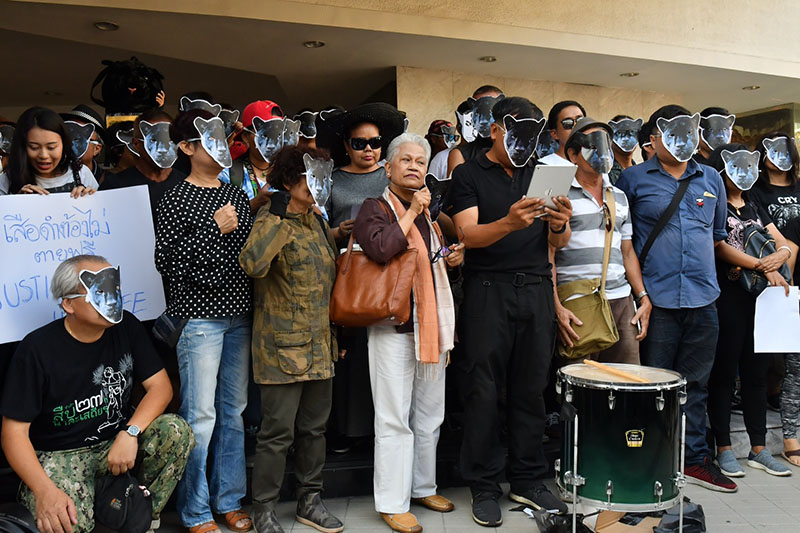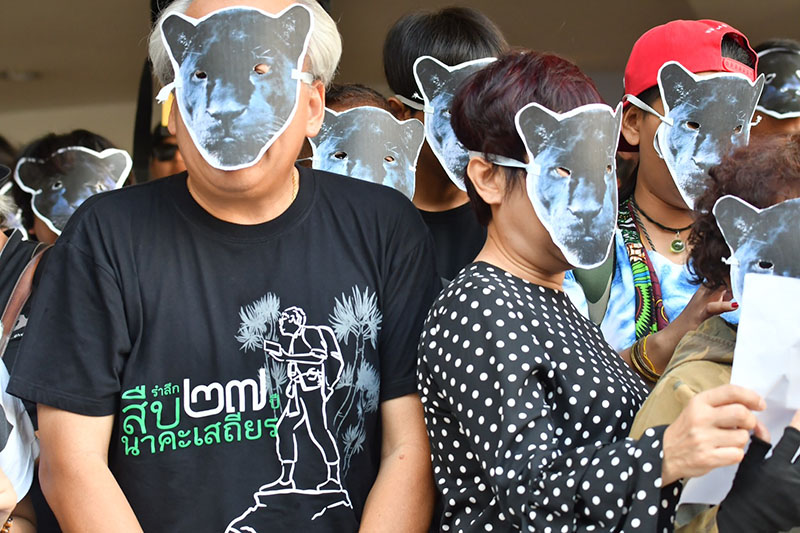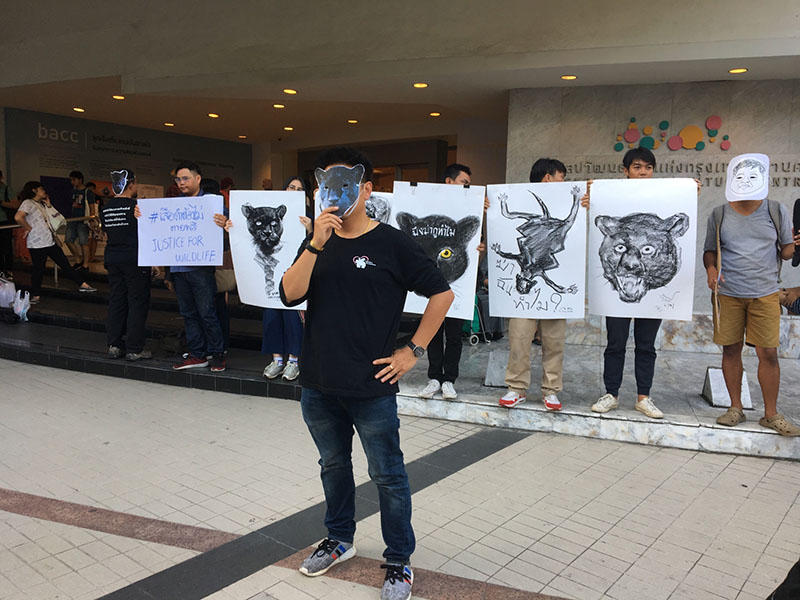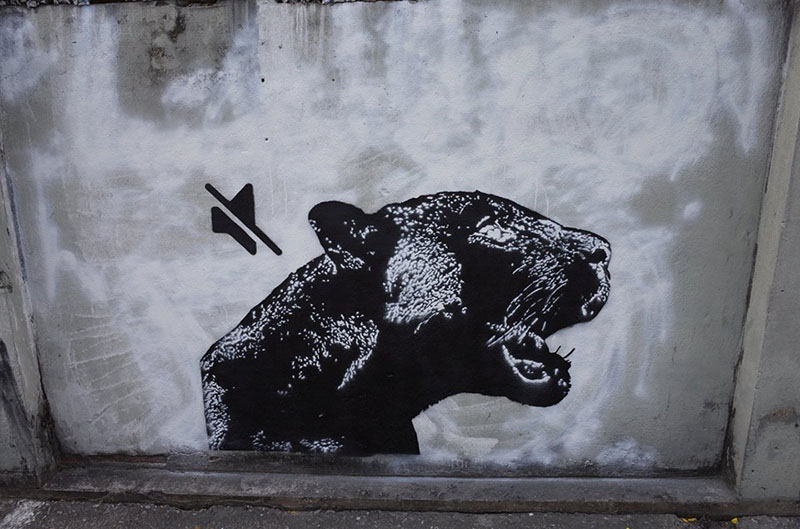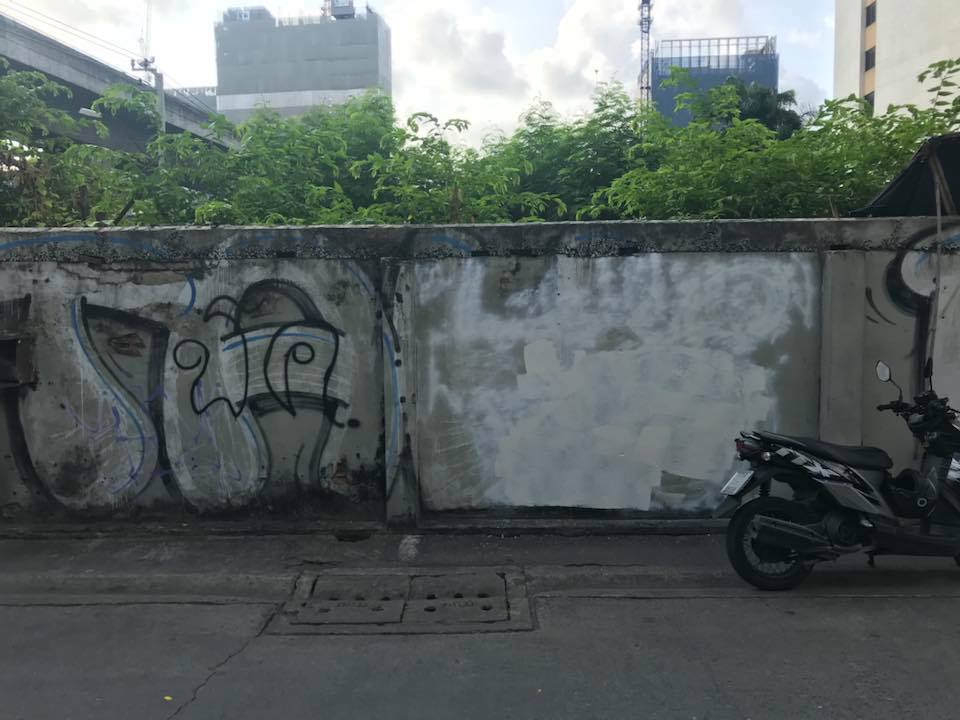 Related stories:
Thailand Purrs as 'Black Panther' Explodes Box Office