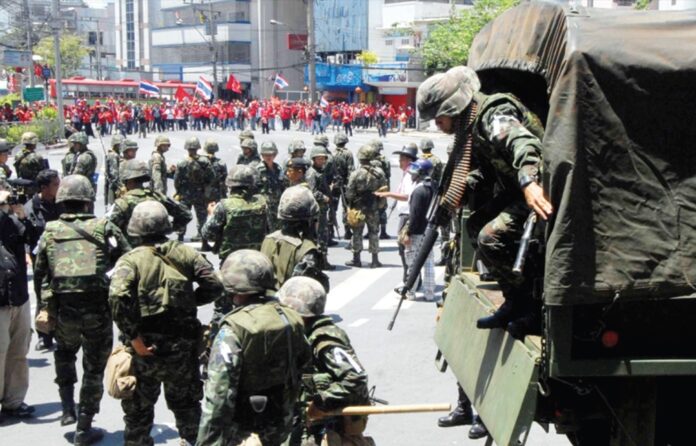 BANGKOK — Prosecutors on Monday indicted nine Redshirt leaders on charges of insurrection for leading an anti-government protest nearly a decade ago.
The indictment accused the group of inciting unrest and an open rebellion against the government of Abhisit Vejjajiva in a April 2009 protest, which saw parts of Bangkok occupied for several days. One Redshirt leader named in the indictment said he's surprised the authorities are pursuing the case after years of silence.
"Of course I am surprised," Weng Tojirakarn said in an interview. "They questioned me time to time [after the protests], but the matter went completely quiet. Since May and June 2009, they never summoned me again. There was nothing since."
Weng accused the junta of engineering the indictment as a means to take revenge against his movement.
"Why does it happen in the NCPO era?" Weng said, referring to the junta's formal name, National Council for Peace and Order. "This means the NCPO has such a devotion in bullying us. Did they carry their vengeance for us from our past lives?"
Weng and eight others were charged with insurrection, inciting illegal acts and violating the emergency decree that banned public protests.
In April 2009 tens of thousands of Redshirt protesters flooded the streets of Bangkok to demand Abhisit dissolve the parliament.
After several clashes with security forces – including an incident in which demonstrators mobbed and attacked Abhisit's motorcade – the government declared an emergency situation and ordered soldiers to disperse the protesters on April 13.
On April 14, as the soldiers surrounded their main encampment in front of the Government House, the Redshirts called off the protest and the demonstrators were allowed to leave. Another bigger Redshirt protest broke out a year later, resulting in more than 90 deaths.
Weng said he and other leaders will contest the charges because he believed they did nothing wrong.
"We didn't do anything illegal at all," the Redshirt leader said. "We were protesting in our areas. We never marched out anywhere."
The nine are scheduled to appear before the court tomorrow.