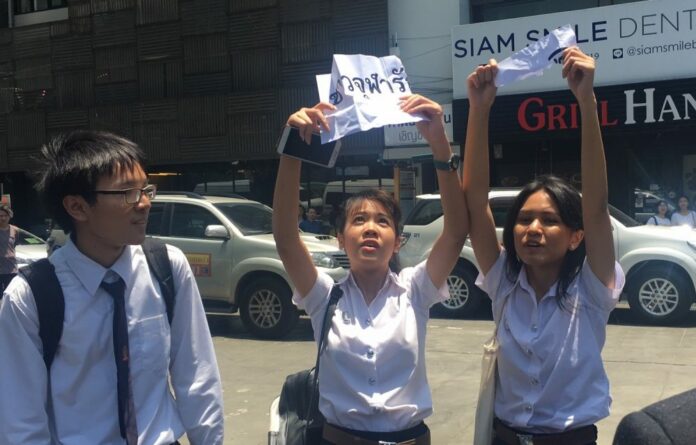 BANGKOK — Security forces moved in on a small group of students today who held up signs calling junta chairman Prayuth Chan-ocha a "dictator" near their downtown campus.
The students raised signs reading "Chula people love Prayuth Dictator" just as the junta chief was speaking to reporters at Siam Square about the next election. Prayuth's guards tore the paper signs and attempted to move the students out of the area until Prayuth heard the commotion and told his men to let them be.
"Leave them alone. Don't hurt them. If they don't understand me, let them be," Gen. Prayuth called to the black-suited men before turning to the four. "How clever of you! When the country is ruined, don't forget to come out like this, too."
นิสิตจุฬาชูป้ายใส่ รักลุงตู่ (เผด็จการ)

นาทีระทึก! นิสิตจุฬาชูป้ายใส่พลเอกประยุทธ์ จันทร์โอชา หลังไปกล่าวปาฐกถา ที่จุฬาฯโดยนิสิต 3 รายมาชูป้ายชาวจุฬาฯ รักลุงตู่ (เผด็จการ) โดยขีดกากบาทที่คำว่าลุงตู่ ซึ่งเจ้าหน้าที่รักษาความปลอดภัยของนายกรัฐมนตรีได้มาเข้ามากีดกันนักศึกษากลุ่มดังกล่าวและฉีกป้ายข้อความ คลิกอ่านข่าว https://www.matichon.co.th/news/909863

โพสต์โดย Matichon Online – มติชนออนไลน์ เมื่อ 8 เมษายน 2018
One of the protesting students said she wanted to make her voice heard.
"I did what I wanted to do, which is to show our stance," Wasinee Pabuprapap, who studies in the university's arts faculty, said in an interview after the encounter. "At least it's a voice that people wouldn't expect Chulalongkorn students to have."
Wasinee said she and her three friends were each from different faculties but would not identify them by name or department. They decided to confront him "in the heat of the moment," she said.
It was the only sign of protest against Prayuth today from the students and staff of Chulalongkorn University, where the junta chairman was invited to speak about technology and the college's role under the government.
Asked whether she was disappointed that more students didn't protest Prayuth, Wasinee said she believes many share her enmity toward the junta but missed their chance.
The protest happened as Prayuth was leaving the auditorium where he spoke and was headed through Siam Square to his motorcade.
Earlier, inside the auditorium, security was heavy for Prayuth's appearance. The media were not allowed inside while the junta chief addressed the crowd of students.
Sophomore activist Netiwit Chotiphatphaisal said he was prevented from reaching the auditorium's lower level while Prayuth spoke. Instead, he said he was made by university staff to sit away from Prayuth on the upper level.