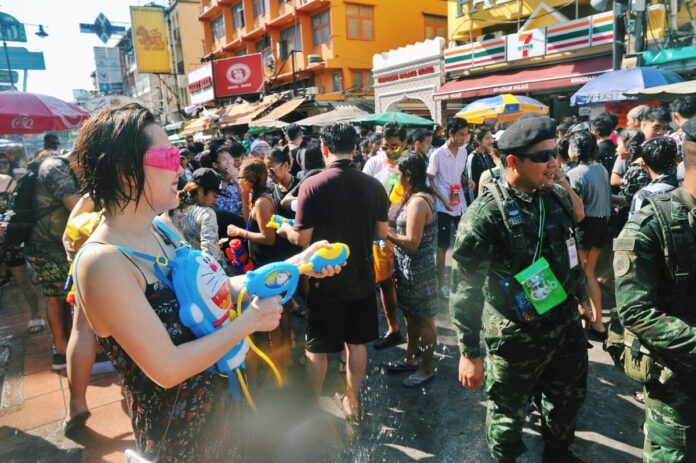 BANGKOK — Despite talk of broader prohibitions on alcohol, the spirits of Songkran will mostly flow as usual this year, according to the police responsible for enforcing the measures.
While the authorities have promoted thousands of "safe zones" and measures to limit alcohol sales and consumption during the traditional new year holiday which runs Thursday through April 16, the chief of Bangkok's metro police said Monday that nothing will be significantly different this year.
"It's all the same. We will ban sales at petrol stations, along roadsides and in other places according to the law, as usual," Lt. Gen. Chanwet Sesawet said.
On Thursday, officials announced plans to expand dry zones to make the celebration "safe, alcohol-free and harassment-free."
Such announcements come and go every year, with officials routinely claiming tighter regulations on alcohol, usually to reduce traffic casualties and crime. This year the cause of sexual harassment has been emphasized. Instead of campaigning to reduce harassing behavior, women have been admonished to cover themselves up when going out.
Chanwet said checkpoints will be set up in popular areas where people congregate such as Khaosan and Silom roads to prevent them from sneaking in alcohol.
In reality, the street parties will be as wet as ever. Revelers may be unable to bring their own alcohol through checkpoints, but that hasn't deterred shops and bars in popular party areas from selling it.
A representative for the alcohol industry warned that although such rules may help with traffic fatalities during days known for high body counts on the roads, they are not the sustainable solution touted by the government.
"People who want to drink will find ways to drink no matter how hard you try to stop them," said Thanakorn Kuptajit, president of Thai Alcohol Beverage Business Association. "Drunk driving is part of the problem, but it is not the number one cause of road accidents. I'd like law enforcement to focus on toughening up general traffic laws and the ban on sales to underage people. I believe it is a better way to solve the issue in the long run."