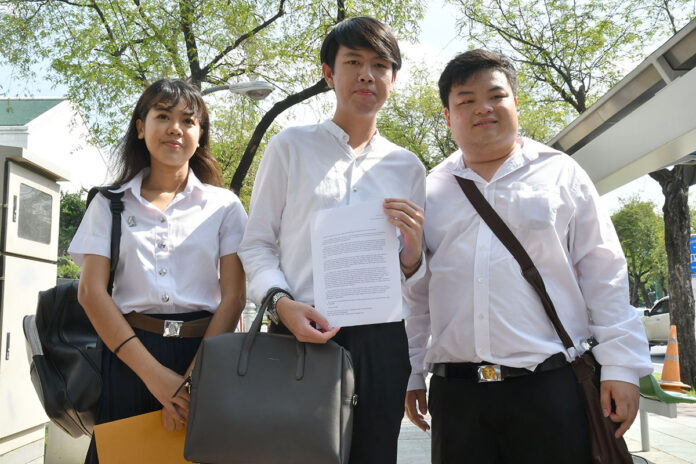 BANGKOK — Several students said Wednesday that undercover police visited their homes and schools in response to their protest of a visit by Gen. Prayuth Chan-ocha to their campus.
Several Chulalongkorn University students who protested the junta chairman said undercover police have stalked them since Tuesday, a day after they heckled Prayuth near their downtown campus in a protest the retired general stopped his security from breaking up.
"Around 10 police officers, both plainclothes and in uniform, followed me to the UN today when I went to submit a letter to inform them that we students were being harrassed," 19-year-old Tanawat Wongchai said.
Tanawat also said that on Tuesday, men calling themselves "security officers" went to the staff at the university's Faculty of Economics to ask about him.
"They asked where I'm from, my behavior as a student, and whether I did anything political as Chula's student vice president," he said. "The worst was when they asked for my address and contact info, but the staff didn't give it to them. This is so dangerous."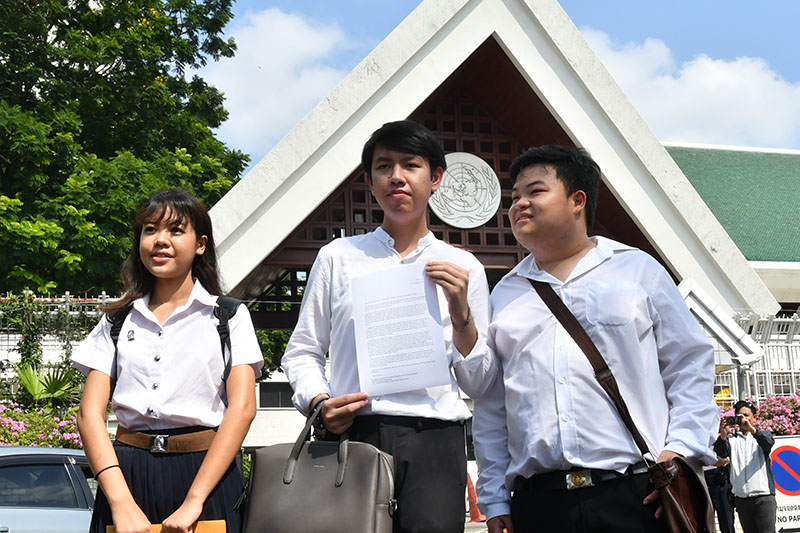 Tanawat also alleged that plainclothes police followed him and took pictures of him while he was eating at a McDonald's near the Democracy Monument with another student activist, Parit "Penguin" Chiwarak.
"They tried to eavesdrop on us," Tanawat said.
Still, he maintained that he would continue to protest against the junta despite feeling threatened.
"I want to say to these security officers, that you don't have to be afraid of a little Chula student. I'm not a criminal or a danger to the country," Tanawat wrote on his Facebook. "I'm not afraid and will never submit to the dark powers of a puu yai who bullies students."
Read: 'How Clever of You,' Prayuth Tells Student Hecklers (Video)
Winthai Suwaree, National Council of Peace and Order spokesman said by phone that he was "unaware" that the junta had sent any officials to monitor the students.
"I don't have any information about sending people to monitor them especially," Winthai said.
Another one of the student hecklers, fourth-year French major Wasinee Pabuprapap, said that she wasn't home when plainclothes police came to her neighborhood Tuesday and patrolled around her house, but her family later called to notify her.
"He said, 'Don't hurt them,' but then he sent people to visit my house," Wasinee, 21, said Wednesday, referring to Prayuth's initial response to their protest. "I'm disappointed. I feel violated. But I'm not surprised."
Although Chulalongkorn University and its students have a conservative reputation, Wasinee said she believes their four-person protest represents a silent majority.
"I'm sure many more people agree with us. But they couldn't come out with us because each person has different things to sacrifice, and many are scared, too," she said. She said she felt "encouraged" by positive responses she received from fellow students.
She vowed to continue protesting as long as the political situation demanded it.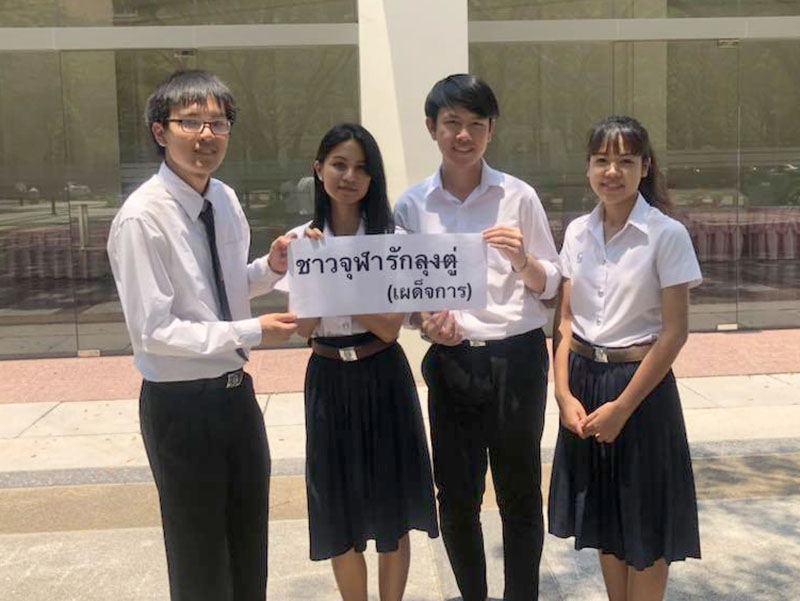 Wiranpat Rodkaew, a third-year political science student who participated in Monday's protest, said two police officers came to her house and talked to her mother Tuesday afternoon.
"They asked my mom if I had any connections to political parties. Then they refused to tell my mom their names or let her take photos of them," Winrapat said. "They also warned her to not let me protest anymore."
Wiranpat said the visit was an unlawful violation of her rights.
She said that she would like to tell Prayuth, "You can point your finger and press down on people's heads, but always remember that your power isn't yours. We citizens are waiting for the day when we can take back our power."
Tanawat said during Monday's protest, he was prevented from joining his friends holding up signs since plainclothes officers came up to him and told him to stay put until the Prayuth had left.
Related stories: