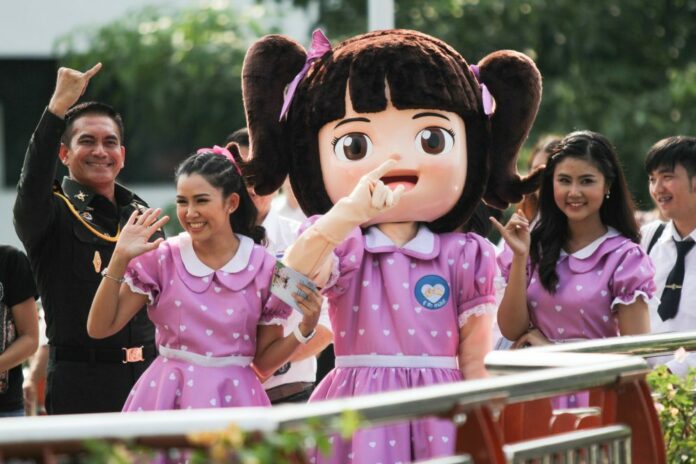 BANGKOK — A defense ministry spokesman on Thursday said political reconciliation now reigns over Thailand – because there is no longer any street protests by Redshirts or Yellowshirts.
The regime's reconciliation mission was achieved when protests were halted after the National Council for Peace and Order, or NCPO, seized power nearly four years ago, Col. Wanchana Sawasdee said. He spoke on the same day a revamped army mascot was set to hit the streets to promote peace and unity.
"There were protests from many groups and factions. That was the situation at the time," Wanchana said in an interview. "So for the first phase of our mission, I can answer you right away, it's been completed. You can see that all the protests are gone. The NCPO's coming to power has achieved unity."
But a Redshirt leader slammed his remark as absurd.
"First of all, I'd like to say I respect his comment," Weng Tojirakarn said. "But I'd like to also question the intelligence level of this colonel. Does reconciliation only mean Redshirts and Yellowshirts don't come out to protest? It made me wonder what the NCPO taught its personnel about reconciliation."
Weng, who was detained alongside other political figures for over a week by the military following the coup, said his faction has been prevented from organizing political assemblies for the last four years because of the junta's intimidation and prosecution of those who violate its ban on protests.
"It may appear to you that the sea is calm on the surface. Actually, it's full of big waves and strong winds," the Redshirt leader said. "If they want to know what people really think, they must cancel all NCPO orders."
The junta staged the May 2014 coup at the time anti-government protesters, led by Yellowshirt activists, occupied parts of Bangkok; while pro-government supporters – known as Redshirts – organized a counter rally in the western suburb.
Wanchana said he's aware some protests still took place in the past years, such as the anti-coal hunger strike and activists demanding an end to the junta's ban on political activities, but he believes they were merely symptoms of unsolved problems.
"It takes time. [Does] it mean our reconciliation has failed? No. It just needs time. Sometimes, protests can happen because reforms have not yet been reached on their grievances," said the spokesman, who also played an ancient warrior king in a film franchise sponsored by the army.
"We are still watching the situation all the time. We are watching for when it would be the right time to lift the bans. It doesn't mean we have neglected the issue," he added.
To promote his message of reconciliation, Wanchana is sending a group of soldiers and Nong Kiew Koy – a mascot of the defense ministry – to hand out leaflets at Siam Square shopping district today.
The mascot recently underwent a rebranding effort after netizens criticized her haunting looks when she was first unveiled in November. Nong Kiew Koy, whose name means "pinky finger" in Thai, is now dressed in a colorful pink outfit.