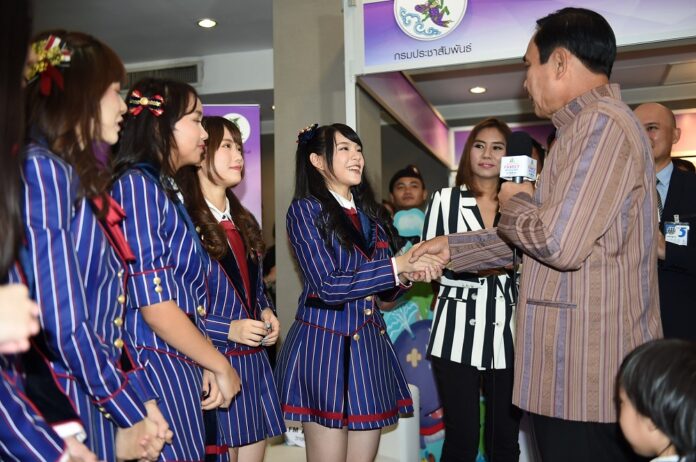 BANGKOK — Critics see the meeting between Prime Minister Gen. Prayuth Chan-ocha and a popular girl band along with the introduction of free FIFA World Cup viewing as the government's attempt to reach out to younger voters for next year's election.
Amid growing speculation that Prayuth will try to return as an elected prime minister after the promised elections, some critics said the events show the junta leader is trying to reach out to a younger demographic to attract potential voters.
"This is a pretty clear vote campaigning though I don't think it will be that successful," predicts 22-year-old Wiranpat Rodkaew, a third-year political science student at Chulalongkorn University.
On Tuesday, Prayuth greeted hugely popular girl group BNK48 at an event to promote the Public Relations Department. On Thursday, the Sports Authority of Thailand announced that public TV channels would screen the 2018 FIFA World Cup for free.
Wiranpat staged a protest against Prayuth on April 9 when he visited Chulalongkorn University and Siam Square area. She said the youth will not be easily won by such moves and that even those who are not politically active read news and are aware of the limited freedom seen during the almost four years of military rule.
"Fundamentally speaking they can't represent the younger generation so this is what we get," said Wiranpat, referring to Prayuth shaking hands with members of the BNK, which enjoys a cult-like following of Thai men.
Figures gathered by the Local Administrative Department as of December say 3.68 million people who had not been eligible to vote in the country's last election would attain the minimum voting age of 18.
Ratthapol Supasopon, 25, said it's clear that Prayuth was trying to cash in on the popularity of the girl band – of whom he himself happens to be an avid fan – but added that he would not vote for any political party that supports Prayuth. The girl group has members aged 14 to 22.
"It's clearly political. But can it really increase the popularity of the junta? I don't think it will make those who like BNK48 but opposes the coup change their minds," said Ratthapol, who is a member of the anti-junta Democracy Restoration Group.
Similar to Wiranpat, he sees the junta and its leader as being out of touch with the younger generation, adding that dictatorship is based on autocratic culture and seniority system "so they have to rely on pop culture."
The activist said free World Cup viewing wasn't specifically targeted toward the youth, as Thais of other age brackets are also fond of football.
In 2014, the junta ordered TV regulators to air the World Cup for free, as part of its "restoring happiness" campaign. And over the years, Prayuth has eagerly embraced photo ops with athletes, celebrities and others enjoying the limelight.
Nonetheless Rattapon and Wiranpat believe that the recent launch of a new party specifically branded as the choice for a new generation – pushed Prayuth and the military government to try to court younger and first-time voters.
Meanwhile, prominent student activist Netiwit Chotiphatphaisal also saw the latest attempts as a bid to win young voters, though he said that the move could succeed.
He said Prayuth is trying to make himself appear more gentle by reaching out to the youth.
"I think some younger generations will as a result perceive Prayuth as more likeable," he said.
Netiwit, 22, is a sophomore political science student at Chulalongkorn University who thinks the move can benefit Prayuth.
"It will be effective to a point. It may not win young voters but it will reduce [political] conflicts between the old and the young. In this sense it will yield some results."