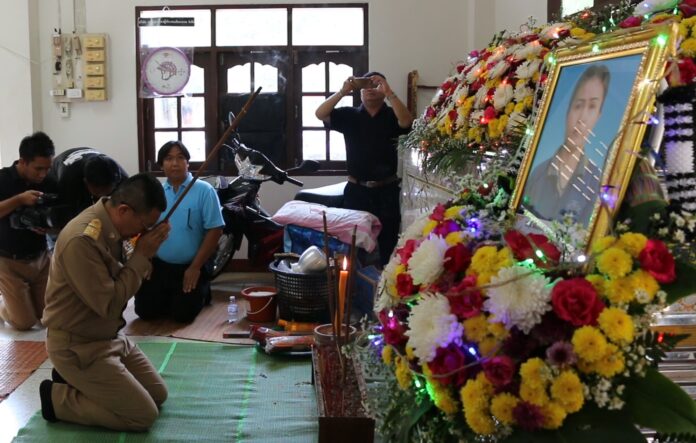 KHON KAEN — The sister of a motorcyclist who was killed by a falling cable said Friday that she was instructed by police not to name the company responsible.
Police and the Khon Kaen governor also refused to reveal which company owns the cable which on Wednesday claimed 40-year-old Maneenet Charoen-ngao's life. The company allegedly vowed to compensate the impoverished family and the victim's disabled husband.
"The police officer in charge of the case asked us not to reveal the name," Monrudee Yodklaew, Maneenet's sister, said. "Now we still don't know any details about their compensation offer. We have to wait to mediate with them after the funeral."
Maneenet was knocked off her motorbike by a cable near Kaen Nakhon Witthayalai School in Khon Kaen province. She suffered a fatal neck injury and died at the scene.
Read: Khon Kaen Motorcyclist Killed by Falling Roadside Wire
Khon Kaen administrators, including the governor and deputy governor, visited the grieving family at their home and attended the funeral, promising them support in every possible way.
"I've ordered every related authority to collaborate on compensations," Governor Somsak Changtrakul said, adding that a provincial chamber of commerce had found a job for the eldest daughter of Maneenet.
Somsak said the administration would reorganize the messy cable lines across the province and run them underground instead.
The governor also said he asked police to accelerate the investigation and press charges against all related parties. He revealed that "a famous internet company" has contacted authorities to take responsibility, and its representatives will be questioned on Wednesday, but refused to disclose the name of the company.
The head of Khon Kaen city police station said authorities had learned who is responsible for the cable. He also denied to reveal the name of the party because "the investigation is pending."
"Now we're in the process of gathering all evidence," Col. Chamlong Suwalak said. "If found guilty, we will file charges of negligence."
Kanokwan Panyapim, the victim's daughter, said she's afraid that her father – who is paralysed – would not overcome the grief.
"He's very stressed. … He keeps saying he wants to kill himself because he doesn't want to be a burden," she said. "It makes me very anxious."
Worapan Benchawarakul, a lawyer who volunteered to represent the family, said security footage shows a ten wheeler driving by shortly before Maneenet arrives at the scene, but that it was unclear whether the truck caused the cable to snap.