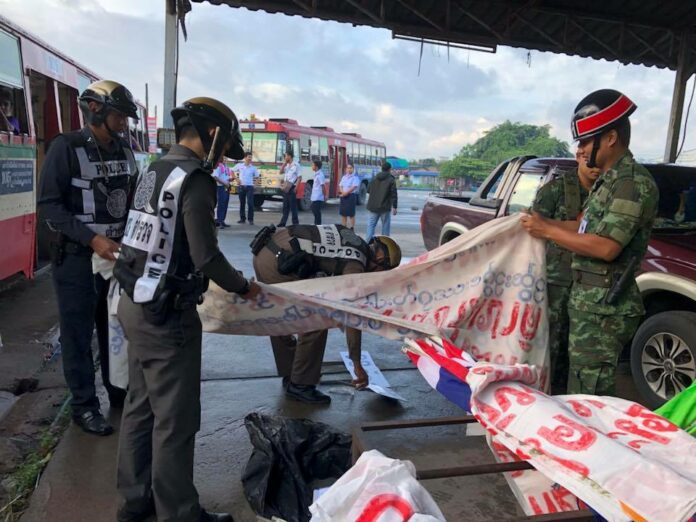 BANGKOK — Soldiers seized banners from marching workers demanding democracy today in northern Bangkok, while a union leader was detained at a downtown police station for staging a protest in front of the United States embassy.
The junta's clampdown on any sign of unauthorized protest continued for May Day, a public holiday under the name "National Labor Day" in Thai. Hundreds also took part in the state enterprise union's rally to the Government House and a pro-election demonstration down Ratchadamnoen Avenue, though without any interference from the authorities.
Labor rights campaigner Sripai Nonsee said her group was marching to Pathum Thani City Hall when police and soldiers demanded to see the banners they were carrying. Banners that mentioned elections and democracy were confiscated, she said.
"They looked for words like election and democracy, especially election," Sripai said in an interview. "They told us to give them up."
The activist said soldiers and police met with her yesterday to discuss today's rally, and allowed them to carry the banners as long as they didn't hold them up. Security officers reneged on that promise today, she said.
"I want them to return elections to the people," Sripai said from the rally in front of the Pathum Thani City Hall attended by both Thai and migrant workers.
Union activist Boonyuen Sookmai led General Motors workers to hold a rally in front of the US embassy on Wireless Road earlier this morning. He said police took him to Lumpini Police Station after he submitted the workers' complaint to an embassy official.
"They said they didn't give us permission to assemble," Boonyuen said from police custody. Police were deliberating whether to press charges against him as of publication time.
Boonyuen said he staged today's rally to protest the automobile firm's expulsion of 300 union members in November. He believes the mass layoffs were meant to discourage unionization.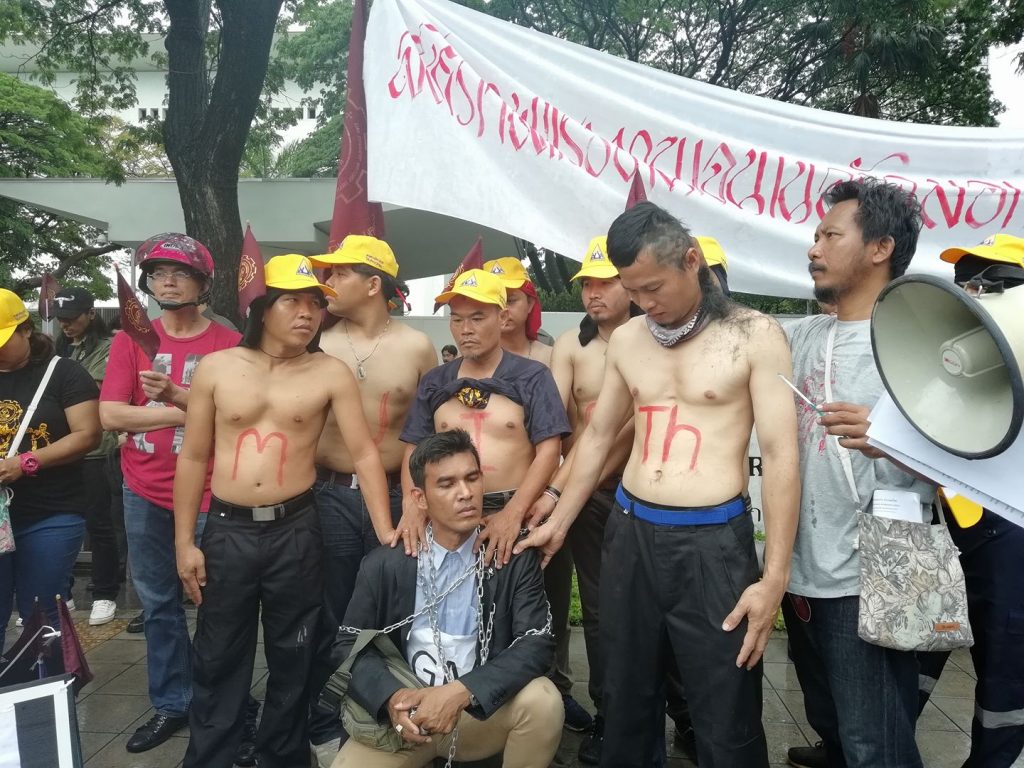 Unsanctioned street protests and other political activities remain outlawed by the junta, who seized power in May 2014.
In front of the Government House, hundreds of workers joined a demonstration held by a central union representing state enterprises across the sectors. Their leader, Chalee Loysoong, said he applied for permission prior to the rally so police did not intervene.
In an interview, Chalee said his group's demands include yearly wage raises, guarantees of workers' rights, reform of state enterprises, and strict enforcement of safety regulations.
He added that his network refused to join a state-sponsored labor day rally at Bangkok City Hall because it only celebrates "National Labor Day" and not the international spirit of May Day.
"They don't see the meaning of history. We don't want that," Chalee said. "It's useless. They don't have any activity that highlights the grievance of laborers. They turned it into a fair."
Scores later joined a demonstration down Ratchadamnoen Avenue organized by the Labour Confederation of Thailand. Activists took turn condemning the military government and calling for an election within this year on a truck as they marched down the historic avenue. Speakers included anti-coup activist leader Sirawith Seritiwat.