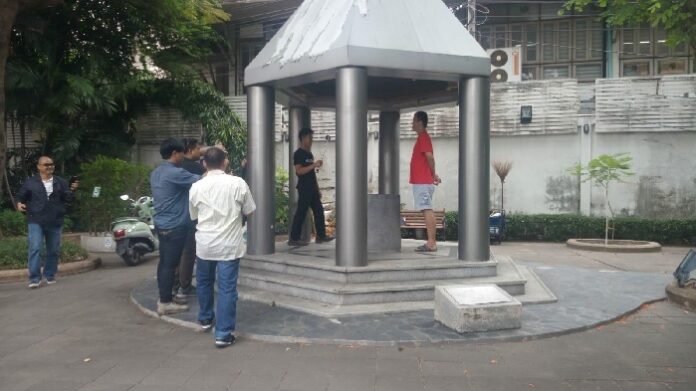 BANGKOK — Pro-democracy activist Ekachai Hongkangwan said police stopped him from marking the 86th anniversary of the revolution that abolished absolute monarchy.
Ekachai said a large group of policemen surrounded him this morning when he arrived at the historic site where the 1932 revolt began and persuaded him to go elsewhere.
"They asked me if I'm interested in going to other events," the activist said in an interview.
He eventually relented and went to Thammasat University where he observed moment of silence at a memorial to the democratic revolution.
Ekachai added that undercover police continued trailing him even as he was speaking on the phone. "Hey, you! Stop following me already!" he could be heard shouting.
09.10น. เอกชัย และโชคชัย เปิดเพลงชาติเพลงแรกรำลึกครบรอบ86ปี #24มิย2475 ที่หมุดคณะราษฎรจำลอง บริเวณข้างคณะนิติ มธ.ท่าพระจันทร์ ท่ามกลาง นคบ.สังเกตการณ์ราว10นาย หลังช่วงเช้าถูก จนท.ขัดขวางไม่ให้เข้าไปทำกิจกรรมที่หมุดคณะราษฎรเดิม ลานพระบรมรูปทรงม้า pic.twitter.com/Ph2tyxHR2u

— TLHR (@TLHR2014) June 24, 2018
Note: Some information was omitted from this story at the request of Khaosod management.
Related stories:
Democracy Jungle: Monument to People's Power Now Out of Reach
No More Annual 'Plaque Ceremony' for 1932 Revolt
Read the Declaration That Heralded the Democratic Revolt 85 Years Ago Today
Police Ban Commemoration of 1932 Democratic Revolt
The Curse That Haunted Bangkok 150 Years – Until Now?