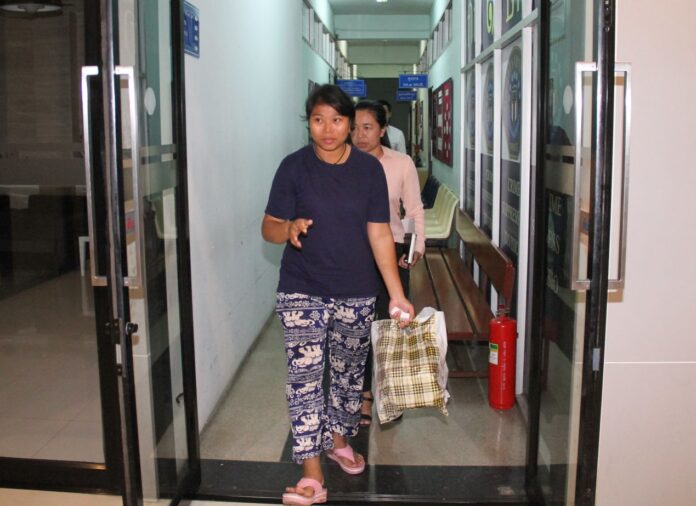 Update: Wannapha was released on a 200,000 baht bail Wednesday night. 
BANGKOK — A woman held in army custody since last week for possessing a T-shirt linked to an underground republican movement is now in police custody, a rights group said Wednesday.
Investigators are expected to charge the woman, named Wannapha, with sedition later today, according to Sorawut Wongsaranon of Thai Lawyers for Human Rights. Junta leaders on Tuesday called the group "treasonous" and pledged to seek the extradition of its leaders, who are believed to be in Laos.
Although the military and police have only acknowledged Wannapha's arrest so far, Sorawut said three more people have also been detained by the military and charged with sedition for the same alleged offense.
"We have information confirming that they were arrested because of their connection to the T-shirts," he said.
Soldiers raided Wannapha's home without any warrant Thursday, where they confiscated black T-shirts bearing an emblem of the anti-monarchy group. They took her to the 11th Army Circle base for questioning.
The military handed her over to the police at Crime Suppression Division on Tuesday night.
Three days prior to Wannapha's arrest, Sorawut said, soldiers also detained three people in their homes and took them to the same army base. They were later transferred to the police, charged with sedition and ordered jailed by the court.
The three are a woman named Praphan, a man named Krissana and a man who did not wish to be identified by name, Sorawut said.
Praphan and Krissana remain behind bars as of today, while the unnamed man had secured release on bail yesterday, the rights activist said.
'Is it Treason?'
Military officials said the black T-shirts belong to an underground group called Organization for a Thai Federation, which seeks to secede a part of Thailand and install a federal republic.
In a statement released online Monday, the group confirmed the shirts as theirs, and accused the military of trying to intimidate its supporters. The organization says it will keep fighting for its cause.
"Ultimately, the people of the Thai Federation do not have fear or waver in the face of the assault by evil soldiers who arrest those who possess the black T-shirts with the red and white flag," the statement says.
The organization has called for an armed uprising to replace the monarchy with a federalist government.
The junta on Tuesday said it will stamp out the group and have its leaders brought back from Laos to face trial.
"If you don't want the monarchy, it's treason," deputy junta chairman Prawit Wongsuwan told reporters. "Whoever is linked to it must be arrested. We have asked Laotian authorities to help investigate and arrest them."
His boss, junta chairman Prayuth Chan-ocha, also slammed the federalists.
"Let me ask you, is the Thai Federation legal? Can Thailand be a federation?" Prayuth said. "What is the meaning of this federation? Is it an attempt to overthrow the [current] political system? Is it treason?"
Correction: An earlier version of this article incorrectly said Wannapha was taken to police on Thursday night. In fact, it was Tuesday night.