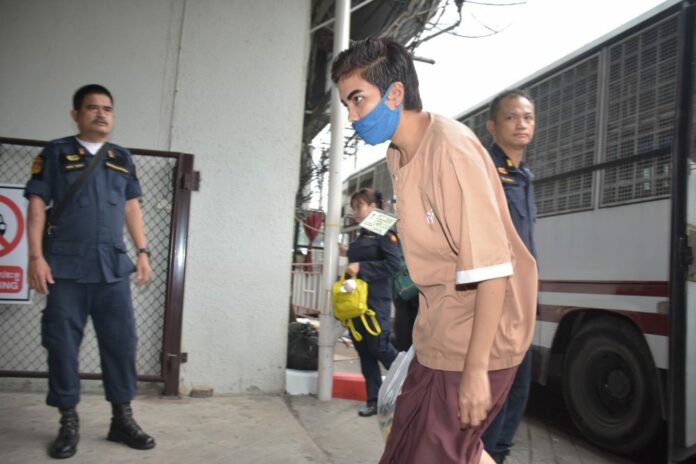 BANGKOK — The mastermind of a tour scam that left thousands of holidaymakers bound for Japan stranded at an airport last year was sentenced to more than 4,000 years in prison Wednesday.
The Criminal Court sentenced Pasist Arinchayalapis, or Sinsae Shogun, to 4,355 years in prison for 871 counts of indictment carrying a five-year jail term each, after his company scammed thousands of tourists last year.
He was convicted of fraud and violating the Computer Crime Act.
Read: 8 Suspects Deny Links to Alleged Wealth Ever Tour Scam
However, according to the law, Pasist will serve 20 years in prison and pay a 20,000 baht fine. His multi-level marketing firm Wealth Ever was fined 435 million baht.
Pasist's girlfriend Tatdao Samukkasikun and suspect Parinthorn Honghirun Duckor also received the same jail terms.
The court also ordered that Pasist, Tatdao, Parinthorn and Wealth Ever company repay the 871 victims with a yearly interest of 7.5 percent starting July 6, 2017 – the date the victims filed the police complaints.
The con job led by Pasist gained attention April 11, 2017, when more than 1,000 holidaymakers expected to fly to Japan's Osaka prefecture were left stranded at Suvarnabhumi Airport. Each of them paid roughly 10,000 baht for the tour.
Pasisit's no-show that night urged several hundreds to file complaints to police. Pasist was arrested days later in Ranong province.
Related stories:
8 Suspects Deny Links to Alleged Wealth Ever Tour Scam
'Japan Tour Scam' Suspect Denies Fraud
Alleged 'Japan Scam' Mastermind Arrested in Ranong

Con Job Strands Thousands of Japan-Bound Thai Tourists at BKK