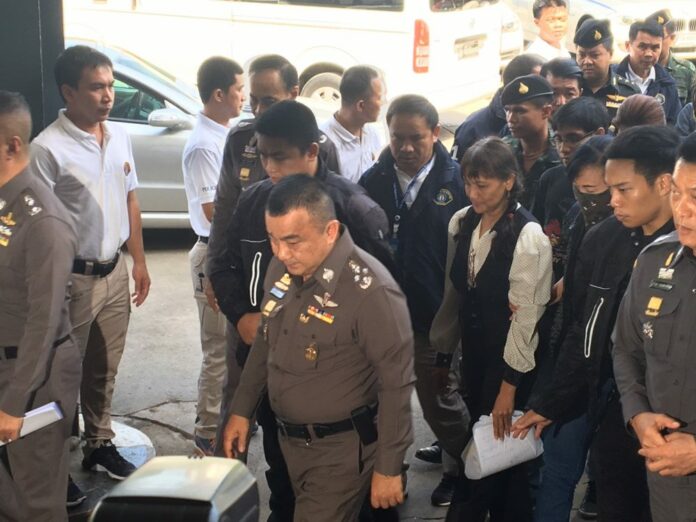 BANGKOK — Eight people denied fraud and involvement in the Japan tour scam which left over 1,000 tourists stranded at Suvarnabhumi Airport last week.
Eight suspects were questioned Sunday at the Crime Suppression Division in Bangkok, all of which denied the charges laid against them, including fraud and conspiracy.
Pasist Arinchayalapis, the owner of multilevel marketing firm Wealth Ever, was arrested April 12 in the southern province of Ranong after the sight of so many people burned by the alleged scam drew sympathy and anger. Pasist, a transgender man, remains jailed at the Central Women's Correctional Institution.
Pasist's mother, Monthaya Nirundorn, was among the eight to deny involvement, saying she only wanted to help the company's members work hard to earn benefits. Monthaya also said Wealth Ever is not a tour company but a supplements business.
Supplements are commonly sold by multi-level marketing firms around the world, many of which are pyramid-scheme models and walk a delicate legal line. Wealth Ever was not legally registered as such, according to the authorities.
The other seven suspects are Kongsarun Saengprapa, Tatdao Samukkasikun, Pranom Palanuson, Nichamon Saengprapha, Parinthorn Honghirun Duckor, Sudarat Aneknuan and Kowit Chuaisud.
Tatdao, Pasist's girlfriend, told police that Wealth Ever was registered as a supplementary food company a few months ago in Nakhon Sawan province. The MLM company's new members would deposit registration fees into her bank account.
However, Tatdao denied any involvement in the Japanese travel swindle, in which people thought they had paid roughly 10,000 baht to spend the Songkran holidays touring Japan.
Police are investigating whether Wealth Ever's products have approval from the Food and Drug Administration, assistant national police chief Srivara Ransibrahmanakul said.
The alleged con by Pasist and his company came to attention on the night of April 11 when more than 1,000 holidaymakers were left waiting at Suvarnabhumi Airport where they expected chartered flights to ferry them to Osaka. Hundreds of the victims have so far filed complaints with the police.
Related stories:
'Japan Tour Scam' Suspect Denies Fraud
Alleged 'Japan Scam' Mastermind Arrested in Ranong
Con Job Strands Thousands of Japan-Bound Thai Tourists at BKK