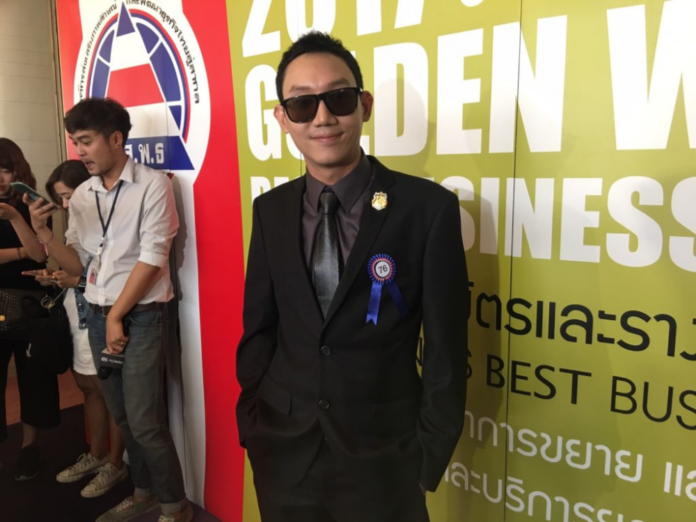 BANGKOK — The scion of a former prime minister known for clean politics and frugal living has made the long-anticipated decision to follow in his footsteps by entering the political fray.
Surabot Leekpai, a well-known television host who grew up in the public eye as the son of former Prime Minister Chuan Leekpai, said he will join the Democrat Party his father once led with an aim to turn a new page in Thai politics.
"The time for us to use old scores and misunderstandings to stir conflict is over. These things should be over. Politics will not be about division, like in the past, as it belongs to an old era and is very melodramatic," Surabot, 30, said.
Surabot in 2010 served as a spokesman for the Culture Ministry but has been mostly known as "Pleum VRZO" for programs he hosts on television and YouTube.
In his weekend announcement, Surabot said it was yet unclear if he would compete as a party list MP candidate or campaign for a constituency seat. Surabot said that it will depend on his consultation with the party.
Consistent with the oldest party's "New Democrat Era" theme, he spoke of a need for more civil political discourse.
"We should seek to cooperate, no matter who is in government or becomes the opposition, to seek common ground and search for people who are best in their respective fields. I believe the future of politics will be like that," he said.
Surabot said he seeks to communicate with the new generation in a simple manner. He added that he is well versed in the use of social media.
His father, a former party leader and now chairman of its advisory committee, said Monday that his son made the decision by himself. Chuan, 80, is credited with become Thailand's first prime minister elected without the support of powerful elites in 1992. He was also the last Democrat to be elected to the post when his second term ended in 2001.
He remains a voice for clean politics.
"Do not think of seeking fortune by entering politics," said Chuan, who is known for living frugally.
Surabot will join a party trying to find its step after nearly two decades playing second fiddle to Pheu Thai Party's political power.
On Monday, one former Democrat MP, Ramree Mana, complained that he and a number of former MPs have been removed from the party's Line chat group because they do not support Abhisit Vejjajiva's continued leadership of the party when it comes up at at a party meeting set for Wednesday.
Ramee said he will seek clarification at the meeting, the party's first in over four years.
The incident was followed by Chuan sending moral support and urging all to band together to protect the party despite differing opinions.
Related stories:
Abhisit Faces Party Leadership Challenge After Proposing Primary