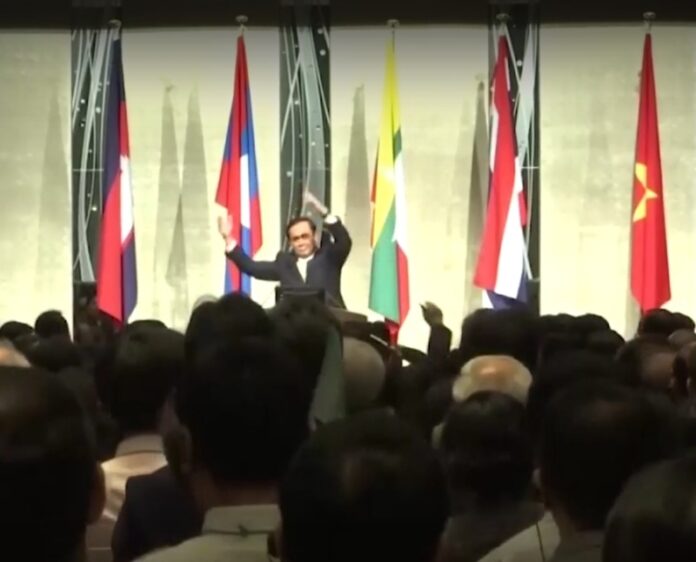 TOKYO — Junta leader Gen. Prayuth Chan-ocha was drawing mixed reactions Friday after he told a Japanese audience at a conference in Tokyo to stand and stretch earlier this week.
While on an official trip to Japan as Prime Minister, Prayuth was given the opportunity to address local business leaders and journalists after lunch Wednesday in Tokyo. The premier – who assumed this role after leading the May 2014 coup – proceeded not with a speech but a "request."
"Could you please stand up. Stand up please. Sleepy. It's Japanese style… It's Japanese style," Prayuth told the mostly Japanese audience at the Japan-Mekong Business Forum in English, before beginning to stretch his arms left and right.
The move was captured by TV Channel 3 and drew laughter from the Japanese audience who stood up, some following Prayuth's exercise routine.
In Japan, factories are known to play music and having staff dance to the tune before beginning work in the morning.
However, Thai social media users gave mixed reactions to what Prayuth did.
"The forum is for stating visions, it's not that you can just do anything," Facebook user Tanawat Wongchai, Chulalongkorn University student council president, wrote Thursday accompanied by the video clip. The post had been shared more than 650 times by Friday noon.
Some said they felt ashamed of Prayuth representing Thailand in the international arena.
"He shows that anyone can become the Thai prime minister. Having army tanks suffices. No need to have a brain," Facebook user Chaicha Winyarat wrote Thursday night.
"You can't really do this unless you are a retard," Facebook user Khunpan Chulamalara wrote Friday.
On Twitter, former Pheu Thai Party MP Watana Muangdsook called the move "crazy."
"He must have thought it's cool, but Thais feel so ashamed," Watana wrote Friday from his account @watanamuansook.
Not all reactions were negative, however.
"I think it's creative," Twitter user @tigeryellowlive wrote Friday, adding that he found this better than being under the Yingluck Shinawatra administration and that foreigners are invited to hear Thais criticizing their own country.
"I like it. This helps the world understand what Thais are facing," Twitter user @Mo_Lersphong wrote Friday.