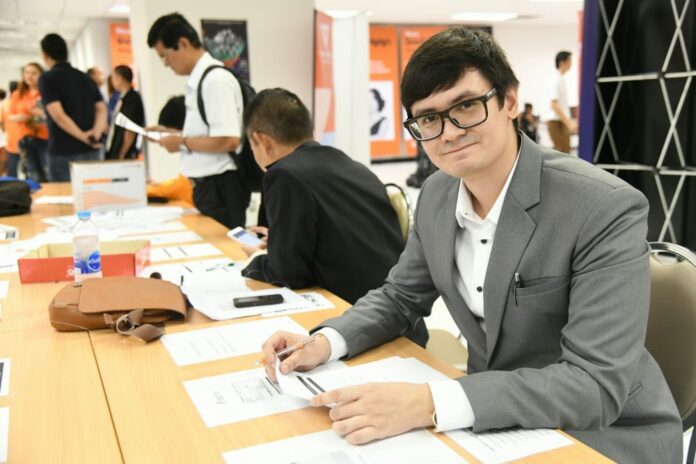 BANGKOK — One of Thailand's most prominent pro-democracy activists is putting down his bullhorn and taking up mainstream politics.
Rangsiman Rome, one of the most visible faces among anti-coup and pro-election protesters, said Monday he will abandon street protests to join a new progressive party because he believes civilian politics needs help.
"If we have no strong political parties, it will be impossible for the fight for democracy to succeed," Rangsiman said, adding that recent remarks by the new army chief raising the specter of another possible coup add to the urgency to support civilian politics.
Since founding the Democracy Restoration Group, 26-year-old Rangsiman has racked up almost as many criminal charges as the protests he's helped lead. He said he thought long and hard before taking the plunge Saturday to become a lifetime member of the Future Forward Party of billionaire political novice Thanathorn Juangroongruangkit.
Thanathorn is a former board member of Matichon Group, the parent company of Khaosod English.
Rangsiman said he's ready to compete as an MP candidate for the party if chosen.
After saying earlier this year he didn't plan on joining any party, Rangsiman said protests in May on the fourth anniversary of the coup changed his mind.
Rangsiman said that dramatic confrontation between security forces and protesters, which ended with him and some 20 other leaders arrested and charged with violating junta special orders, fell short.
"We gave everything we had, but what we expected didn't materialized, be it elections this year or huge pressure [on the regime]," Rangsiman said.
The former activist said he chose Future Forward because it is unapologetically anti-junta and wants to check the military's power over society. He also knows former law lecturer Piyabutr Saengkanokkul, a founder who now serves as party secretary general.
Asked what the loss will be for the movement he has helped lead for years, Rangsiman said it's probably more psychological. Adopting the non-committal tone of professional politicians, Rangsiman said he's willing to run as a candidate if asked, but could change his mind tomorrow.
Fellow pro-democracy protester Sirawith Seritiwat, who has also led street protests, said he was surprised by Rangsiman's decision.
Sirawith said he understood that movement leaders had committed themselves to not joining any parties.
"The situation has changed, and I respect their decision," Sirawith said, referring to the decision of Rangsiman and Piyarat Chongthep, another well-known pro-democracy activist who joined Future Forward on the same day. "They must think this is a way to elevate their struggle for democracy."
Sirawith, also 26 and a former Rangsiman classmate at Thammasat University, said he's chosen another path: seeking a scholarship to study political science in France or India next year.
Asked if the protest movement will be weakened with the departure of two key figures, Sirawith said it's time for new leaders to step forward.
Related stories:
Protest Called Off After Police Seize Leaders by Force
Pro-Democracy Activist Rangsiman Rome Arrested, Again