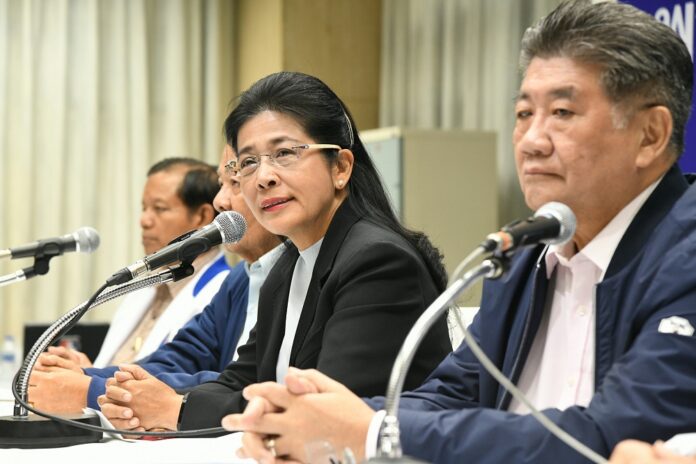 BANGKOK — Pheu Thai leader Sudarat Keyuraphan on Tuesday lashed out at her rival for claiming a right to form the government despite coming in second place at the polls.
Writing in a Facebook post, Sudarat maintained her party and allies should be the one governing because they have sufficient MPs to hold a majority in the lower house – 251 seats. Sudarat's rival, the Phalang Phracharath Party, said it deserves the chance to rule, citing its lead in the popular votes.
"Parliamentary majority means one having more MPs to vote than the other side," Sudarat wrote. "It isn't based on number of votes won by the MPs."
She added, "Even though we compete in the same field under rules that they designed to give themselves a huge advantage, from the starting to the finishing lines, even their MPs are still fewer than ours. They came in the second place, yet they want a gold medal in the first. #IsThatHowItWorks?"
Pheu Thai faction's majority appears to be secure after Prachachart Party on Tuesday became the latest group to announce its support for Sudarat as the next prime minister. The pan-Muslim party is estimated to have won six MP seats.
But Phalang Pracharath, which nominates junta leader Prayuth Chan-ocha to serve another term in office, insisted it should be the one forming the government based on its higher number of votes.
Speaking to reporters today, party co-founder Sontirat Sontijirawong said he's confident Phalang Pracharath's bid will be successful.
A handful of smaller parties remain uncommitted, including Anuthin Charnvirakul's Bhumjaithai Party, which placed fourth in the election.
Analysts believe Gen. Prayuth will also enjoy support from 250 Senators handpicked by the junta when it comes to voting on the next prime minister. Future Forward leader Thanathorn Juangrungruangkit said yesterday the upper house should refrain from casting their votes, lest they may cause "conflict" in the society.
Related stories:
EU, UK Urge Thailand to Resolve 'Election Irregularities'