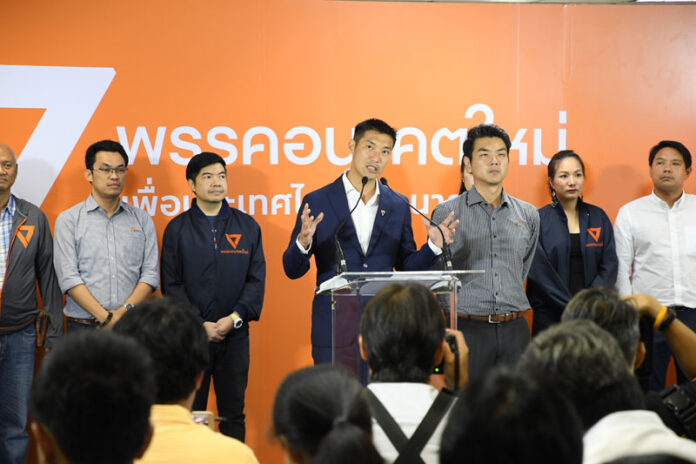 The arts of horse-trading, lobbying and cajoling are in full swing as each of the two largest winners is battling to form its own coalition. Meanwhile, the Election Commission did little to placate growing skepticism over the vote counting procedures. Find all of our election coverage at KhaosodEnglish.com.
---
6:00pm
Democrat Party official Korn Chatikavanij said it was "impossible" for his party to join a coalition with Pheu Thai Party. He spoke after Prachachart news site cited a source saying Pheu Thai officials were in contact with Democrats to explore the possibility of forming a coalition together.
The Democrats Party is currently without a leader, after Abhisit Vejjajiva resigned from the party top job last night.
5:40pm
Phalang Pracharath leader Uttama Saovanayana said his party received a total of 7,939,937 votes, winning the popular vote. The party announced it would attempt to form a coalition and had already "started talks" with some other parties. He would not say which or how many, even after a reporter asked specifically about Bhumjaithai and Democrat parties.
"We have always supported Gen. Prayuth in becoming prime minister. We have been trusted with a majority of 7.9 million votes because our citizens trust him," party co-founder Sontirat Sontijirawong said. "We have conducted ourselves according to the Constitution."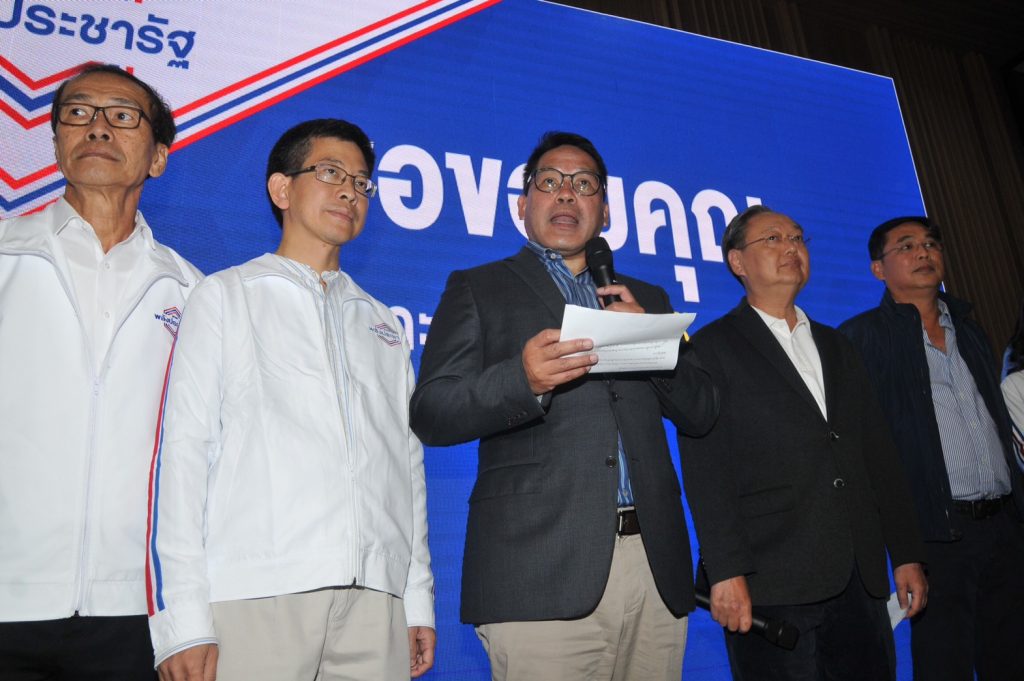 Sontirat would not comment on the Election Commission's election management.
"We have done our job," Sontirat said.
Meanwhile, Pheu Thai member Pokin Polkul said that even though Phalang Pracharath won the popular vote, it does not mean it will get to form the next government. He cited the example of Donald Trump losing the popular vote and becoming president in the 2016 U.S. election.
---
5:20pm
Thai Airways International president Sumet Damrongchaitham said his company delivered the ballots from New Zealand on time. According to Sumet, more than 1,500 ballots were shipped March 22 from Auckland, New Zealand and arrived in Bangkok at 8:50pm on March 23. He said airline staff contacted the Foreign Affairs Ministry to retrieve the ballots between 10pm to 10:30pm on March 23, but that they were picked up the next day on Election Day at 7:30pm – after the polls already closed at 5pm.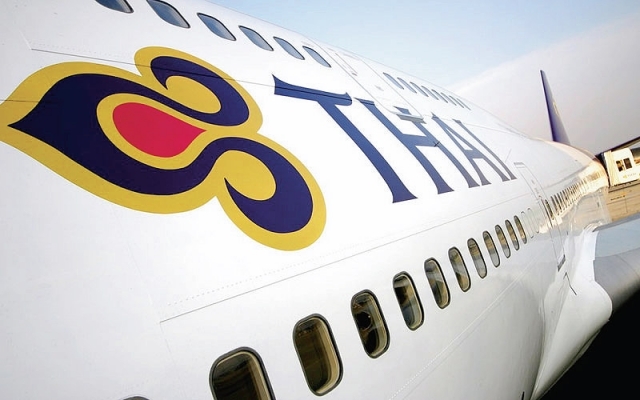 Correction: An earlier version of this entry incorrectly said the ballots were voided. In fact, their validity was still being reviewed by the Election Commission.
---
4:44pm
Future Forward Party sets conditions for joining a coalition, says it will file protests to the Election Commission.
These are the key points spoken by party sec-gen Piyabutr Saengkanokkol:
The Future Forward will only join a coalition that pledges to rewrite the current constitution, remove the junta's powers from the charter, and bring the armed forces under civilian control.
The party calls upon the Election Commission to disclose all information concerning voting procedures, including number of ballot papers printed, how many of them were distributed, and how many people voted in each polling station.
Piyabutr will visit the Election Commission tomorrow to file the complaints in person.
LIVE: The Future Forward Party holds a press conference at the headquarters in Bangkok

โพสต์โดย Khaosod English เมื่อ วันจันทร์ที่ 25 มีนาคม 2019
4:16pm
The Election Commission released the long-awaited preliminary result of Constituency seats. The returns are based on 95 percent of votes counted.
4:00pm
Who will get to lead Thailand's next government? Many observers believe it will now depend on which side Bhumjaithai swings to, as it is currently the largest "neutral" party that has not thrown its support to either Gen. Prayuth Chan-ocha or Sudarat Keyuraphan so far.
First scenario: If Bhumjaithai sides with Sudarat, she will command at least 300 seats in the parliament, winning a simple majority of votes to become the new prime minister.

Second scenario: If Bhumjaithai sides with Phalang Pracharath, the parliament will be evenly divided between two factions, and Sudarat will have just the bare minimum of 251 seats to win the top job.

Third scenario: 250 Senators appointed by Gen. Prayuth decides to intervene and grant him the majority he needed to win another term.

2:58pm
Pheu Thai Party leader Sudarat Keyuraphan said she will now invite other parties to form a coalition government with her. Sudarat said her party should be the one leading the government since it's projected to win the most number of seats in the parliament.
The age-old craft of horse-trading is now set to begin, as Phalang Pracharath has announced its own intention to form a coalition just an hour ago.
2:21pm
Election Commission sec-gen Charungvith Phumma said those who believe there's any irregularity can file complaints to his agency.
He said there are many factors behind the discrepancies in vote count numbers, including "human error."
Deputy sec-gen Nath Laosisawakul said a full election result will not be available until May 9, citing the need to be careful in counting and verifying the votes. He declined to answer whether political parties can now start discussing coalition.
"I'm in charge of organizing the election, not government," Nath said.
He dismissed complaints from social media that the vote-counting procedure is taking longer than expected.
"The public has been waiting for a long time already. Can't they wait some more?" the official said.
LIVE: The Election Commission explains results delay, inconsistent vote counts

โพสต์โดย Khaosod English เมื่อ วันจันทร์ที่ 25 มีนาคม 2019
2:17pm
The Election Commission defends stopping the vote counting at 95 percent of ballots received, saying the limit is written in the laws. The commission also said the counting might take longer than previous elections because of the new voting systems, which transfers Constituency votes to Party List as well.
2:13pm
The Election Commission is now speaking at a news conference. The agency said it has now received the 1,500 overseas ballots from New Zealand. Decisions will be made whether to count them as valid ballots.
The ballots left New Zealand days ago, but the commission blamed series of delays and miscommunication for their failure to arrive by the time polls close Sunday.
1:53pm
Let the game begin: Phalang Pracharath spokesman Kobsak Pootrakool said his party is now discussing the issue of coalition.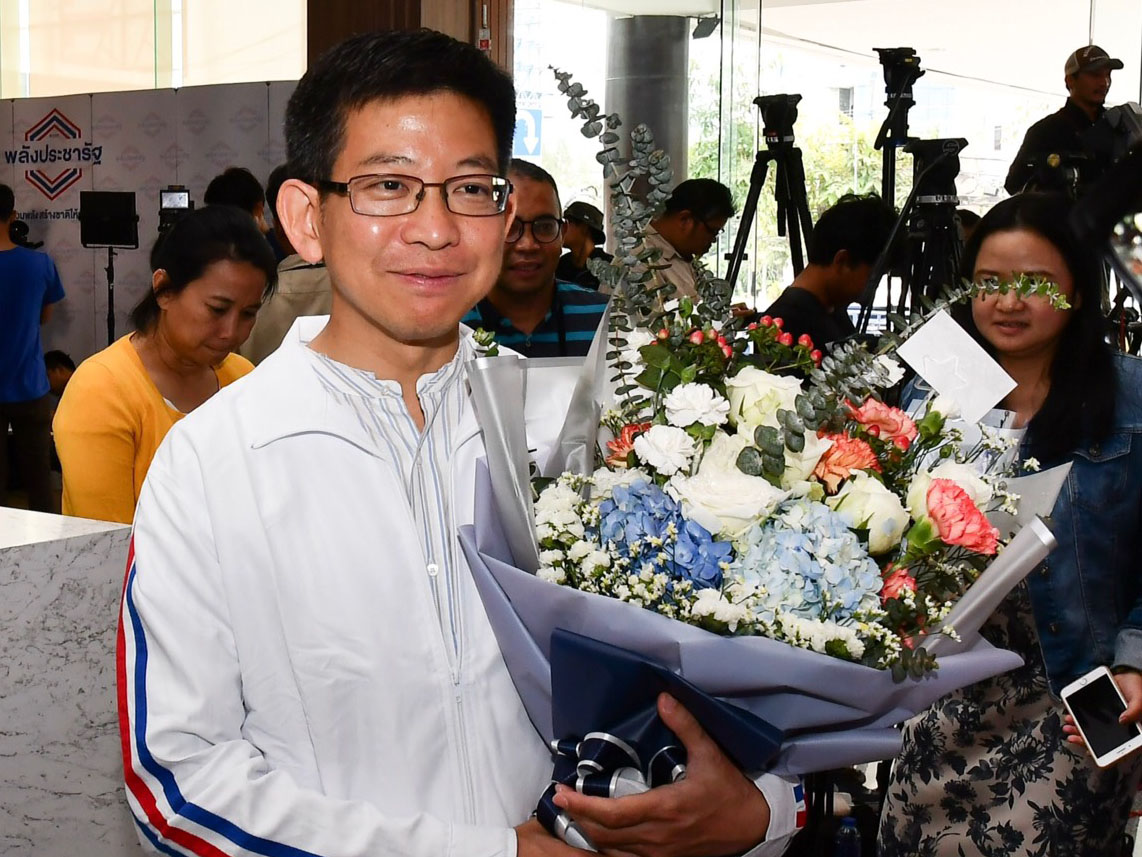 1:13pm
Bhumjaithai leader Anuthin Charnvirakul said he hasn't yet discussed government coalition with any party. The surprise dark horse of 2019 election said it will not make any statement about forming or joining a coalition until the election results are formally endorsed by the Election Commission.
Because Anuthin has been on the fence since the start of the election season, many analysts expect him to side with whoever holds the most seats.
1pm
An independent poll monitor group slams yesterday's voting and faulted the organizers for their incompetence.
P-NET vice president Laddawan Tantivitayapitak said the election failed to meet a free and fair standard. Laddawan also said the Election Commission, who was appointed only months before the Election Day, lacks the experience and capability to hold an efficient election.
Read: Thainet Cries 'Dirtiest Election' in Wake of Confusing Poll Night 
12:59pm
Seri Ruam Thai says it's willing to join a coalition with Pheu Thai Party. Whether the bloc will be large enough to thwart off Prayuth Chan-ocha's ambition to secure another term in office is yet to be seen.
12:28pm  
Former Democrat MP Warong Dechgitvigrom appeared to take a jab at his former boss for the party's abysmal performance at the poll. Without naming anyone Warong compared Democrat Party to a doomed ship piloted by an incompetent captain.
"The ship was navigated in a wrong direction. Instead of fighting an old enemy, it ended up declaring war on a new enemy, even though we should have them as allies," Warong wrote online.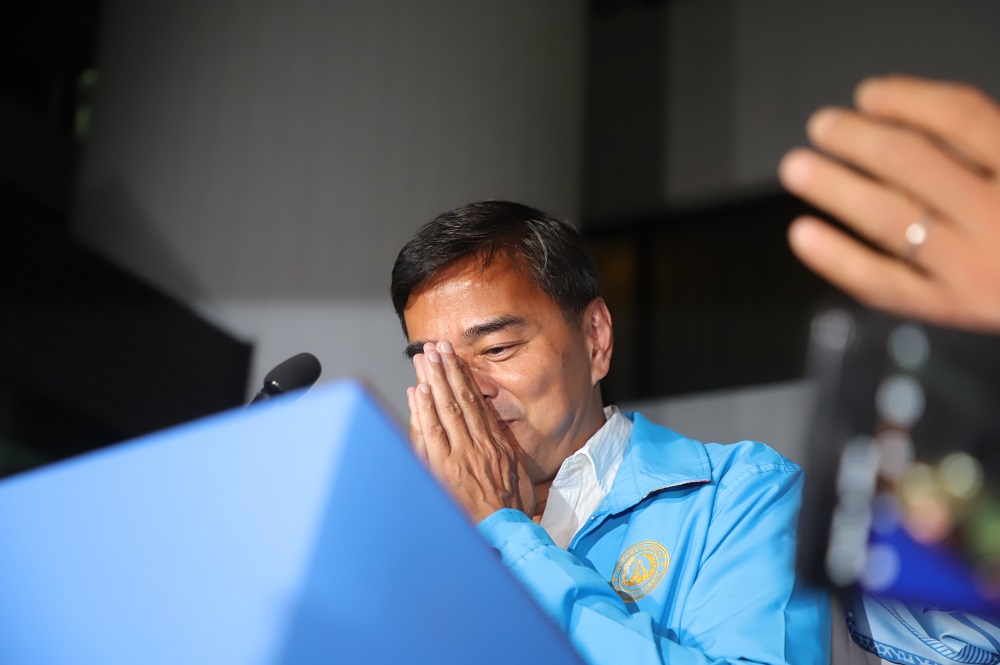 Many Democrats expressed dismay when Abhisit announced he will not support junta chairman Prayuth Chan-ocha as the next prime minister. Abhisit has since come under allegations from the hardliners among his faction that he was seeking a compromise with their enemies, the Pheu Thai Party.
Abhisit resigned from the party chairmanship last night after early returns show Democrats trailing behind three other parties, and losing nearly all stronghold in its traditional heartland of Bangkok.
"Although the captain and his crew made it out alive, their survival is paid in many of their friends' political careers. As we stand in our shipwreck, it is truly time that we stop greng jai one another," wrote Warong, whose bid to lead Democrat Party was defeated by Abhisit last year.
12:12pm
Junta chairman Prayuth Chan-ocha arrives for work at Government House without commenting on the election results. If the early returns are verified by the Election Commission, the party that nominates him will come out as the top winner and Prayuth's another term in office will be most likely secured.
12:00pm 
Here's a look at the Big Five, the top parties with the most number of votes. Note that these are popular votes, and the actual number of seats will be announced by the Election Commission later.