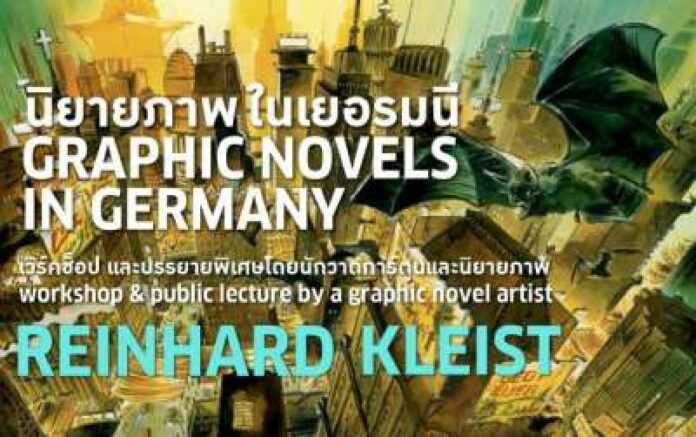 After taking a break for four years, Germany is returning to the Bangkok International Book Fair again. In collaboration with the Goethe-Institut, the Frankfurt Book Fair is again organising the German collective booth, where the Embassy of Germany and the German Book Centre are also present. We are pleased to invite you to visit our Booth (L01) and activities.
"Graphic Novel from Germany" is the highlight of this year. The guest artist, Reinhard Kleist, will held public lectures on the stage that will bring you closer to the world of comics and graphic novels in Germany. He will also demonstrate live painting at the booth that everyone can have a close look.
Special collections from Germany at the booth are new literary releases, German literature in Thai translations, contemporary German graphic novels, the art galleries and museums in Berlin and the "Rights List Children's Book on tour". We also offer a book-rallye which you can join.
Interested publishers and translators are also welcome to talk with us about book markets in Germany, the translation grant programme or other related fields .
Reinhard Kleist is a German graphic designer and author of more than a dozen graphic novels, such as "The boxer", "Castro", "Cash – I see a darkness", "Havanna" and "Berlinoir". He won a lot of international awards, for instance the German Youth Literature Prize 2013 or the Grand Prix de Lyon 2013 for his recent work "The boxer". He is now living in Berlin.
Calendar
Workshop and lecture
3 Apr. 2014
Graphic Novels in Germany
Workshop and lecture with Reinhard Kleist
Goethe-Institut
Castro: How to create a graphic novel?
Queen Sirikit National Convention Centre
Queen Sirikit National Convention Centre
In collaboration with