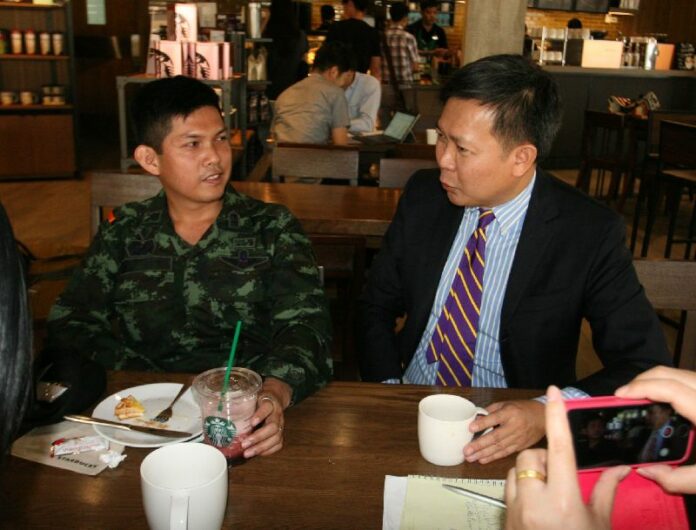 BANGKOK — A Khaosod English reporter is one of five journalists shortlisted for a Freedom of Expression Award by a London-based nonprofit advocating for free speech around the world.
Pravit Rojanaphruk was named Tuesday as a finalist by the Index on Censorship's Freedom of Expression Awards, given to individuals who have made a difference fighting censorship under adverse circumstances.
"The recognition deepens my conviction that the world is watching the ongoing struggle for freedom of expression and democracy in Thailand," Pravit said. "I feel honored and will continue to do my best with fortitude."
Pravit stands alongside finalists including Zaina Erhaim, a female Syrian reporter still working from her devastated country; an Egyptian news cooperative challenging their authoritarian government's media hegemony; Pakistani television reporter Hamid Mir; and an independent Kurdish newspaper in Turkey that defies censorship to report on corruption.
The awards are bestowed in the categories of journalism, the arts, online activism and campaigning. Winners will be selected by a panel of judges including a Nobel laureate in literature and announced April 13 in London.
"Some in the news media believe that, at this challenging time for expression, we should mute or soften our voices and wait for a more convenient time to be heard," said Todd Ruiz, Khaosod English editor. "It's actually when the courage to speak matters most, and we're gratified to see Pravit recognized for taking only one side: that of our readers."
Pravit joined Khaosod English last year after being forced out of The Nation newspaper, where he had worked since 1992, following his second secret detention by Thailand's military government. On Feb. 3, he was summoned for a meeting with soldiers dispatched by the junta to express their dissatisfaction with his writing.
Pravit covers politics and government, and his stories often bring to attention the ongoing suppression of human rights under the junta which seized power in 2014. He also pens a weekly column.
Khaosod English is part of the Matichon Group, which also publishes flagship newspaper Matichon, mass-circulation Khaosod and Prachachat Business.