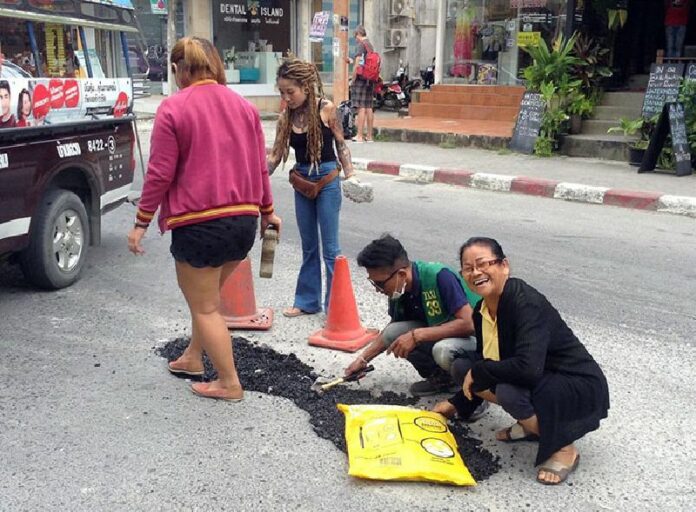 SAMUI — Tired of waiting for the authorities to repair a small chasm in their road, a group of merchants on Koh Samui on Monday took matters into their own hands.
Located at a three-way junction near Chaweng beach, the 50-centimeter by 1-meter hole has caused many road accidents for local residents and tourists, which spurred local merchants to finally do it themselves.
"Many accidents happened here. I've seen many tourists injured from this, and I felt bad for them," said Samran Lungkum, a 52-year-old souvenir merchant. "So I and other merchants living nearby spent 400 baht on asphalt."
It's money well-spent, she said.
"If we don't have tourists, we won't be able to make a living," Samran said. "I'm happy that there won't be any road accidents here anymore."
A leather merchant, who asked only to be identified as Natthakan, said some tourists lack motorcycle-riding skills and often fall.
"We waited too long for the municipality to repair the road," Natthakan said.
There have not been any road accidents in the area since the road was repaired, Samran said.
Koh Samui municipal officials could not be reached for comment.
Chayanit Itthipongmaetee can be reached at[email protected] and @chayaniti92.
Follow Khaosod English on Facebook and Twitter for news, politics and more from Thailand. To reach Khaosod English about this article or another matter, please contact us by e-mail at [email protected].