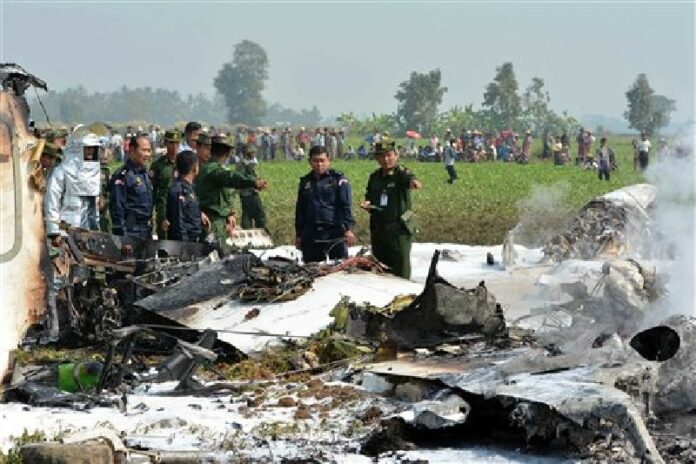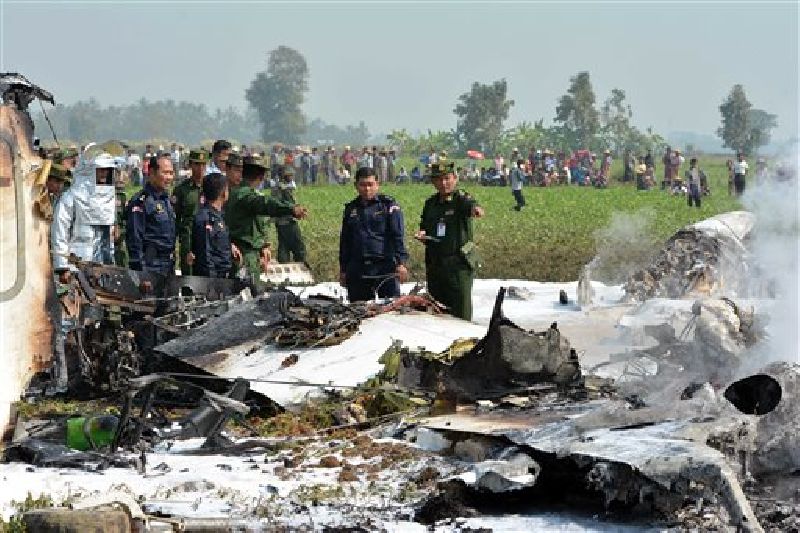 NAYPYITAW, Myanmar — Four Myanmar military personnel were killed and one survived Wednesday when an air force utility aircraft crashed after taking off from the airport in the capital Naypyitaw, officials said.
An Information Ministry statement identified the aircraft, which crashed in a rice field about 1.6 kilometers from the airport, as a Beech 1900, a 19-passenger twin-engine turboprop no longer in production. Photos of the crashed plane showed that most of its fuselage had burned up.
The dead included a major, two captains and a corporal, said Gen. Aung Ye Win of the office of the Myanmar army commander. The sole survivor was another corporal who has been hospitalized.
A number of military personnel were feared dead after a small aircraft went down in a field near the airport. Photo: Aung Shine Oo / Associated Press
Maung Tin, a farmer, said he was working when he saw the plane crash, and ran over to it to try to break one of its windows with a spade in order to get the passengers out.
"As I cracked the glass window and pulled one of them out, fire was all over the plane," he told The Associated Press.
Villagers and military officers gather at a site of a Myanmar military aircraft that crashed in an area close to the airport in Naypyitaw, Myanmar, Wednesday, Feb. 10, 2016. Photo: Aung Shine Oo / Associated Press
A military officer gestures by the wreckage of a Myanmar military aircraft that crashed in an area close to the airport in Naypyitaw, Myanmar, Wednesday, Feb. 10, 2016. Photo: Aung Shine Oo / Associated Press
Story: Associated Press