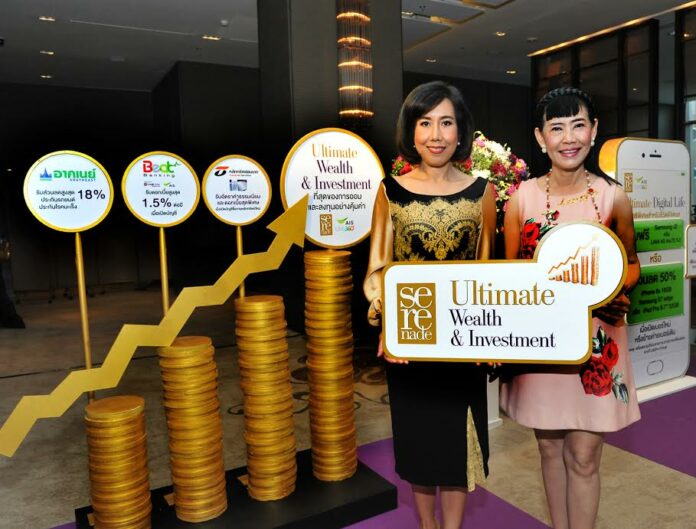 BANGKOK — AIS Serenade has launched its "The Ultimate Pride" campaign to celebrate its 12th anniversary. Under the theme "More than Ultimate: Endless Impressiveness," the campaign aims to create a new level of exceptional offers and personal privileges that meet customers' lifestyle needs in the digital era, specifically designed to endlessly impress … all year round.
Mrs. Bussaya Satirapipatkul, Executive Vice-President for Customer and Services Management with Advanced Info Service Plc. (AIS), said: "Throughout the past 12 years, AIS has always been the NUMBER ONE operator in the market and the first to deliver the best services and the ultimate in privileges to customers with the AIS Serenade program, reflecting our belief in "Always Exclusive, Always on Top."
"Today we have three groups of Serenade customers: Platinum, Gold and Emerald. Our ability to fulfill the needs of each of these special groups is derived from our complete understanding of our customers' behaviors and lifestyles. Because we really understand our customers, we can design the ultimate in perfectly tailored privileges and services for every AIS Serenade customer, resulting in even more personalized customer care. Our attention to detail and care makes our customers feel extra special and strengthens the bond between the AIS Serenade brand and them.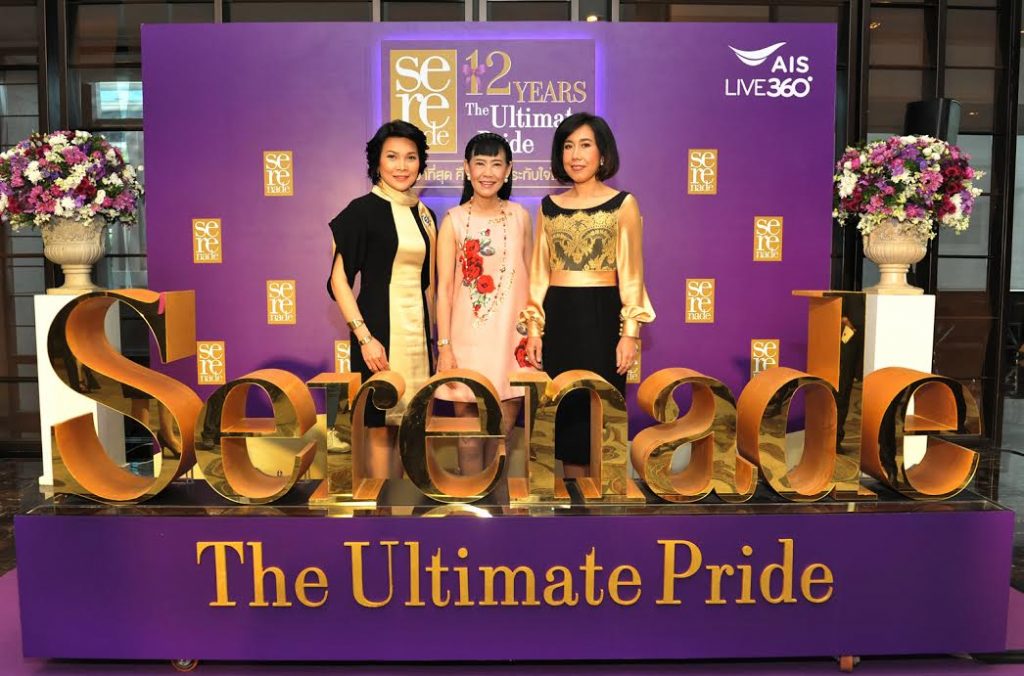 "The evidence of our success is clear from the 88% customer satisfaction figure in the first quarter of 2016, plus a continuously high positive Net Promoter Score (NPS). This data reinforces our proven accomplishments in customer care achieved with the AIS Serenade program. It can be said that AIS operates the NUMBER ONE customer care service in Thailand and offers the best privileges to all its customers.
"Since this year is the 12th anniversary of AIS Serenade, we are further stepping up our commitment to deliver NUMBER ONE loyalty program to make every aspect of our customers' lives even more fulfilling. As part of our celebration, 'The Ultimate Pride' campaign has been developed based on the theme 'More than the Ultimate, Endless Impressiveness'. The privileges that AIS Serenade customers will enjoy include:
Ultimate Digital Life offers various ways to enhance our customers' digital lifestyles:
Customers can get a 50% discount on an iPhone 6s 16GB, Samsung S7 Edge or a 9.7" iPadPro 32GB or receive a Samsung J2 or LAVA 4G VoLTE 5.0 smartphone free or when registering a new phone number or transferring a number from another network;
Maximum discount of 600 baht when applying for AIS Mobile Care service for a period of 12 months;
Obtain an AIS Fibre residential high-speed internet 50/10 package at a special price of 699 baht/month. The normal price is 888 baht/month.
Ultimate Pretty and Lucky Number: Limited to 12 packages of special numbers in "The Ultimate Pride Package", accompanied by Serenade Platinum membership and the services of a personal assistant. Furthermore, Serenade Platinum members can receive a free smartphone with AIS Mobile Care service and free calling and internet fees for two years. Ultimately, they can join an AIS Exclusive Trip to Hokkaido.
Additionally, customers registering a new number can choose their own lucky number series. They can also transfer from another network or switch from an old number by simply contacting one of our AIS Shops, calling the AIS Call Center or by using AIS' e-service.
Ultimate Wealth & Investment: Receive special wealth and investment privileges, in cooperation with our following partners:
–          Thanachart Securities Plc offers 25% discount on normal fee rates, a 0.2% addition to normal interest rate with a maximum of 4,200 bonus points to Serenade Platinum customers opening a new securities trading account;
–          CIMB Thai Bank offers a maximum 1.5% per year interest rate and many other privileges when opening a new Beat Savings account with the bank;
–          Southeast Insurance offers a maximum discount of 18% for any car insurance, while a high return savings product with tax deductions is coming soon.
Ultimate Surprizes: Customers can win prizes specially selected for a unique experience every month, all year round. The prizes are worth more than 4 million baht in total. Starting in July, the special gift of the month is a "Dream Destination Maldives" trip. Start in style with a limousine ride from your home to the airport. Then fly with Bangkok Airways, stay at a spa villa on the ocean and drink in the magnificent view at Centara Ras Fushi Resort & Spa Maldives. Relax with a spa aroma massage.
Ultimate Lifestyle Privileges: The varieties of privileges available through AIS Serenade are always satisfying and popular among customers. These include discounts from more than 15,000 leading stores, more than 700 carpark spots nationwide, and free drinks at 40 shops in 15 airports across the country. Serenade Platinum customers can enjoy additional special snack treats, e.g. sandwiches at Black Canyon restaurant.
"Ultimate Eating Out": Ultimate enjoyment comes with cool discounts from a variety of famous restaurants, such as ice-cream at Banana Boat or Sweet and Gold at Svensen's. Other ultimate gifts include special discounts at Sizzler, KFC and the Pizza Hut restaurants.
"On our 12th Anniversary, everyone at AIS Serenade is very grateful to our special customers for expressing their satisfaction and positive impressions of what we do. We have devoted a lot of attention to selecting the best offerings that will create a superior experience, and our perseverance has resulted in a sustainable, long-lasting bond between AIS and our customers. AIS Serenade will continue to develop outstanding privileges, which match the special needs of our customers, to maintain its leadership in service quality and privilege innovation. Ultimately, our goal is to create an endlessly impressive experience, today and also into the future," Mrs. Bussaya concluded.
This is a paid news release and Khaosod English is not responsible for its content.