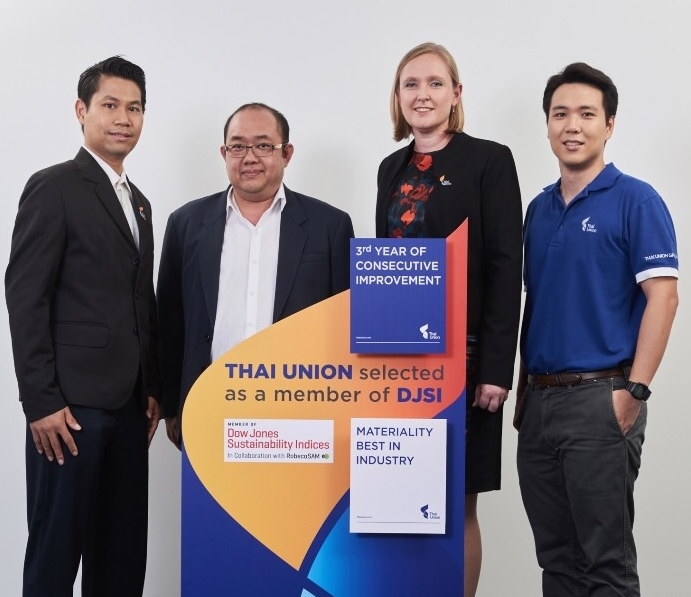 • Marking third year of continued improvement
• SeaChange' drives Materiality score to industry best-in-class
12 SEP, 2016, BANGKOK — Thai Union Group Public Company Limited (Thai Union), the world's largest shelf-stable tuna processor and owner of a leading global portfolio of seafood brands, has been named to the Dow Jones Sustainability Indices (DJSI) Emerging Markets for the third consecutive year.
Thai Union's SeaChange' sustainability strategy successfully drove the score for Materiality to an industry best-in-class 100th percentile. With strong performances from Business Codes of Conduct, and Labor and Human Rights contributed to the improvements that ranked in the 96th and 91st percentile, respectively. The increase in Thai Union's score indicates the company's efforts and discipline in applying sustainable practices and accountability across its business and supply chain are achieving results.
"We are honored to be recognized for our ongoing implementation of our sustainability roadmap, proving that we are on the right track," said Thiraphong Chansiri, Thai Union's CEO. "Sustainability is critical to the future of our industry and our world. We will continue to make transparency and ethical conduct an integral part of how we do business, to the benefit of our environment, economy and society," he added.
DJSI is among the most highly-regarded metrics that evaluate global companies on their sustainability performance. Each year, over 3,000 companies are invited to participate in
RobecoSAM's Corporate Sustainability Assessment (CSA). Companies are selected for the indices based on a comprehensive assessment of long-term economic, environmental and social criteria that account for general as well as industry-specific sustainability trends. Only firms that lead their industries based on this assessment are included in the indices.
Thai Union became the first Thai company to be included in the DJSI food category in 2014.
"Sustainability is a global need that requires a global commitment. With our SeaChange' sustainability strategy, stringent application of Business Ethics and Labor Code of Conduct and other sustainability best practices, we seek to encourage the entire seafood industry to work together towards sustainability. To have an internationally recognized, independent third party institution endorse our efforts and implementations in operational excellence is an encouraging reward," added Darian McBain, Ph.D., Thai Union's global director of sustainable development.
Underscoring its commitment to transparency, Thai Union recently opened its SeaChange' sustainability strategy goals and commitments to public consultation. Earlier this year, stakeholders were invited to provide comment on the content and nature of the goals for each of the four key programs: safe and legal labor; marine conservation; responsible sourcing; and caring for our communities. The feedback was collated, and revisions are being made to reflect stakeholder viewpoints. The new SeaChange' website will be launched soon , along with further updates on progress. SeaChange' will also be used as a platform for conversation and dialogue across the global industry, looking at how Thai Union can change seafood for good.
About Thai Union Group PCL
Thai Union Group PCL is the world's seafood leader bringing high quality, healthy, tasty and innovative seafood products to customers across the world for almost 40 years.
Today, Thai Union is regarded as the world's largest producer of shelf-stable tuna products with annual sales exceeding THB 125 billion (US$ 3.7 billion) and a global workforce of over 46,000 people who are dedicated to pioneering sustainable, innovative seafood products.
The company's global brand portfolio includes market-leading international brands such as Chicken of the Sea, John West, Petit Navire, Parmentier, Mareblu, King Oscar, and R'gen Fisch and Thai-leading brands Sealect, Fisho and Bellotta
As a company committed to innovation and globally responsible behavior, Thai Union is proud to be a member of the United Nations Global Compact, and a founding member of the International Seafood Sustainability Foundation. Its work in sustainability has been recognized by its inclusion in the Dow Jones Sustainability Indices (DJSI) Emerging Markets since 2014. In 2016, Thai Union received a DJSI score of 72, the third consecutive year of DJSI score improvement.
Contact: Wisaka Chantakit
Thai Union Group+66.81.845.7316
[email protected]
For news releases and related materials visit the Thai Union News Room
Click here for more on SeaChange' and follow us at www.twitter.com/ThaiUnionGroup
This is a paid advertorial. Khaosod English is not responsible for its content or claims.