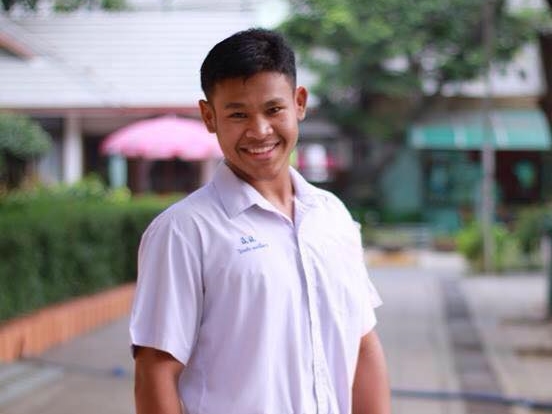 CHONBURI — The family of 19-year-old Chokechai Thongnuekhao was still waiting Monday to find out whether he would be back to his old self or suffer permanent brain damage after nearly dying in a hazing session he was forced to submit to at his university.
Witnesses said Chokechai was told Friday by senior students to swim across a large pond at the Chonburi campus of Kasetsart University as part of annual initiation rituals known as rub nong. Chokechai's strength faltered before he could reach the other side, and he had to be rescued and taken to a hospital, where he remains on a ventilator.
Student Seared With Candle During University Hazing
"He's out of critical condition. But we have to keep monitoring him. It's a semi-critical condition," Chutidej Tabongkarakha, director of Chonburi Hospital, said Monday afternoon.
Chokechai, an International Maritime Studies student, was the latest casualty in a tradition still common at Thai universities despite occasional fatalities and public controversy. No one has been charged for what happened to Chokechai.
According to Chutidej, the student showed recognition and blinked in response to hospital staff calling his name or giving him medicine. But he said it's too early to tell whether his brain was damaged by oxygen deprivation, or whether he will be able to verbally communicate until he's breathing on his own.
"Once we can remove the tube, we will reevaluate his brain," Chutidej said.
Chokechai's father, Amporn Thongnuekhao, told reporters Sunday after touring the site of the incident that he hoped Chokechai would recover and return to class soon.
Chokechai is a sports enthusiast who usually swims well, Amporn said.
Kasetsart University interim rector Chongrak Wachrinrat told reporters six or seven senior students were at the scene when the incident happened. According to Chongrak, the seniors "told" Chokechai to swim to them, and Chokechai appeared to have a cramp while swimming in the pond. The senior students immediately rescued Chokechai and brought him to hospital, the rector said.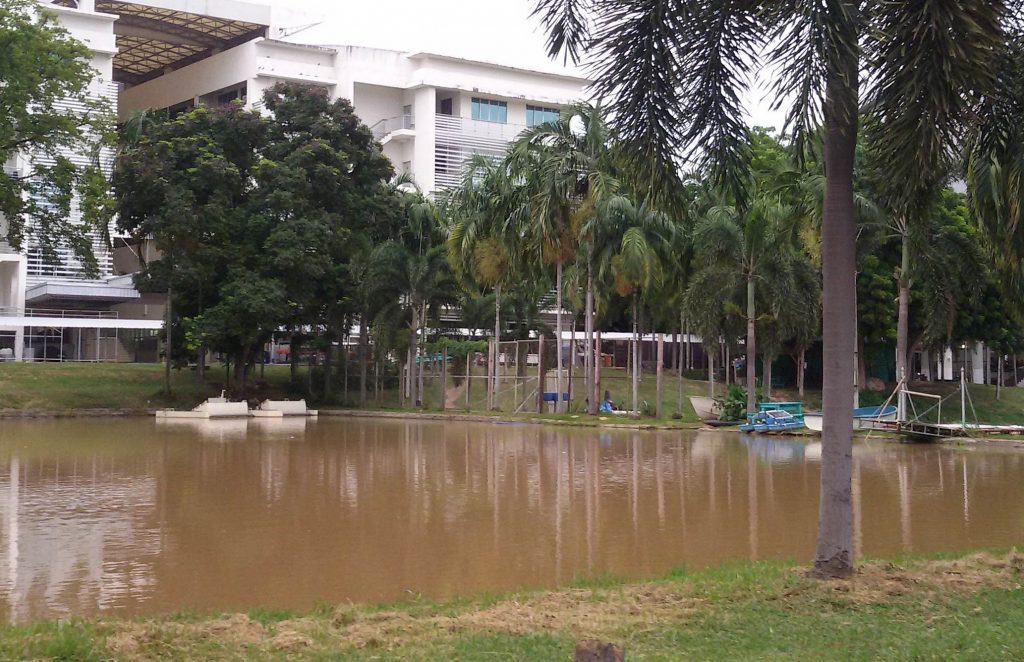 He said the university is investigating the matter.
Amporn said he has not filed any criminal charges against any of the senior students and won't if Chokechai fully recovers. None of the students had yet to meet with him or apologize in person, he said.
Both Chongrak and Amporn also disputed a story on social media that the pond was polluted with chemical waste, though Chutidej of Chonburi Hospital said lab results for any chemical contamination in Chokechai's body are not out yet.
News of Chokechai's brush with death was met with a storm of fury online, where many comments expressed disbelief that risky rub nong, or hazing, is still tolerated at many universities. The ritual usually involves senior students forcing freshmen to perform grueling tasks to prove their worth.
"Let me tell you, it's been more than 10 years since I left university, I have never found any use from my rub nong times, not a single thing," Pook Sukonta Berthebaud wrote in a Facebook post that's been shared more than 32,000 times. "Do you want a civilized rub nong? They organize themselves as social service volunteers. They don't use their birth certificates or power to intimidate or force anyone to grovel to them."
Rub nong occasionally leads to deaths, injury and sexual assault. In August 2014, a 16-year-old student died during hazing in Hua Hin.
Related stories:
Chiang Mai University to Probe Violent Hazing Rituals
Chula Freshman Says Classmates Threaten Him For Calling Out Hazing