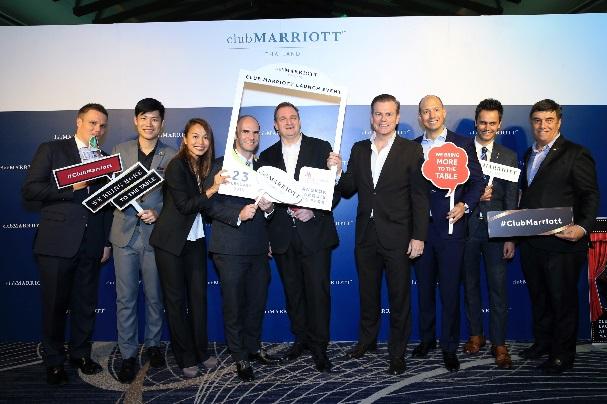 BANGKOK — Marriott International (NASDAQ: MAR) today announced the new Club Marriott, a leading dining loyalty program that has been officially launched in Thailand, that integrates two powerful dining loyalty programs—Club Marriott and Eat Drink & More—into a single paid membership program. The newly combined Club Marriott provides members with more choices and benefits whenever they dine out in their hometowns or visit one of the 250 participating hotels across 16 brands in 13 countries across the region, with more hotels joining every month.
"With the new portfolio of brands under Marriott International, loyalty is the key driving force that will allow us to cut through the competition," said Ralph Frehner, Vice President, Food and Beverage, Asia-Pacific for Marriott International. "Club Marriott gives us the platform to drive loyalty that extends even beyond a stay, via rewarding and recognizing the 'local member' through exclusive benefits and memorable experiences across a vast variety of brands."
Thailand has the most expansive portfolio of participating brands among all the countries in Asia Pacific. Locals can join as a member at 38 participating hotels & resorts across 11 brands in 9 cities from Chiang Rai to Phuket. Members will be able to enjoy complimentary dining certificates for group dining or use their personal dining credits in a number of exceptional restaurants. Members will receive welcome amenities, room discounts, upgrades, and spa vouchers at participating hotels, and enjoy birthday offers as well as access to exclusive events. Their children will also be treated to events and many surprises. The participating hotels in Bangkok offer a flat 30% off on food and beverage to the local members. Members are also eligible to enjoy 20% off on food and beverage at the participating hotels outside Bangkok and across Asia Pacific.
"With over 200,000 members today and growing, the new Club Marriott has evolved as the preferred Hotel Dining Loyalty Program," adds Ralph Frehner, Vice President, Food and Beverage, Asia-Pacific for Marriott International.   "By offering locally relevant benefits to members, we aim to continue to have a sharp focus on positioning our hotels as 'the favorite destinations where locals go to meet, eat and drink.'"