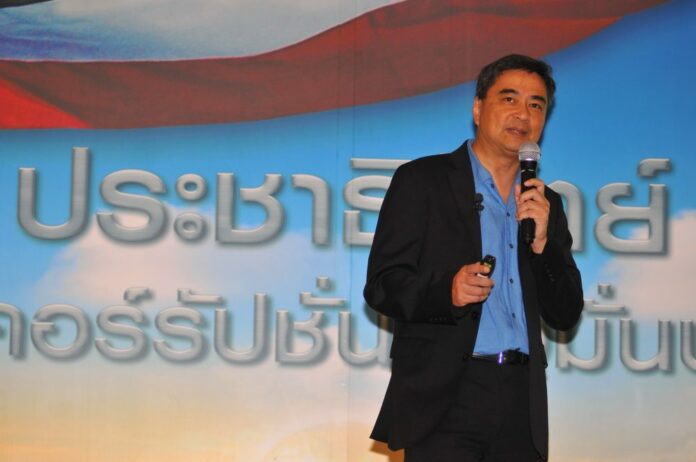 BANGKOK — Returning members of the Democrat Party are not welcome if they support junta chief Prayuth Chan-ocha becoming the next prime minister, party chairman Abhisit Vejjajiva said Sunday.
Those wishing to support the junta boss for the top job are welcome to join other parties, Abhisit said, laying out the position in blunt terms as party members across the country begin the process of confirming membership per a new junta regulation.
"If you want to support Prayuth, there are many options out there, you don't have to come here," Abhisit told reporters. "If you stay with the Democrat Party, you must support the party and the party chairman, no matter who it is."
Read: Parties Back On in June, But Politics Remain Forbidden
Some key members of the Democrat Party previously declined to rule out supporting Prayuth for another term as an "outside prime minister," like Democrat MP Nipit Intrasombat who said in January the party had yet to discuss the issue.
Democrat spokesman Ramet Rattanachaweng said Abhisit was speaking on the basic principle of party allegiance.
"What he was talking was based on principles," Ramet said in an interview Monday. "Because for political parties, naturally, everyone in the party must support the party chairman as the prime minister. Therefore, if anyone in the party has ideas about supporting someone else as the prime minister, that is against the party's stance."
Abhisit spoke on the first day of a month-long window during which members of all existing political parties must reconfirm their loyalty or be removed from the rolls, per a new law introduced by the junta.
Ramet said the novel measure is forcing party members to travel long distances at their own expense to register anew. Many are also confused what documents they must bring, he said.