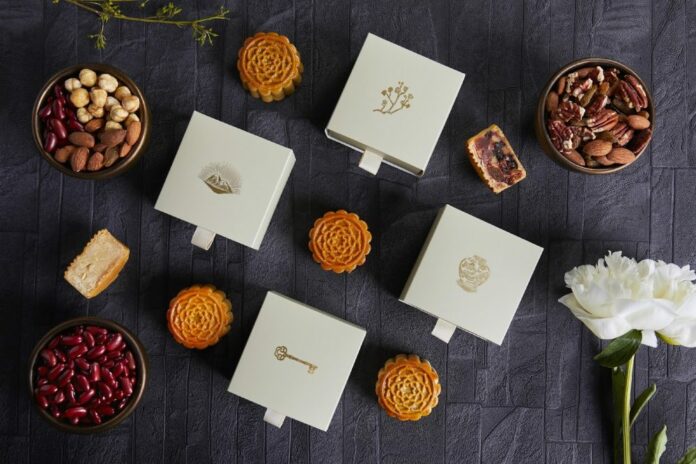 BANGKOK — Celebrating this festive occasion, Park Hyatt Bangkok showcases a fine selection of traditional mooncakes for the first time, featuring four flavors in a limited edition golden gift box for the 2018 Chinese Mid-Autumn Festival.
The limited edition golden mooncake gift box comes with four, 60-gram, flavorsome mooncakes.  Each of which displays the hotel's signature lotus motif as the mold and is presented exquisitely in individual boxes with markings of prosperity, good fortune, wellness and strength.
Enjoy four traditional mooncakes that include Red Bean Paste with yolk, Mon Thon Durian with yolk, Dried Fruits & Nuts, and Lotus Seed.
Mooncakes with yolk represents a traditional concoction of savory and sweetness while depicting the moon in the great night sky beneath its freshly baked golden skin and rich flavors. Along with the two traditional flavors are the well-known Dried Fruit & Nuts and Lotus Seed. These two well-cherished flavors refines the popular lotus seed filling which is considered as one of the most luxurious fillings along with the aromatic and zesty blend of dried fruits and nuts.
The elegant set of four mooncake are priced at 888 baht per box. Savings for bulk order purchases are also applicable from now until September 24th, 2018.  For further information and placing orders, please contact 02-011-7429 and email [email protected].
About Park Hyatt
Park Hyatt hotels provide discerning, affluent business and leisure guests with elegant and luxurious accommodation and offers them highly attentive personal service in an intimate environment. Located in several of the world's premier destinations, each Park Hyatt hotel is custom designed to combine sophistication with a distinctive regional character. Park Hyatt hotels feature well-appointed guestrooms, meeting and special event space for groups, critically acclaimed art, food and beverage programs, and signature restaurants featuring award-winning chefs.