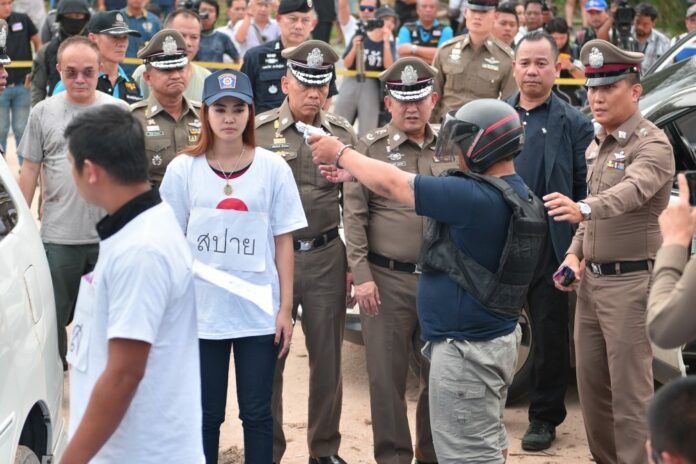 BANGKOK — The national police chief said Wednesday that a Phuket club owner extradited from Cambodia has confessed to murdering two people in Chonburi province.
Panya "Siya Ouan" Yingdang was handed over to Thai authorities Tuesday night, about a month after police said he shot a woman and her boyfriend to death in a jealous rage at the site of a sacred Buddha mountain.
Read: Cambodia to Hand Over Phuket Club Owner Wanted For Murder
Police commissioner Gen. Chakthip Chaijinda said Panya, who was flown from the border province of Sa Kaeo to Bangkok, confessed under questioning to masterminding the murders of Paweena Namuangrak and Anantachai Jaritram – and pulling the trigger.
Panya was then taken in the afternoon to Chonburi to stage a "re-enactment" of the crime.
Ten people have been arrested on suspicion of being involved. Six were charged with murder and possessing firearms while the other four were charged with being accessories.
According to police, Panya had several people follow the victims while they were on holiday with friends in Chonburi and even had one infiltrate the group before he and his hired gunman shot them several times each at Khao Chi Chan on July 29.
Panya, a well-known figure in Phuket's nightlife scene, had reportedly failed several times to court Paweena, who used to work in a bar he owns, leading police to believe jealousy was his motive.
Before leaving this morning's press briefing, Panya, who was believed to be fleeing to Vietnam when he was detained in Cambodia, told reporters he never intended to turn himself in.