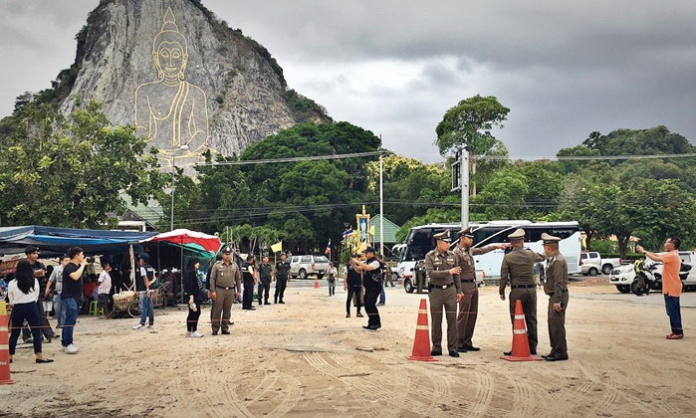 BANGKOK — A well-known figure from Phuket's nightlife scene accused of executing a couple in Chonburi will be extradited from Cambodia, police said Thursday.
Before his arrest Wednesday in Cambodia, Panya "Siya Ouan" Yingdang spent nearly three weeks on the run after the murder of a 20-year-old woman and her boyfriend late last month in what's described as a sordid tale of unrequited love and jealousy that has gripped tabloid headlines.
Since Wednesday, Panya has been in Cambodian custody, according to a Thai police spokesman, for entering the country illegally. He's expected back in Thailand as soon as Friday.
Maj. Gen. Piyapan Pingmuang said Cambodian police agreed without condition to extradite Panya, who has already been charged back home with murdering Paweena Namuangrak and Anantachai Jaritram.
The couple was killed by two gunmen on July 29 while visiting Khao Chi Chan, a sacred mountain draped with an image of the Buddha in Sattahip district. Paweena was shot four times and Anantachai twice. They both died at the scene.
Five other suspects accused of being involved, including a gunman and driver, have been arrested and charged. Police said all have agreed to testify against Panya, a 39-year-old club owner well known on the island.
He was reportedly was captured en route to Vietnam.
Gen. Suchart Teerasawat, police inspector general, said Cambodian authorities are now bringing him to cross the border in Sa Kaeo province.
The dramatic manhunt began after police revealed that both victims used to work in a Phuket bar owned by Panya, who had already gone to ground. They believe Panya was driven by jealousy to murder the couple after Paweena refused his romantic overtures.
Once extradited, Panya will immediately be brought to regional police headquarters in Chonburi where the murder took place, Suchart added.