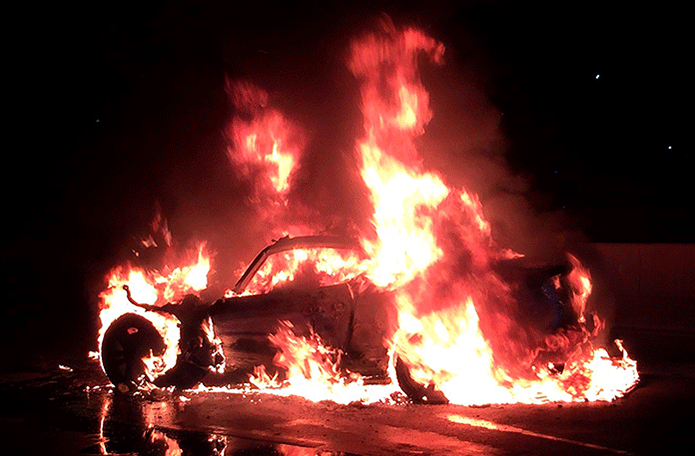 BANGKOK — When a cherry red Ford Mustang plowed into a truck carrying a family of five early this morning, the surprise wasn't that a teen was behind the wheel, but that everyone survived.
Police said no one was killed when Peerasaran Surin, 17, crashed his 4 million baht EcoBoost Coupe into a truck carrying the Chom-mhoo family at about 2:20am on Kaset Nawamin Road in Bangkok's northern Bang Khen district.
Peerasan crawled out of the wreck before it dramatically burst into flames that firefighters took 30 minutes to put out. Five meters away, the truck he hit had collided with a utility pole.
Thai Chom-mhoo, Buppha Chom-mhoo and their three young children, all between 1 and 5, escaped with only minor scrapes, according to police Capt. Wiwat Mahathep. All six were rushed to Paolo Hospital Kaset.
Although initial reports said Peerasaran was the son of a high-ranking Koh Samui police officer, Wiwat said Wednesday afternoon that he did not know.
"I myself can't confirm whose son he is. I'm just looking at who hit who in the accident," Wiwat said, adding that Peerasaran passed a test for alcohol.
"No one was really hurt. The family and the kids just had some scrapes," Wiwat said. He said Peerasaran would be charged for driving without a license, destroying state property and reckless driving resulting in the harm of others.
Peerasaran was reportedly on summer vacation from studying in England. True or not, the story was met with a passionate response online as another example of privileged youth wrecking lives behind the wheel.
"No one is expecting any justice. Just compensate and care for those black-eyed villagers, please," Natt Nattapong wrote on Facebook.