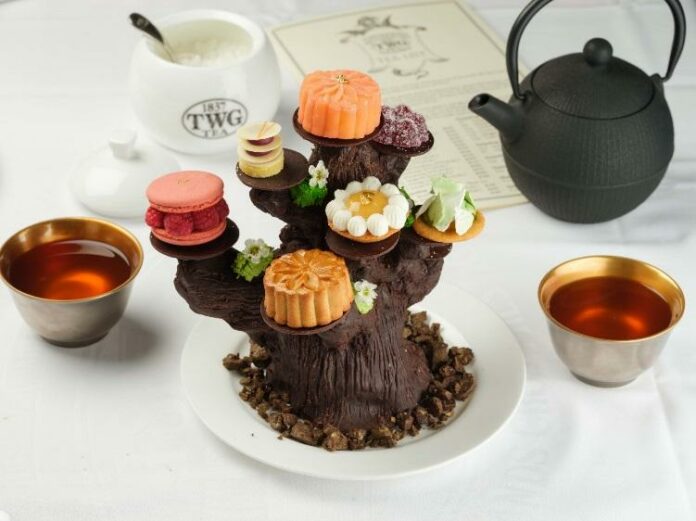 BANGKOK — In celebration of the mid-autumn festival, TWG Tea heralds the arrival of an ambrosial autumn with the Moon Tree Dessert Set, a tantalising array of tea-infused traditional mooncakes and patisseries set to inspire and entice any gourmand.
Begin your journey on the Moon Tree Dessert Set with the iconic Constellation Mooncake, a signature mooncake that holds within a golden crust a smooth and elegant Red of Africa Tea infused brown lotus filling embedded with a salted egg yolk heart. Adding a modern twist to this traditional delicacy is the Honey Peach Mooncake filled with luscious Honey Tea infused peach compote endearingly concealed in a radiant orange snowskin.
A whirlwind of flavours, tantalize the taste buds with a bite of the Lychee Raspberry Macaron, one of TWG Tea's popular patisseries refreshed with the distinct flavours of Pink Garden Tea infused lychee butter cream filling and fresh raspberries; or the splendid Cassis White Chocolate Mille-feuille meticulously handcrafted with layers of white chocolate infused with TWG Tea's signature 1837 Black Tea.
End the celestial journey with other innovative tea-infused creations from the Moon Tree Dessert Set such as the deliciously tangy Lemon Meringue Tart featuring a Lemon Bush Tea infused lemon cream topped with fluffy meringue; a tropicalPassion Banana Tart with Grand Wedding Tea infused passion fruit and banana puree topped with fresh cream; and the time-honoured French sweet featuring the Pâte de Fruit Raspberry Rose infused with Pink Garden Tea, and Pâte de Fruit Lychee infused with Jade of Africa Tea.
For an exceptional tea pairing, complete this divine set with a cup of Blue Lotus Tea, an aromatic green tea that perfectly unites the luscious notes of red fruits and a scattering of fresh water blossoms.
The Moon Tree Dessert Set is available at all TWG Tea Salons & Boutiques in Bangkok from 1 September – 7 October  2018, priced at 590 Baht per set.
Note to editors: No royalties payable if TWG Tea is stated as the source. More images are available upon request.
About TWG Tea
TWG Tea, the finest luxury tea brand in the world, was established in Singapore and celebrates the year 1837 when the island became a trading post for teas, spices and fine epicurean products. TWG Tea, which stands for The Wellbeing Group, was founded by Taha Bouqdib, Maranda Barnes and Rith Aum-Stievenard in 2008 as a luxury concept that incorporates unique and original retail outlets, exquisite tea rooms and an international distribution network to professionals. Committed to offering teas directly from source gardens, TWG Tea's collection is the largest in the world, with fine harvests from every tea producing country and exclusive hand crafted tea blends. Internationally recognised as a true innovator with the creation of new varieties of tea every season in collaboration with the world's most renowned estates, TWG Tea also offers exquisite signature modern tea accessories and delicate tea-infused sweets and savouries.
After launching its first Singapore tea salon & boutique at Republic Plaza in 2008, TWG Tea has opened in iconic destinations such as ION Orchard, Marina Bay Sands and Takashimaya Singapore. Expanding its presence internationally, TWG Tea has heralded the opening of exquisite Tea Salons & Boutiques in Bangkok, Dubai, Guangzhou, Hong Kong, Kuala Lumpur, Taipei, Tokyo, Manila, Jakarta and Shanghai.  In addition, TWG Tea's exclusive collection of the finest teas of the world is available from TWG Tea Boutiques in Harrods Knightsbridge, London and Dean & DeLuca Madison Ave, New York. The premier tea supplier to the finest hotels, restaurants and international airlines, TWG Tea is retailed around the world in gourmet épiceries, including El Corte Ingles in Portugal, Feinkost Kaefer in Germany, David Jones in Australia and GUM in Moscow, Russia, and served in Business Class, First Class and Suites and in the Lounges of Singapore Airlines and Nippon Airways.
TWG Teas are available in Singapore, Australia, Azerbaijan, Belgium, Cambodia, Canada, China, the Czech Republic, Denmark, Estonia, Germany, Hong Kong, India, Indonesia, Japan, Kuwait, Macau, Malaysia, Maldives, Mauritius, Mexico, Morocco, New Caledonia, New Zealand, Pakistan, Philippines, Portugal, Qatar, Russia, Saudi Arabia, Seychelles, South Africa, South Korea, Spain, Taiwan, Thailand, Turkey, Ukraine, the United Arab Emirates, the United Kingdom, the United States of America, and Vietnam. European online orders can be made at www.Harrods.com; online orders within the USA can be made at www.DeanDeluca.com; Canadian orders may be made online at www.VansingDG.com; worldwide online orders can be made directly from the TWG Tea e-Boutique and m-Boutique at TWGTea.com.