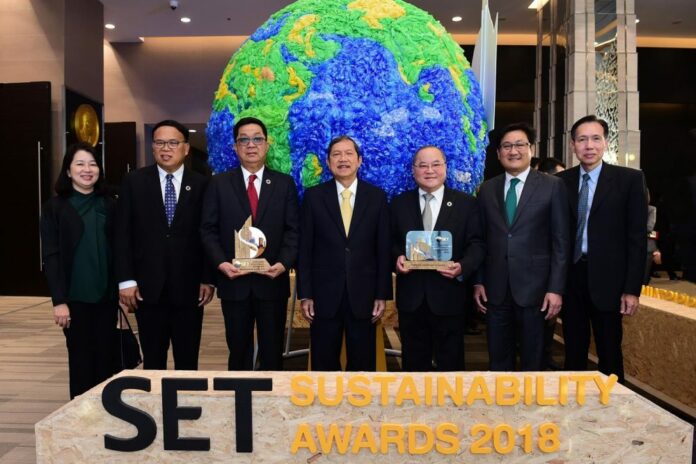 CPF — The Stock Exchange of Thailand (SET) granted two sustainability awards to Charoen Pokphand Foods PCL (CPF) including Outstanding Sustainability Awards 2018 and Thailand Sustainability Investment (THSI) for the 4th year that presented the company's doing business with responsibility for social, environment and the management under good corporate governance through sustainable development principles to generate sustainable growth and positive returns to economy.
Mr.Sooksunt Jiumjaiswanglerg, Chief Executive Officer – Agro Industrial Business and Co-President of CPF, said the SET Sustainability Awards is one of SET's direction on quality development for listed companies in Thailand, which aims to create values to the corporate and social.
CPF operates business toward the vision "Kitchen of the World", focusing on economic, social and environmental responsibilities. In addition, the company (both in Thailand and overseas investment) also encourages all of its stakeholders and business partners throughout its supply chain to apply sustainability development in line with good corporate governance. This is to guarantee its food safety, good quality and good taste to all consumers.
The company drives through Sustainability Direction under the three pillars : "Food Security, Self-Sufficiency Economy and Balance of Nature", in accordance with UN Global Compact and Sustainable Development Goals, covering good health and well-being, food accession, legal labor employment, climate action and environment management under the sustainable development etc.
"Sustainable development is CPF's core principle to operate business sustainability and responsibility.  The company's goal is to support global food production for food security to serve world's population. We promise to lead all of our stakeholders to achieve sustainability in terms of better health and good quality of life, natural and environmental protection to pass on good things to the future world," stressed Sooksunt.
Mr. Sukhawat Dansermsuk, Chief Executive Officer (CEO) – Food Business and Co-President at CPF, said the company strives to develop a sustainable food business through relentless research and constant drive for innovation. The goal is to improve health and nutrition of consumers of all ages with fresh, safe, hygienic and nutritious foods under the world class standard from farm to table. In addition, the company has been developing healthy meals and food for patients at hospital to provide a new and tasty choice of ready-to-eat meal for each individuals with specific needs.
"We have been developed foods for patient and elderly as well as healthy foods and foods for beauty. CPF recently opened RD center at Ayutthaya Province. The state-of-the-art pilot plant has helped the company to accelerate innovation and raise the company's R&D process to a new height," Mr. Sukhawat pointed.
He added that CPF has committed to develop products under world class standard and high responsibility to society and environment to attain a sustainable and transparent production process and a traceability throughout the supply chain. This principle is in line with DJSI, the internationally recognized sustainable assessment.