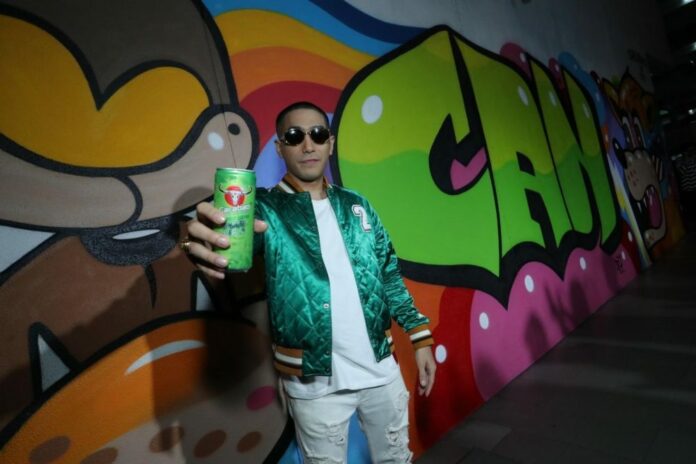 "Carabao" yet again highlights the success of Carabao CAN Green Apple under the campaign "Don't Say Can't , Carabao CAN" by taking home two awards at prestigious contests, Best Film (bronze medal) at ADMAN Awards 2018 and Soundtrack of the Year at RAP IS NOW AWARDS 2018, performed and composed by famed Thai rapper Twopee Southside.
Mr. Kritpong Nilwan, director of marketing of Carabao Tawandang Co., Ltd., says, "Carabao CAN's TV commercial took a bronze medal at ADMAN Awards & Symposium 2018 in the category of "fast moving consumer goods" and won Best Soundtrack at RAP IS NOW Awards 2018. The soundtrack was a collaboration between Carabao CAN and Thailand's best-known rapper Pitawat "Twopee Southside" Pruksakit. The two much-coveted awards serve to highlight the success of Carabao CAN Green Apple in its creativity and ability to engage target consumers. The wins also underscore the brand's successful marketing that's responsible for the brand's increased sophistication. The brand continues to expand its customer base to cover all target groups in accordance with the company's strategy."
ADMAN Awards & Symposium 2018 is the biggest advertising and marketing campaign competition in Thailand that's been annually organized by the Advertising Association of Thailand for 15 years. The Awards aims to support, promote, recognize and boost the morale of organizations, personnel and quality works that not only show professional ethics, but has also gained widespread acceptance among people, business organizations and society at large. The winning works have succeeded in raising awareness of the importance of marketing communications.
In this year's competition, there were 934 entries competing in 15 categories. The TV commercial of Carabao CAN ended up winning a bronze medal in the category of "fast moving consumer goods". The film was created by Storyteller Bangkok under the brand's campaign "Don't Say Can't, Carabao CAN!"
RAP IS NOW AWARDS 2018 recognizes achievements in hip hop/rap culture. In the competition, the brand's soundtrack of the film "Don't Say Can't", a collaboration between Carabao CAN and Twopee Southside, was proclaimed Soundtrack of the Year. Twopee also won three other awards: Artist of the Year and Hip Hop Song of the Year ("Aow La Woil"), and Music Video of the Year (for the same song).
Positioned as an exclusive product, Carabao CAN Green Apple, in a cheery green can, looks sophisticated, cool, and eye-catching. The canned energy drink is known for being  a refreshing, fizzy and powerful young energy drink. Carabao CAN Green Apple was launched under the concept "Don't Say Can't, Carabao CAN" that underscores (the millennials') courage, challenges, fearless practicality and love of living life in style.
The energy drink has enjoyed popularity and been a great success in the United Kingdom. The word CAN not only implies the new canned product, but also connotes the new generation who never give up in their pursuit of their own dreams and who believe that nothing is impossible. They are also characterised by their openness to creative ideas and support of novel concepts of members of Generation CAN.
While representing the power to create novelties, the tagline "Don't Say Can't, Carabao CAN" is similar in concept to one of the Carabao brand's earlier messages like "If I can do it, you can do it". The statement implies that one should not say that they can't do it. As long as they adopt a can-do attitude toward life and do everything with love, determination and their positive energies, then nothing will go to waste. The positive energies act like the main thrust of today's teenagers, or the "positive force generation" and are what makes everything possible. Just don't say you can't do it. What counts is to keep on doing it.
Pitawat "Tong Twopee Southside" Pruksakit, Thailand's foremost rapper, is representative of the new generation who have the creativity and courage to show off their talent in a positive way. They are known for never shying away from doing what they love. This marketing strategy will allow the public to see the image of Carabao in a completely new, different perspective that underlines the fact that Carabao is a world-class product and a world-class brand that is ready to reach all groups of consumers that are diverse and unique. The product marks Carabao's journey into a new era with its standpoint that is in sync with youngsters' beliefs and ideas. This kind of image fits well with Carabao's attempt to be a world-class product and a world-class brand in every era and for the new generation.
Twopee has spent 15 years carving out a career in music. He started out by teaming up with his best friend Fredy V to make music under their stage name Southside Phuket. The duo submitted their self-produced mixtapes to the Thaitanium Mixed Tape project, but never made it beyond the preliminary selection round. Though disheartened, they clung to their motto: "Never say you can't do it". Twopee believes that with a can-do attitude, courage and even brashness as their main thrust, one can get over "the wall".
This kind of brashness will take one into direct confrontation with new, unexpected experiences. Today Twopee keeps on moving forward, having lived out his dream as a highly successful, nationally acclaimed Thai rapper. Just "Don't say can't, Carabao CAN".