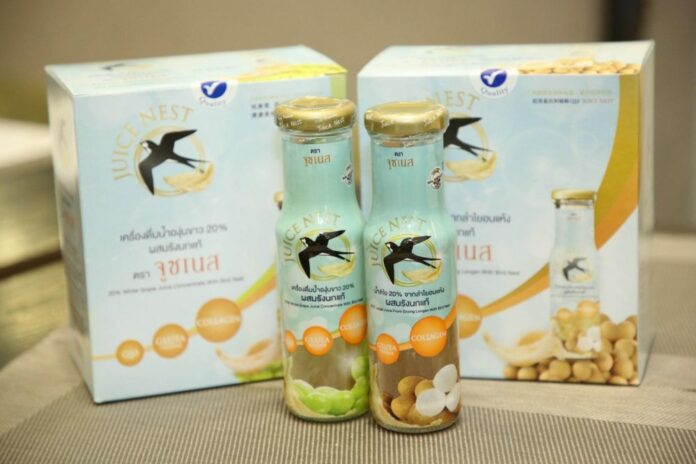 Collagen, glutathione, and Q10 is added to expand the customer base and the health drink market. Aiming to enter foreign markets, after winning the Sial Innovation Finalist Award 2015.
After the official launch earlier this year, Juice Nest challenges the beverage industry with its hybrid drink positioning. Juice Nest is a bird nest-infused functional beverage that combines the benefits from collagen, glutathione, and Q-10 from Japan, targeting health and beauty-loving young generation. The latest functional drink also reignites the bird nest market with an affordable price at 69 baht for 150-ml bottle for daily drinks or gifts. The drink aims to take 10% market share within three years. In the coming future, new recipes will be launched and the drinks will also be introduced to China, Taiwan, and Cambodia, especially after its achievement of SIAL INNOVATION FINALIST AWARD 2015.
Saravut Sereethoranakul, Marketing Director, JS Asia Beverage Company Limited, the owner of Juice Nest, said, "The company launched this bird nest-infused beverage, under Juice Nest brand, by positioning it as a hybrid drink that is easy to drink, delicious, and can be everyone's daily beverage with its benefits from collagen, glutathione, and Q10 from Japan.  Today, we are still in the raising awareness phase among our target group – the health and beauty-conscious young generation. The brand crafts its image as the young crowd with active and healthy lifestyle, which is reflected through its advertisement and presenters such as Prin 'Mark' Suparat, Rasri 'Margie' Balenciaga, and Stefanie Lerch, as well as other influencers on social media like Instagram. Our beverage is available through modern trade, whilst 'Win a Gold, Go Japan' promotion is also organized annually. Doing so helps Juice Nest in striking its impression in the fiercely competitive market. Our latest campaign, 'Dare to Try,' also aimed to expand our presence among millennials. It was a chance for them to taste and know our product as the high quality ready-to-drink bird nest that is tasty and affordable. Within three years, we are confident that we will be in the hearts of the new generation and earn our 10% market share."
"I make this ready-to-drink bird nest beverage from my passion, because my mother makes them for me since young. Throughout the years, I've come to love the drink and learn how to cook and select bird nests. Thailand is recognized as a source of high quality bird nest. I make a business from what I love and believe that I understand the needs of our consumers."
Saravut added, "The ingredients of Juice Nest include genuine bird nest, making it a must-have product among Chinese tourists, who are certainly the major market for bird nest drink. With the hybrid drink concept, we are revamping the image of bird nest, from being the drinks for patient visits, souvenirs, and luxury expensive drinks to a more accessible, easy-to-drink, while providing health benefits. These qualities have earned the SIAL INNOVATION FINALIST AWARD 2015. The product was ranked fourth in the Research & Innovation category from more than 3,000 products worldwide. The SIAL INNOVATION event is the world's number one food and beverage expo, therefore the award has paved ways for Juice Nest to China, a market worth more than 100 billion baht. Our major competitors are the Indonesians, who export bird nests, worth more than 10 billion baht, to China. Our company has our export plan ready and already started negotiating with distributors in China, Taiwan, and Cambodia. We are also preparing for a bird nest concession to meet our future demands.
Recently, the Dare to Try campaign features a buy one get one free deal to expand the teenage markets, by enabling them to try and know the product more widely as the quality and tasty drink that is affordable. The promotion runs in 250 locations nationwide, including BigC, Foodland, Tops Daily, Tops Market, Home Fresh Mart, Villa Market, and Gourmet Market from today till 31 December, or while stock lasts.
The overall bird nest market in Thailand is definitely driven by the healthy trend and is categorized into 1) premium bird nests, priced up to 50,000 – 100,000 baht per kilogram, available at traditional medicine and Chinese medicine stores and 2) the ready-to-drink bird nest that is available at two sub-markets. First is the instant bird nest that is available at restaurants and other specialty stores. Second is the bird nest drinks in glass container that is sold at supermarkets and department stores. The latter is worth 4.4 billion baht in 2017 (from AC Nielsen, etc.), with the growth opportunity of 6.3% in CVS channel. 1) the promotional strategy that is focused on health and beauty products, 2) the word-of-mouth recommendation, related to nutritional benefits of bird nests, that uplifts the sale, and 3) the festive seasons, gifts, and souvenirs.
Juice Nest is the bird nest-infused beverage that also provides the benefits of collagen, glutathione, and Q10. It is available today at 7-eleven, Big C, Foodland, Gourmet Market, Home Fresh Mart, Tops, Villa Market, and other shops nationwide. For more information and promotions, please follow us at  Facebook.com/juicenest  and Instagram: Juicenest_Official