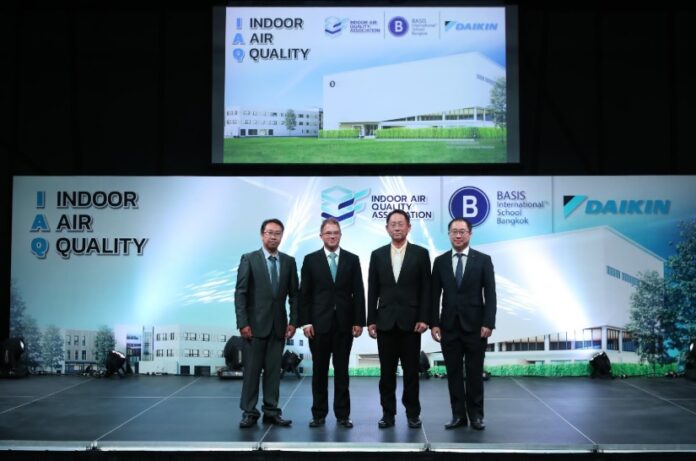 Daikin, the world's leader in air conditioning technology from Japan, brought innovative air condition system to BASIS International School Bangkok and strengthened its position as the leader in environmentally friendly energy efficiency by giving pure and safe air to the children. 
Currently, due to ambient air quality problems and heat from outdoors, most of city people spend more than 90% of their time in a day indoors or closed environment. However, a study by World Health Organization (WHO) reveals that 30% of buildings around the world have poor air condition with possibility to have 100 times more pollution than the air outside, which may cause various adverse effects to the people who live in that environment. Poor air ventilation is one of the main causes of many indoor air quality issues which may results on pollutant buildup, especially in congested buildings. Other causes of indoor pollution include transportation of outside pollution into indoors environment or the specific indoor sources e.g. uses of chemicals indoors, uses of some office equipment, building materials, deteriorated air condition system, and unsuitable air condition system. Ideally a building should have efficient and high-quality air-conditioning system to prevent indoor pollution buildup that can seriously harm the health of the tenants. Daikin, the manufacturer of air conditioners that are energy efficient and environmentally friendly, is entrusted by BASIS International School Bangkok to provide air conditioning system in the school, covering 10,000 square meters of space. 
 Mr. Bundit Srivallapanondh, Managing Director of Siam Daikin Sales Co., Ltd., revealed that, "We're delighted and proud to provide clean and safe air for the students of a world-renowned school who will grow up to be valuable citizens in the future. What Daikin carefully considers when installing air conditioning systems in schools with small children are safety, functionality and the cleanliness of the air. Children need pure and safe air to develop and grow. The system installed at BASIS is our latest innovation that harnesses both excellent cooling system and energy efficiency."
The chosen air conditioning system for the project to cover 9,960 square meters is the VRV System (Variable Refrigerant Volume system) that includes Air-Cooled and Water-Cooled features. The indoor fan coil is a cassette type that is easy to maintain. The Air Handling Unit, which can purify the air and increase clean air, is operated with a MERV13 filter standard that can reduce PM2.5. The air that is added to the building is adjusted to cooler temperature and less humidity, providing a comfortable environment and energy saving for air conditioners. In addition, this system can reduce PM2.5 as well as protect PM2.5 from outside into the building. BASIS is the first school that will use Daikin's latest innovation.  
This is also the first time Daikin will use a Water-Cooled system in school. The heat from the condensing unit is used to heat the water in the swimming pool. Once the swimming pool is at the desired temperature, the system will then divert the heat at the Cooling Tower. Automatically operated with Daikin central control, the system is convenient for the building superintendent and also energy efficient. 
"The reason we chose VRV system for this project is to stress Daikin's standpoint in energy savings. Other technologies of VRV that include VRT and VRT Smart, also boost efficiency of the system's performance and at the same time save energy," Mr. Bundit said. 
Mr. Jonathan Schwimmer, Co-Founder and Board of BASIS International School Bangkok, revealed that, "Besides globally recognized curriculum, what BASIS International School Bangkok considers the first priority is air quality that has to be pure and clean for the children. Children at this age do not have immunity that adults have, and that makes them sensitive to change in the air quality. This is why the school opted for an innovative air conditioning system that adds fresh air into the building, decreases indoor air pollution problem and uses high efficiency filter to decontaminate pollutants from outside. The air conditioning system that we use also has temperature control precision to maintain comfortable environment for the children."
BASIS International School Bangkok offers a course of study that is connected through every grade level, starting with a student's first preschool lessons, and ending with grade 12 Capstone courses. The academic year begins in August 2019 with capacity to accommodate 1,500 students. Located next to Central Plaza Rama II, the school's facility spans 25,000 square meters with black box theater, art studio, comprehensive science and technology complex, 25-meter salt-water swimming pool and 12 rai of land dedicated for extracurricular activities and sports. Designed under the environmentally friendly concept with emphasis on energy efficiency and creative design, the concept in incorporated into the building structure, air conditioning system, high indoor air quality, swimming pool, garden and landscape, water management, electricity and energy system, road traffic as well as a mission to the community. 
Daikin's innovative air conditioning system at BASIS International School Bangkok raises the standard of energy saving and environmentally friendly air conditioning system that provides pure air for the children's healthy and safe wellbeing.