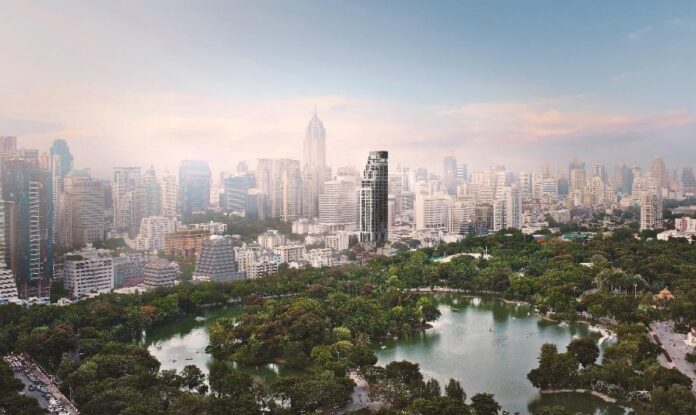 MUNIQ Langsuan becomes the latest addition to the success list of Major Development, Thailand's leading real estate developer that creates sensation in the country's industry, as the project makes record sales of 90% on the first day of reservation. MUNIQ Langsuan's construction, overseen by Koranit Construction Co.,Ltd is reportedly underway.
 Major Development PCL, developer of high end real estate projects in prime locations, recently unveils its latest mega-project, MUNIQ Langsuan, freehold high-rise luxury condominium that can be passed on to the next generations, located on mid-town premium location on Langsuan, which is regarded as the "Beverly Hills" of Thailand. The project was first launched in February 2018 
Dr. Suriya Poolvoralaks, Managing Director of Major Development PCL, states that MUNIQ Langsuan's construction is currently underway by Koranit Construction to be completed by the first quarter of 2022. MUNIQ Langsuan, a freehold property worth of 4,085 million baht, is designed with classic aesthetics with New York flair under the concept "Live Your Everlasting Romance". Blending delicate art and meticulous design, MUNIQ Langsuan offers ample and functional utility space where ultimate living can be achieved on Bangkok's largest piece of green land with Lumpini Park, which is located only 100 meters away any and convenient access to Sarasin, Ton Son and Wittayu Roads. 
Experience the ultimate mid-town living at MUNIQ Langsuan with prices starting from 25.4 million baht (2-bedrooms). For more information, please visit MJD.TH/MUNIQ or call 1266.
About Koranit Construction
Koranit Construction is widely respected in local and international real estate industry. Previous projects include The Room Sukhumvit 64, The Bangkok Sathorn – Taksin, Life@ Sathorn, Oka Haus to name a few. 
About MUNIQ Langsuan
Completion: First quarter of 2022

MUNIQ Langsuan in Soi Ton Son is a high-rise condominium of 28 floors with 166 units, 111% Parking (185 cars) and full facilities. 

Size 1-1-65 rai

One-Bedroom (50 – 76sqm), Two-Bedrooms (78 – 101sqm), Three-Bedrooms (121 – 179.5sqm) and The Collection (80.5 – 280sqm)

2 Bedroom units' prices start from 25.4 million baht.