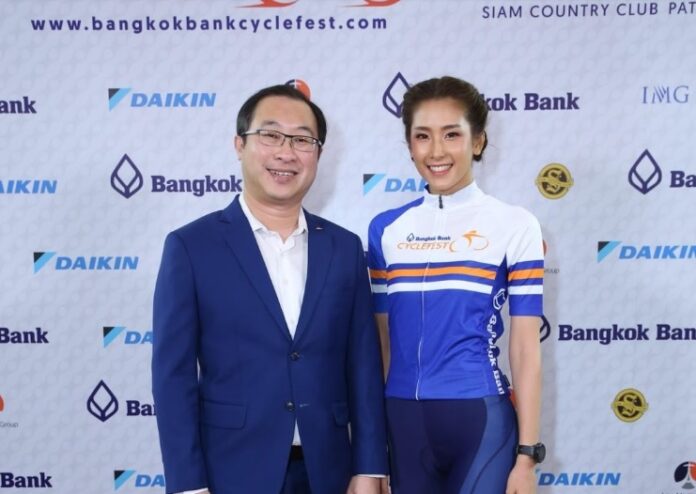 Siam Daikin Sales and Siam Country Club, affiliates of Siam Motors Group, continues to lend support to "Bangkok Bank CycleFest 2019" to promote good health among Thais and offer the experience of the year's biggest cycling events between on November 23-24 at Siam Country Clun in Chonburi.
Siam Daikin Sales and Siam Country Club, affiliates of Siam Motors Group, join hands to support Bangkok Bank CycleFest 2019 once again and open the field for professional and amateur cyclists from all ages to partake in health-enhancing experiences throughout the two-day event on safe, picturesque routes with international standard.
Mr. Somporn Jangreenapawong, Assistant Managing Director of Siam Daikin Sales Co., Ltd. said that, "So far Siam Daikin Sales and other affiliates of Siam Motors Group have been avid support of sports event, as it is the organization's key policy to promote sports and healthy lifestyle. This time around, it is our honor to support one of Thailand's biggest cycling events, Bangkok Bank CycleFest 2019, that many cyclists have been waiting for. For the past 2-3 years, cycling has become a more popular sport activities among Thais of every age group. Some take cycling as a form of exercise. Some take it as mode of transportation in daily life, while some use cycling in sightseeing. We would like to treat cyclists with memorable cycling experiences on safe and picturesque routes throughout the competition. We are delighted to see cyclists partake in various activities as part of their exercise routine."
Bangkok Bank CycleFest 2019 is held under the concept "Ride for All" and caters to all lifestyle. Offering various classifications and choices of cycling styles through the two-day event, Bangkok Bank CycleFest 2019 includes 30-60 kilometers routes and team 90-minute timed competition for 15.5 kilometers which will be joined by celebrity cyclists such as Nat Thephassadin Na Ayutthaya, Yossawadee "Yo" Hassadeevikit and Surampa "Golf" Yokchotsakul who will share thrilling cycling experiences with fans. Cyclists and families will also get to enjoy series of fun activities at the Festive Village that include shops, entertainment and exercise zone for table tennis and badminton.
Bangkok Bank CycleFest 2019 creates cycling programs for cyclists of all levels and ages on 15.5-kilometer open route that circles Siam Country Club in Pattaya, surrounded by picturesque scenery and, abundant nature. The event is under the care and management of IMG, the expert in sport event organization and the leader in international media and fashion business, that promises the new dimension of international cycling experiences that cater towards experiences-building and fun rather than competitiveness.