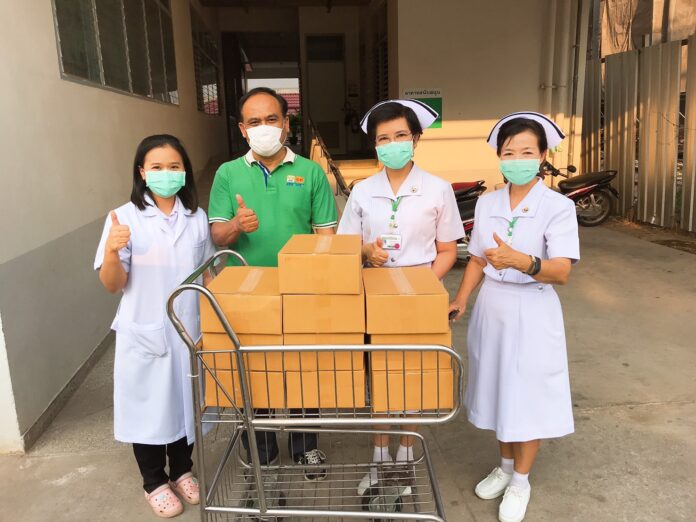 Charoen Pokphand Foods PCL (CP Foods) has provided healthy food supports to Thai frontline medical staffs to combat COVID-19 pandemic with an approximately budget of Bt200 million.
Since March 1, 2020, the company has delivered variety of food menus to 88 public hospitals nationwide as well as 20,000 quarantine people. This social responsible activity has come under "CPF's Food from the Heart Against COVID-19" Project, which draws to ensure good health and enough food of those frontline medical staff. Moreover, the company has launched Phase II project titled "CPF's Food from the Heart to Public Hospital and Doctor-Nurse Families" to extended food supports to their families.
The company initially sets an approximately budget of Bt200 million (US$6.5 million) to facilitate those two projects.
Recently, Thailand's Deputy Minister of Public Health Satit Pitutecha recently presided over the project's launching ceremony. He also praised to initiate such valued projects to support those hard-working staffs and quarantine people.
"These projects has strongly encouraged the government's policy to fight against the virus pandemic and the government's policy to prevent the Kingdom and Thai people," Mr.Satit pointed.
Mr. Soopakij Chearavanont, Chairman of Charoen Pokphand Group and CP Foods, gave a sincere appreciation to COVID-19 frontlines people, stating that medical staffs are the heroes and heroines during the crisis. He also assured that CP Group promises to continue support them in many ways as it can.
"As a Thai people and a Thai company, we pledge to support the country to combat COVID-19 until the last minute," he stressed.
CP Foods' CEO Prasit Boondoungprasert added that the company is proud to support the government to mitigate the effects of COVID-19. As one of a global leading food producer, the company's products will directly support the ministry's mission in working hard to prevent the pandemic as well as to protect lives and livelihoods across the country.
"CP Food's phase II project is designed to alleviate doctor and nurse who work closely with COVID-19 patient and left their families behind. We want to make sure that they do not worry their family's members to have daily life as usual," said Mr.Prasit.
Mr.Prasit noted that CP Foods has to stop providing food support to those self-quarantine people due to significantly dropped number of arrival people in line with the government's serious control restriction. This will allow the company fully supply foods to support targeted medical staff and their families.
"The frontline workers have devoted themselves to combat the outbreak while they also need to take care of their families. We would like to carry our sincere attitude to those who devote themselves to protect Thailand," said Mr. Prasit.