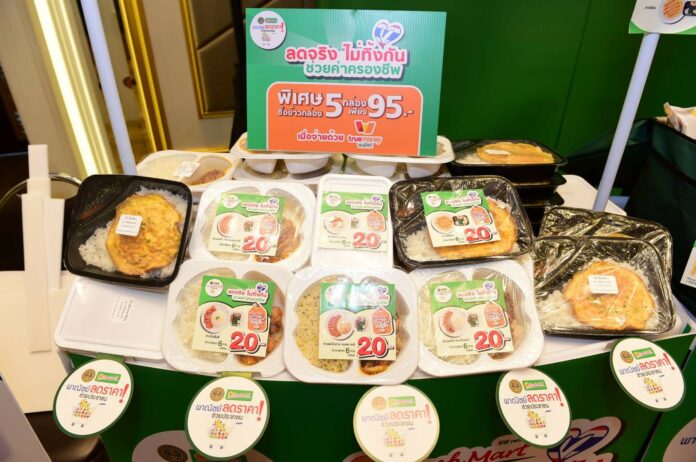 Charoen Pokphand Foods PCL (CPF) is selling one million tasty ready-to-eat meals in a price of 20 baht each as well as offering other food products on a special discount at CP Freshmart nationwide in an effort to alleviate Thai people's cost of living with affordable and high-quality foods during COVID-19 pandemic.
Mr.Prasit Boondoungprasert, Chief Executive Officer of CPF, said the company has participated with the Ministry of Commerce's project to provide affordable price of foods and consumer goods to help people affected by the virus outbreak.
One million pack of discounted meals, including rice with chicken breast and Thai chili source, fried rice with Korean style chicken, rice with grilled chicken breast, rice with spicy chicken, liver and fried garlic with rice, and Thai style omelette with rice, are now available at 147 CP Freshmart shops in Bangkok and the central region at a price of 20 baht per meal. Many food products are also available at discounted prices.
Mr. Prasit added that the company would like to support Thai people with high quality, tasty and budget friendly foods, like these 20-Baht ready to eat meals, which are exported quality products.
"We carefully selected our foods, One million ready-to-eat meals are on discount to reduce Thai people's cost of living," he said.
The company encourages touchless payment to enhance safety at its retail shops. Consumers who buy 5 meals with TrueWallet will receive an extra 5-baht discount.
Variety of CPF's foods, especially "essential at kitchen" products, are also on a special discount at 350 CP Freshmart shops nationwide.
In addition to cost-of-living relief, CPF has delivered free food supplies to medical staffs in 105 public hospitals, 20,000 individuals returned from overseas to home quarantine as well as 30,000 families of doctors and nurses combating COVID-19.
"CPF operates its business under our 3 benefits philosophy to sustainability, these are; benefit to the country in which CPF invests, benefit to the people of that country and lastly of benefit to the company. Therefore, it is our duty to put extra effort in order help the country and the people overcome this crisis", said Mr. Prasit.